SPX – Yesterday I published the expanded view of this chart, the SPX weekly with my forecast out some 10-years…
This view focuses only on the completion of wave-(iv)…
With the recent alert from @armstrongeconomics that there may be a European liquidity panic in May, AND the continued upward move in the price of the SPX, it caused me to modify the fractal so that wave-b:(x):(iv) becomes a running b-wave, a bit like what happened last year…
If that's the case, the SPX is in the last leg upward of this section of the fractal that has a price target in the ~3040 range by later this month…
Once there, then a pullback in price down to the 2870s, to complete wave-b:(x):(iv) in May/June…
Then the final push upward in wave-c:(x):(iv) into the late summer/fall to the ~3290 target…
Please remember that fractal counts are fluid and adapt to changing market conditions… this is the outlook at this moment in time… watching.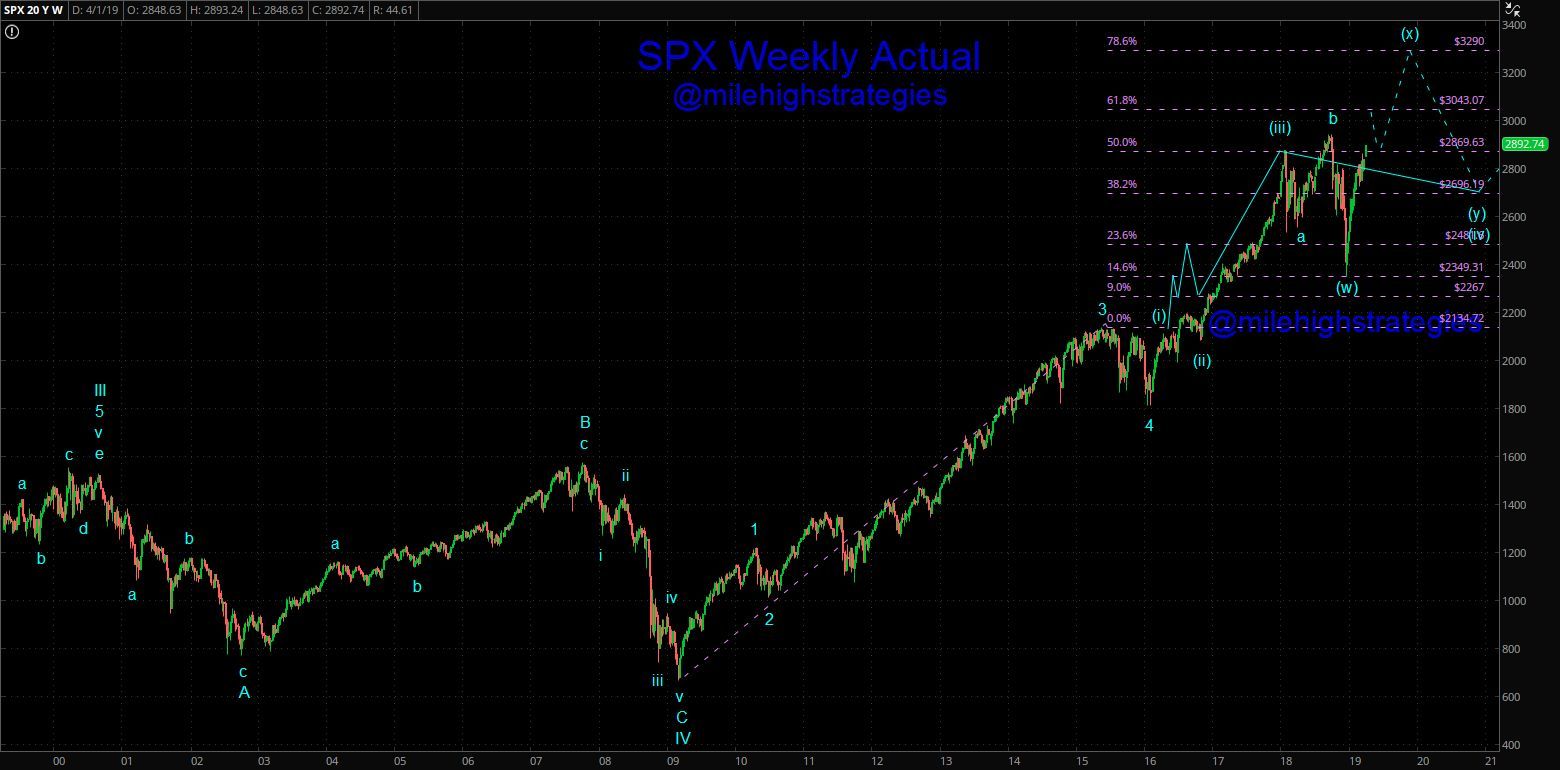 Link to larger chart:  Link 
SPX – Expounding a bit on the earlier post (above), this is what my fractal count for the daily SPX chart looks like at this point…
This last section upward should divide into five waves, as all ending c-waves do, and it appears wave-i and wave-ii are complete, so an upward week as wave-iii continues… watching.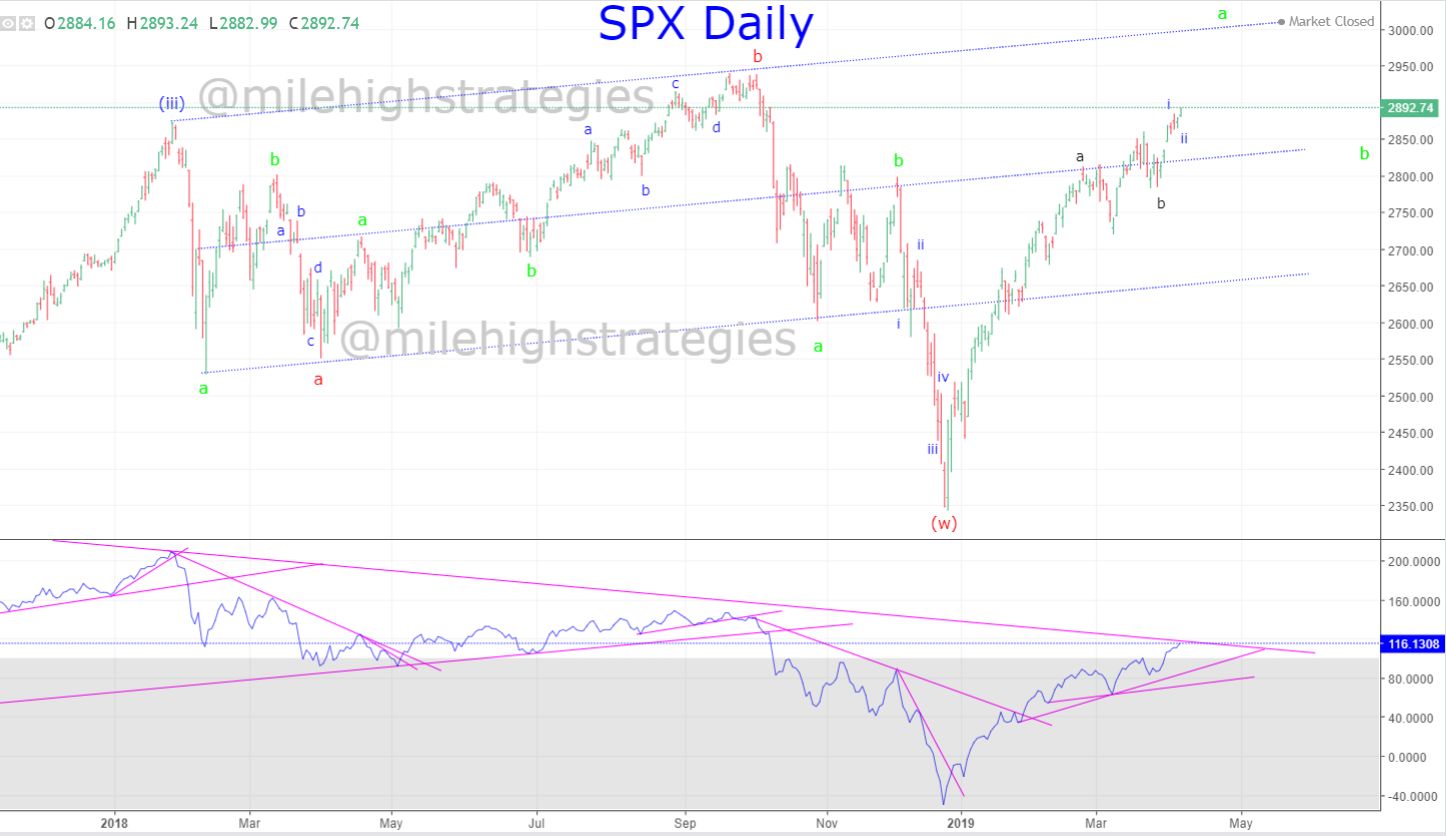 Link to larger chart:  Link 
EUROPE – about a month ago, I entertained the possibility that Europe's bull market may actually extend, and to be sure, that may still play out…
However, since that time, @armstrongeconomics computer has warned that a liquidity panic/crisis is about to be start in Europe, and if that's the case, the fractal counts I originally had for the largest financial indices in Europe – DAX, CAC 40 & FTSE 100 – may still be the best fractal interpretation for them…
This is the DAX (Germany) weekly showing the most likely fractal count from the highs, and if Armstrong's scenario is accurate, then a running b-wave is running out of time and will soon complete and reverse…
A liquidity crisis could absolutely turn the DAX back downward in wave-c, and if so, the momentum indicator line would likely be making its way down to the bottom of the gray zone support level… watching.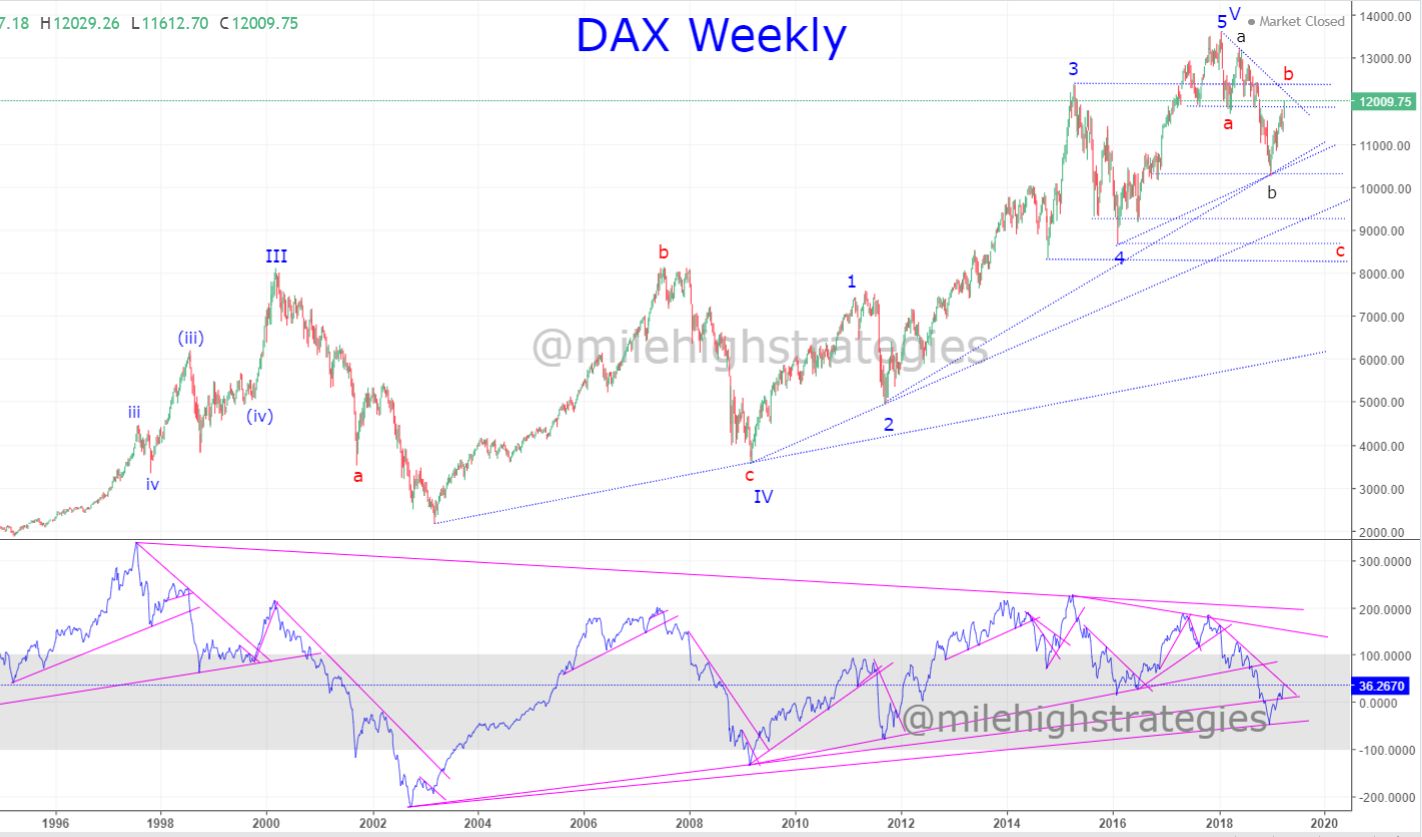 Link to larger chart:  Link
EUROPE CONT. – as with the case of the DAX weekly posted earlier today (above), the CAC 40 (France) appears near the end of its b-wave rise in terms of price and momentum…
The price has run into multiple zones of pivot resistance, and the momentum indicator line has run into the top of the gray zone resistance level AND its DTL…
If a liquidity crisis in Europe was going to start making itself evident, then now would be the most likely time for it to happen… watching.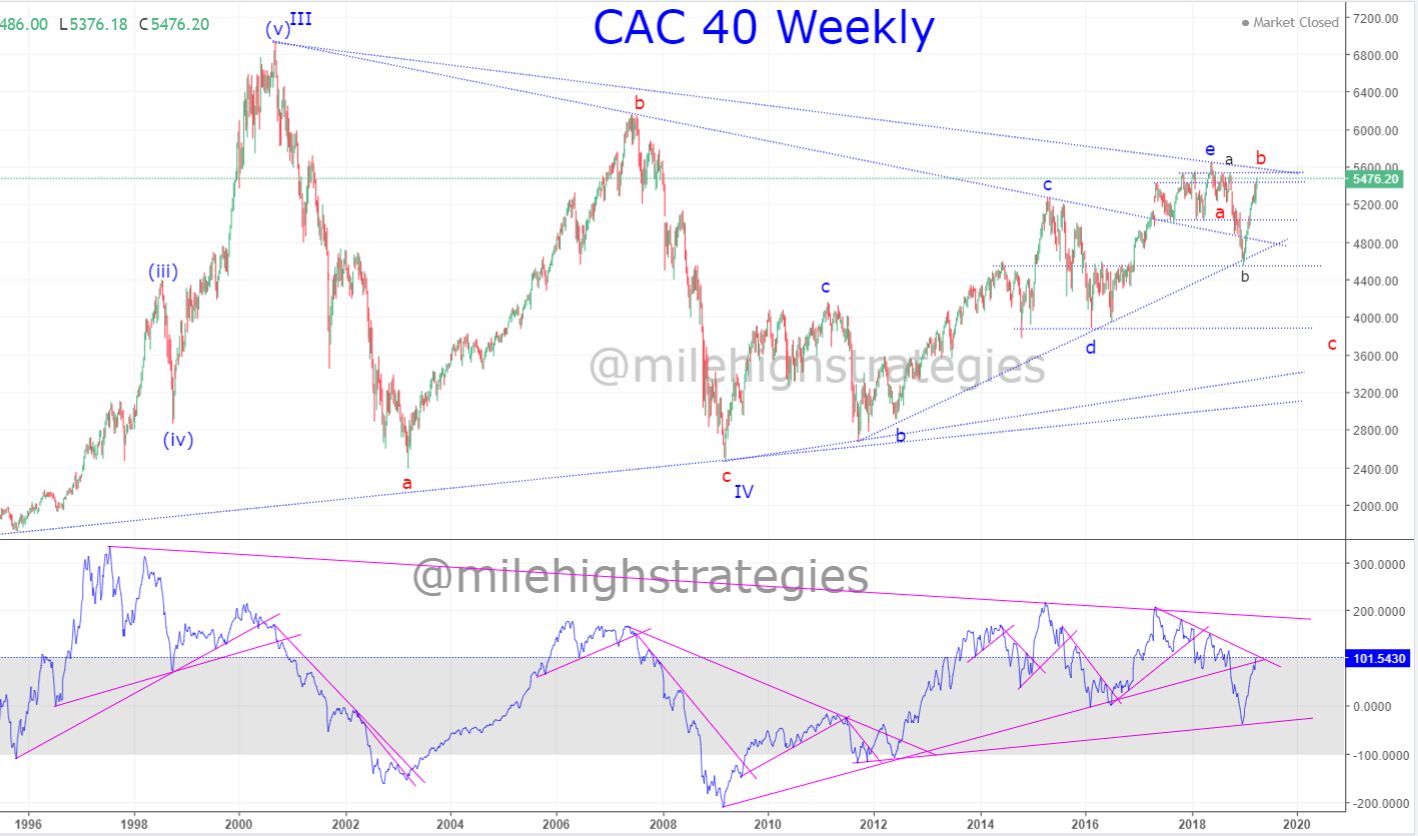 Link to larger chart:  Link
BITCOIN – HODLs (Hold On for Dear Life) still high on the fumes of BTC bubble burst are calling for an even higher parabolic rise as soon as next year…
The BTC bubble was THE largest of the five largest bubbles in western history…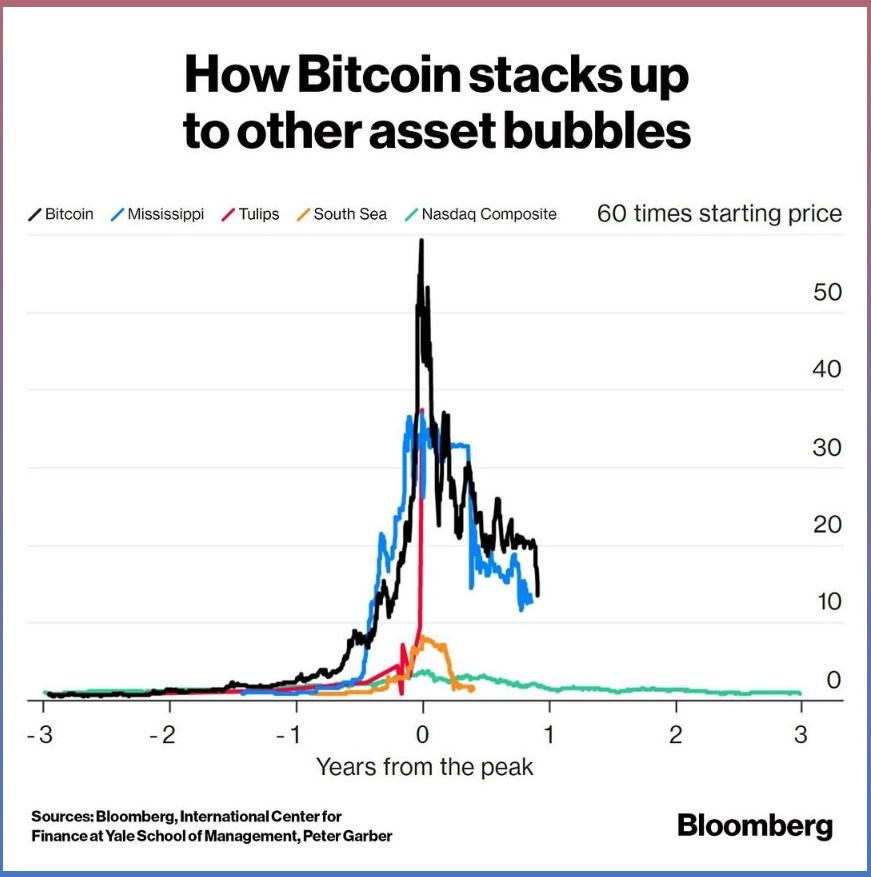 Bubbles that go parabolic to the degree that they are in world-class status DO NOT re-inflate as many are calling for… they burst and remain in a bear market for 10-20 years, and depending on the asset class, they may never come back…
Here's also an update on the 300-min BTC chart… it appears it may push higher soon to put in wave-v of the first upward segment… watching.