Here's an update of the daily SPX with my fractal count as of Friday's close…
Please don't get too enamored with the fractal count… fractals are fluid, adapting to real-life events and situations, so we must also adapt along with it – this is a variation of the last fractal count I offered for the daily SPX…
Last weekend is a case in point, I thought it was possible that wave-iiii:c:a:(x):(iv) was already underway, yet the SP00s did not actually break through the 2900 range until yesterday…
For now and over the next couple of weeks, earnings should help propel the SP00s upward to and through the former ATHs, in the ~2940s range, then a pullback to the same, then the final push upward to the ~3040 range to complete wave-a:(x):(iv)… watching.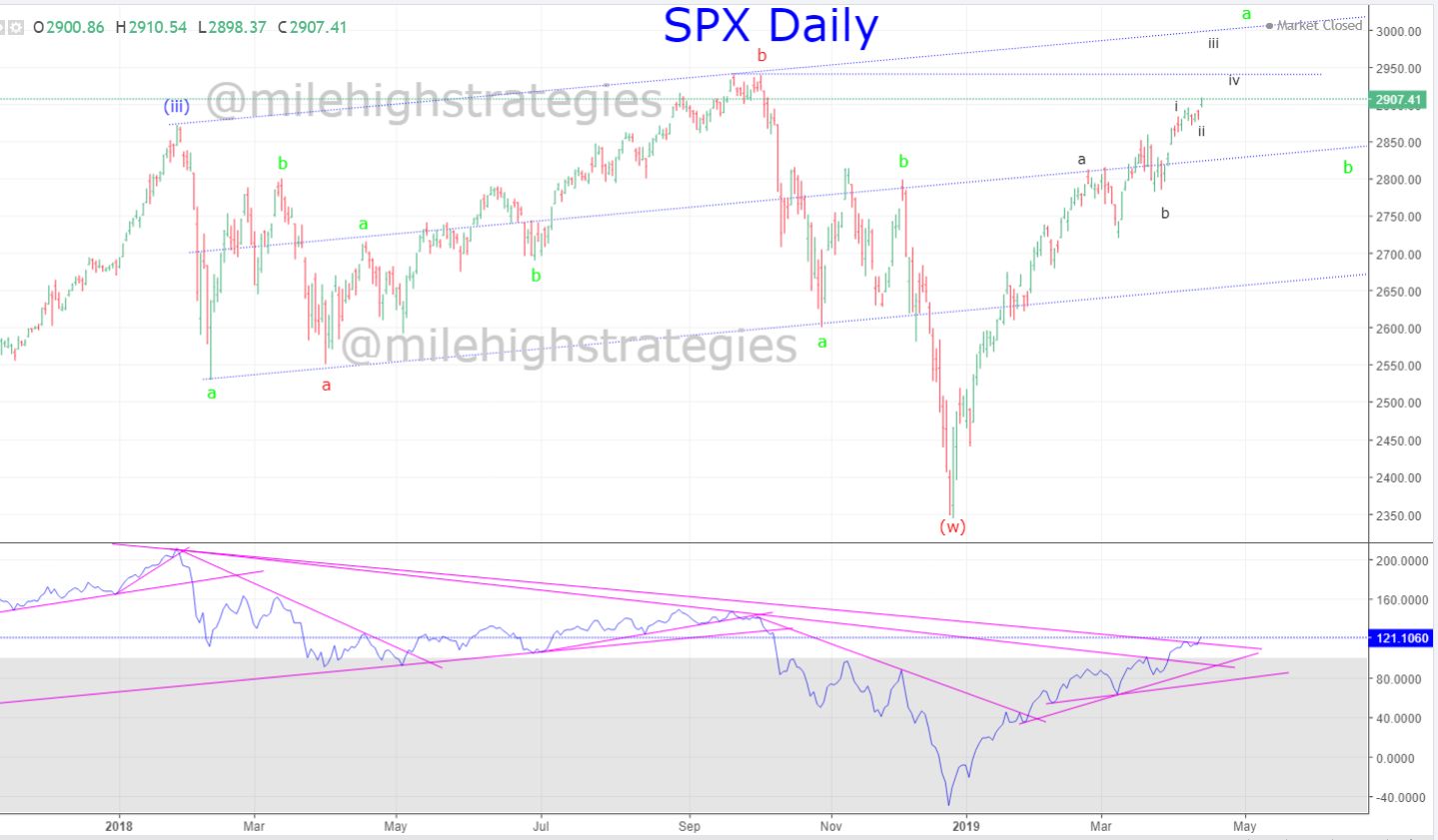 Link to larger chart:  Link
EPIPHANY – while convention and habit can be incredibly good things, they are also a two edged sword, with the other side being closed-mindedness and a caged-bird mentality that prevents travel outside of borders your own mind has established for you…
I first began learning technical analysis in 1995, and had a certain mentor who taught me the basics of fractal theory…
In 2000, I felt I needed to move on from that mentor, for the very reason cited above, that he could not think outside the box, and had become a "perma-bear" in his long-term view of US equities…
Or at least I thought I had moved beyond him…  though I had still retained a part of his fractal count, up to the high in 2000, in US equities…
I've been calling that high in 2000 a Wave-III:FIVE high since 2000, though he had called it Wave-V:FIVE…
In my morning meditation today, I reasoned that IF it was a Wave-III, there had to be a Wave-I and Wave-II before, and I had none… so it was time to do some homework…
It turns out I had published the LT SPX chart several months ago with the fractal count I'm showing here for the Dow, but failed to translate it also to the weekly chart (mental birdcage)…
Because there is more historical data for the Dow, here's the 100-year+ chart for the Dow, showing it is in its Wave-V:FIVE push upwards…
Note how in 1906 it completed a Wave-III:ONE, then it was 13-years later that it completed Wave-V:ONE in 1929 – with about a 300% gain from Wave-III:ONE…
The US equities markets are still in their wave-(iv), and if their Wave-V:FIVE push is comparable to the pre-1929 blow-off, my projections may be much too low…
The second chart is the weekly SPX with the adjusted fractal count to the 2009 Wave-C:FOUR low… watching.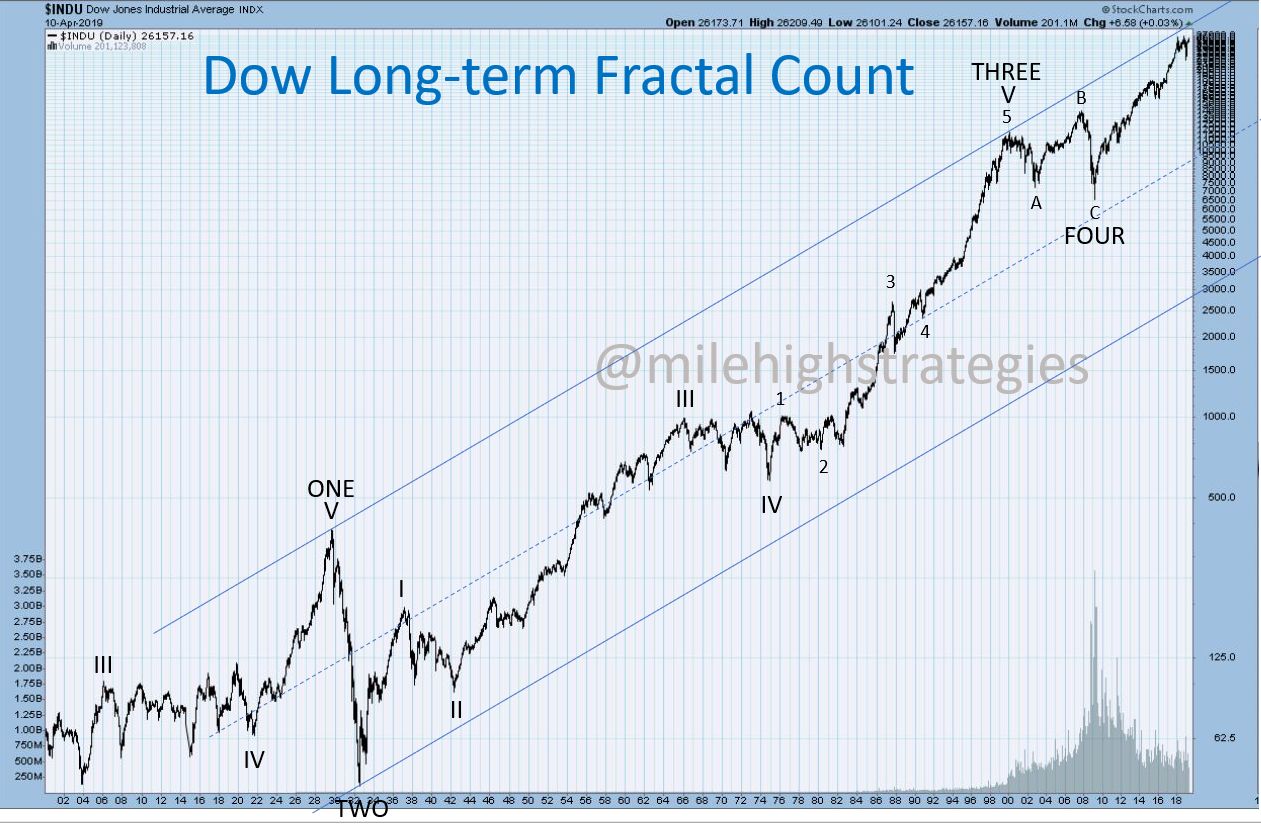 Link to larger chart:  Link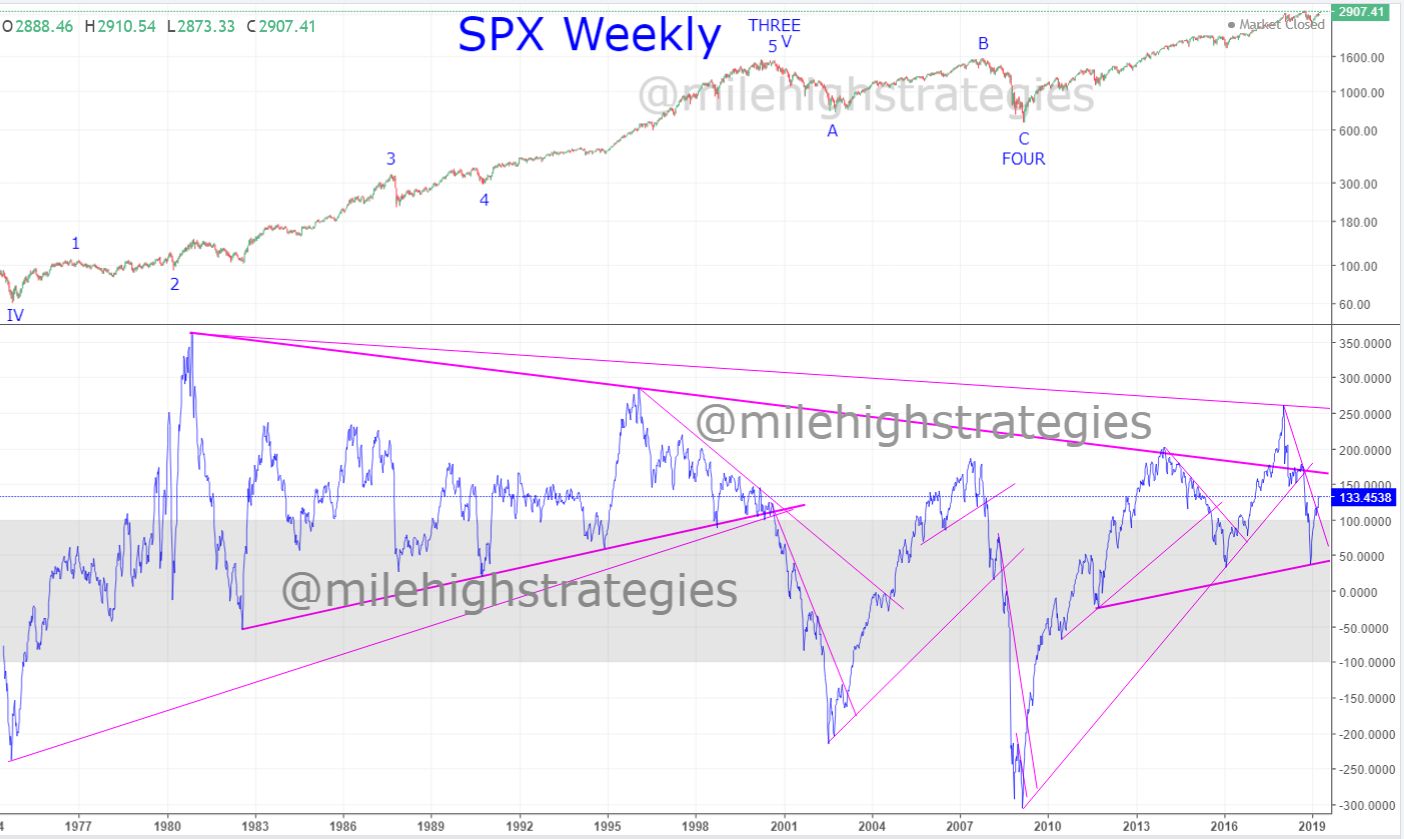 Link to larger chart:  Link 
SPX – Here's the weekly SPX with my revised forecast of the original forecast I made on 4.9.16…
The original 4.9.16 forecast had wave-(iv) ending in 2018, the wave-V moving upward into 2021 with a target of ~3600…
The revised forecast has wave-(iv) in progress through at least mid-2020, though it still ends in the original ending point, somewhere in the ~2700 range…
For now, the SPX should continue upward to ~3040 by May, then a pullback to the ~2850 range into June/July, then the last push higher to the ~3290 range to complete wave-(x):(iv) towards years end… watching.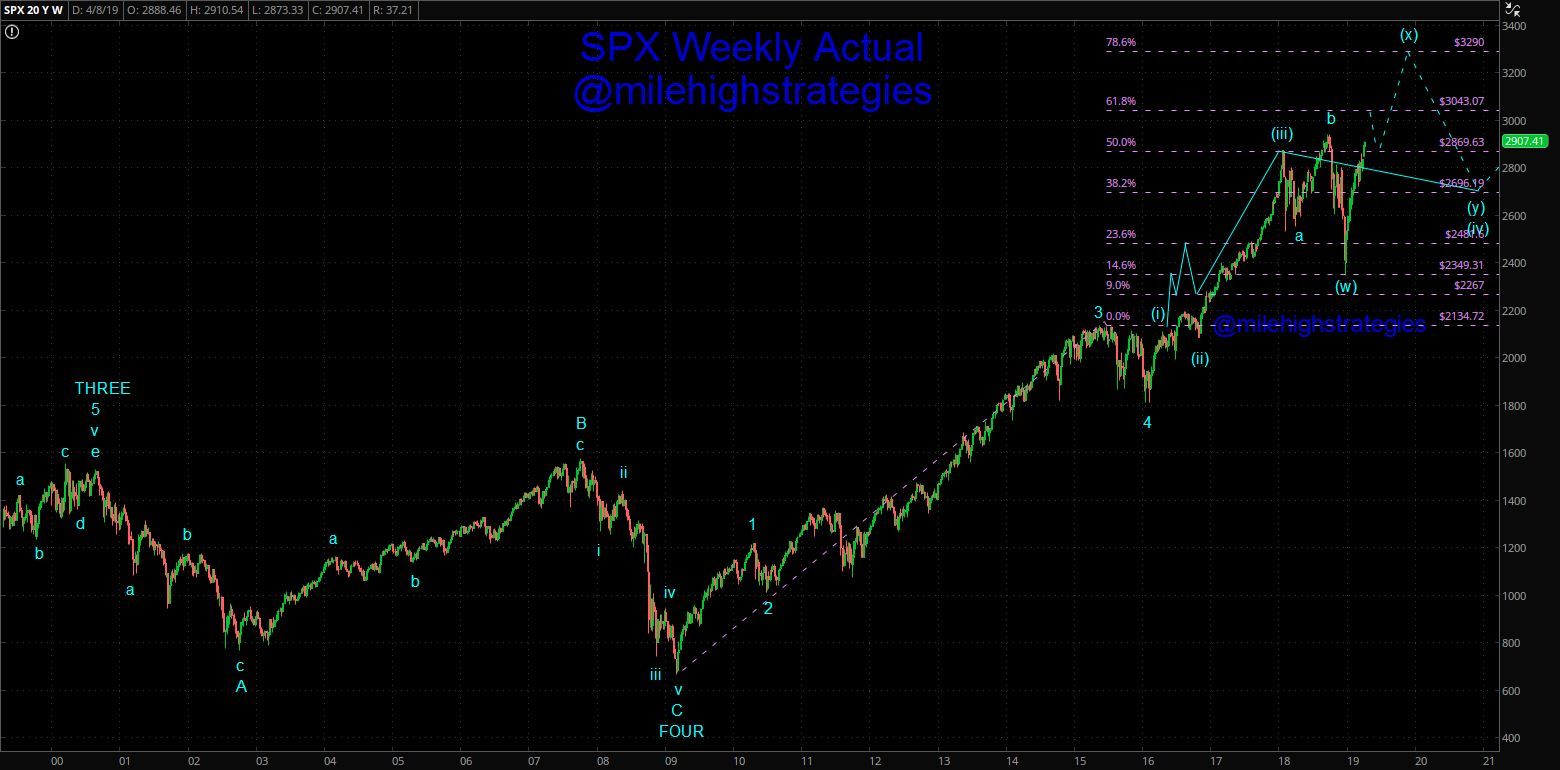 Link to larger chart:  Link