MARKET BREADTH – next to the market's momentum trend, I look to overall market participation, or the lack thereof, to determine the strength of the trend…
Simply put, breadth leads price… in the beginning of a new move, after exhaustion was reached in the opposite direction, pretty much everything participates…
As the move/trend ages, the playing field thins out (breadth) and that is visually measured with a chart like the cumulative advance/decline line on the NYSE…
Here are the 1-year and 5-year daily charts of the Cumulative $NYAD, showing excellent overall market participation…
In fact, both charts are at new ATHs, while the SPX is still over 100-points from it's ATH…
There will not be an IT or LT high with cumulative market breadth at ATHs…
The trend remains upward… watching.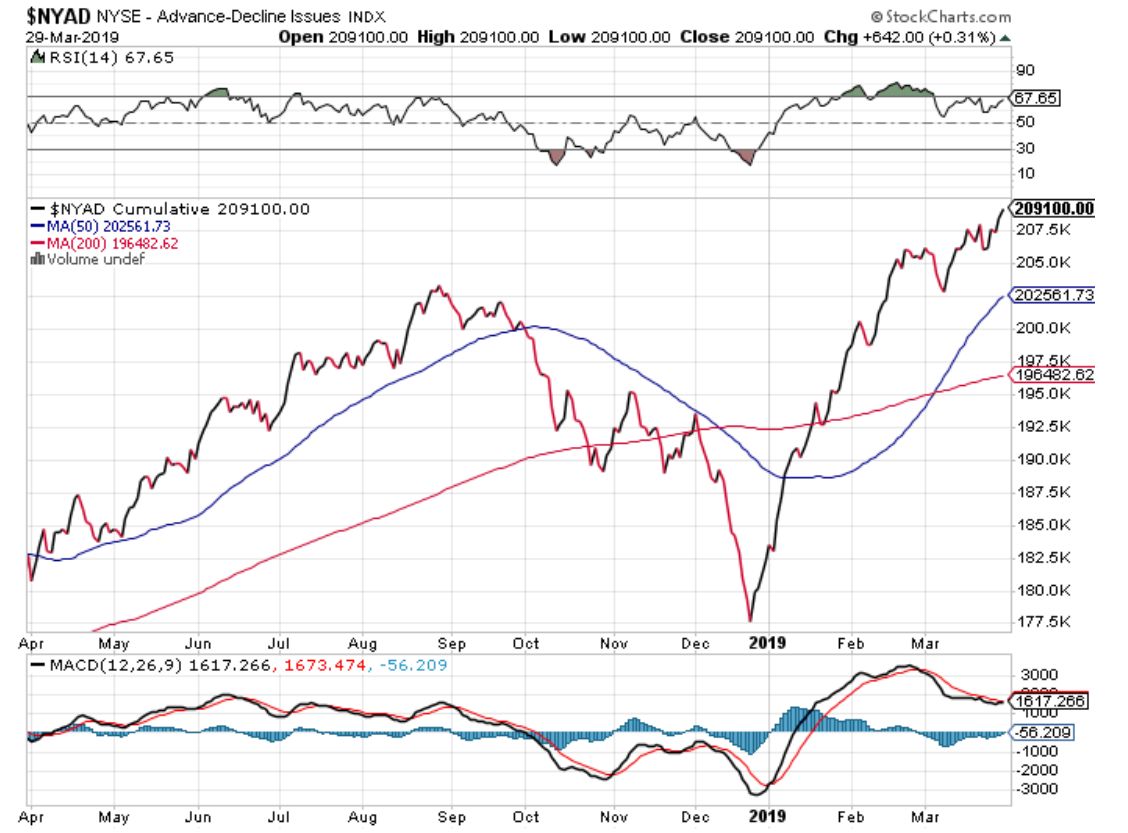 Link to larger chart:  Link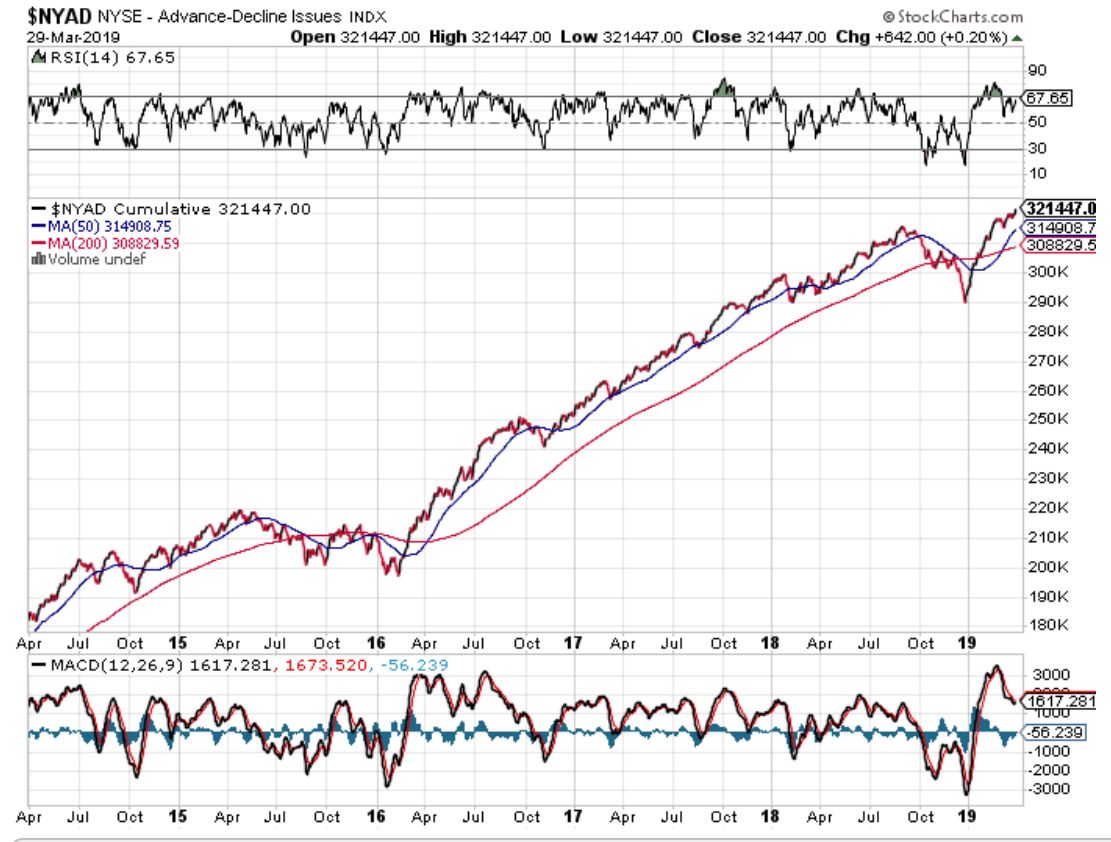 Link to larger chart:  Link
MARKET BREADTH CONTINUED – Cumulative breadth is computed by taking the difference of advancing issues for the day from the declining issues for the day and either adding or subtracting that number from the previous day's number. This is why the number is different for the 1-year versus the 5-year charts…
Here are three snapshots of the 1-year chart at various time-frames where there was a divergence of the NYSE A/D Cumulative line versus the SPX…
At IT tops and bottoms there will often be a divergence, as shown in these three 1-year charts…
At this time, there is no divergence… the A/D Cumulative line is leading the market higher… watching.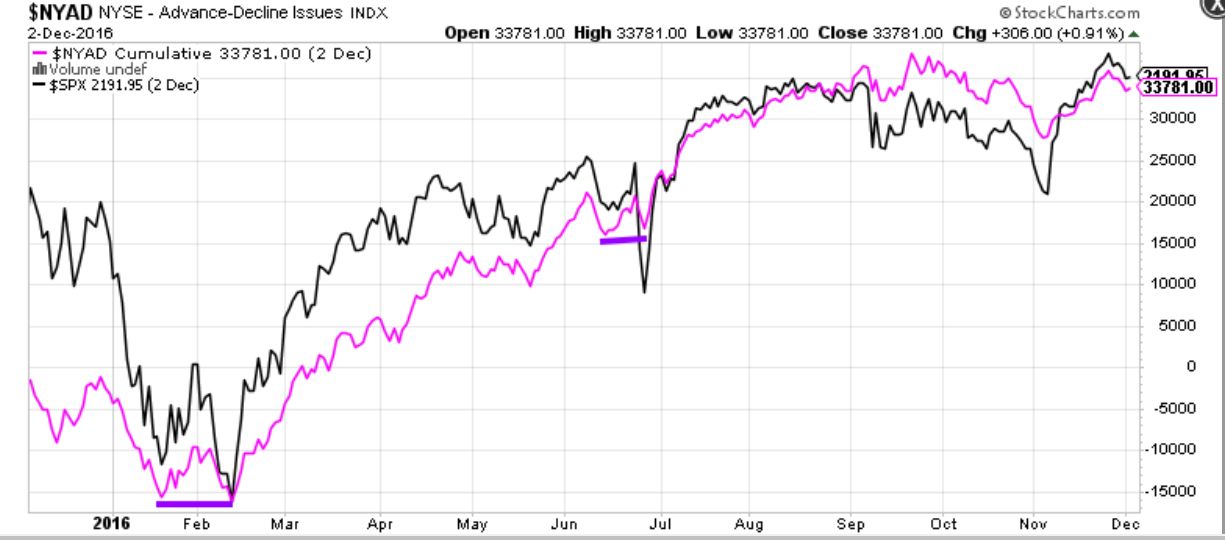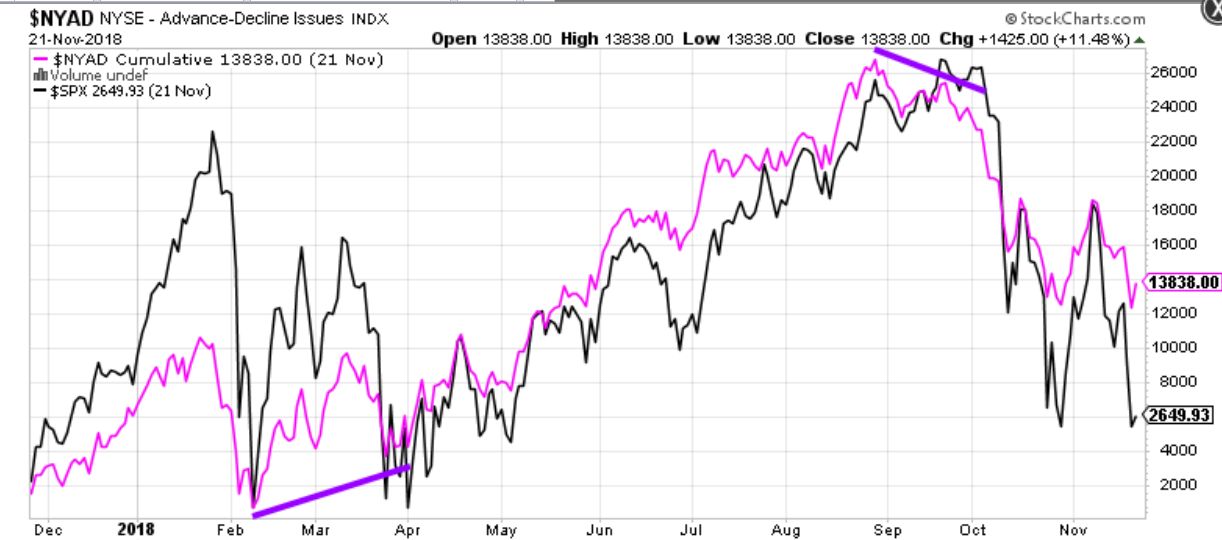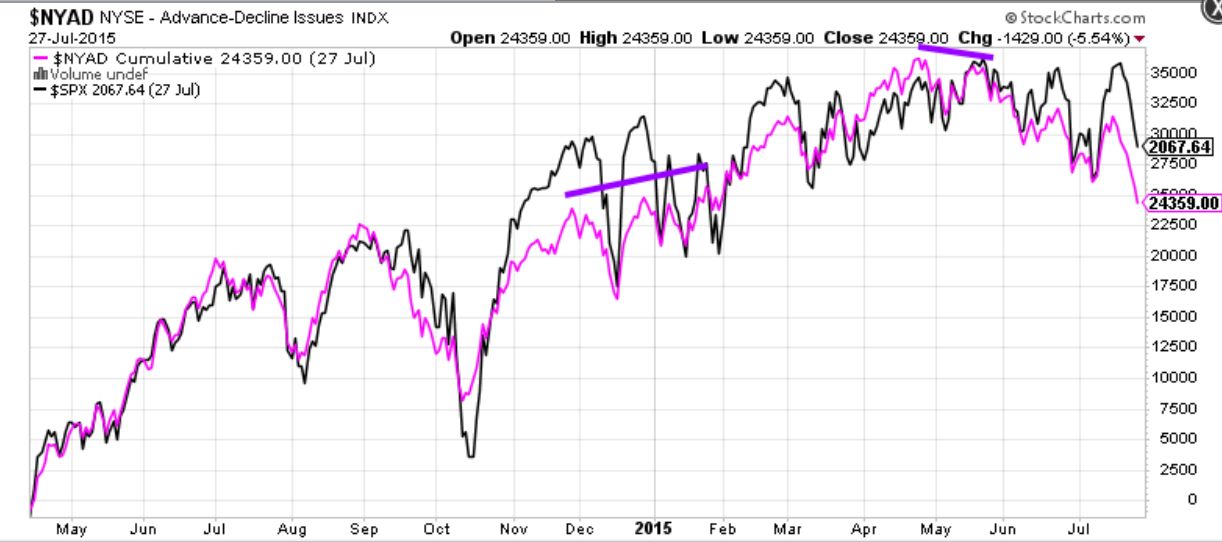 SPX – For those who are new here, this is a chart of the SPX weekly that has the forecast I made on 4.9.16, for the SPX to move sharply higher…
To be sure, I revised the forecast in January 2019, when the SPX dropped well beyond my wave-iv low of ~2700, signaling the great bull market in US equities was going to extend beyond 2021…
However, I did nail the January 2018 wave-(iii) high to within 3.5-points, and though wave-(iv) will extend in time out to 2020, I do think it eventually terminates at the same ~2700 target as I originally forecast, but in the context of an expanding double zig-zag formation…
Regardless of how this leg upward plays out, this is how I see the SPX performance over the next 12-24 months… watching.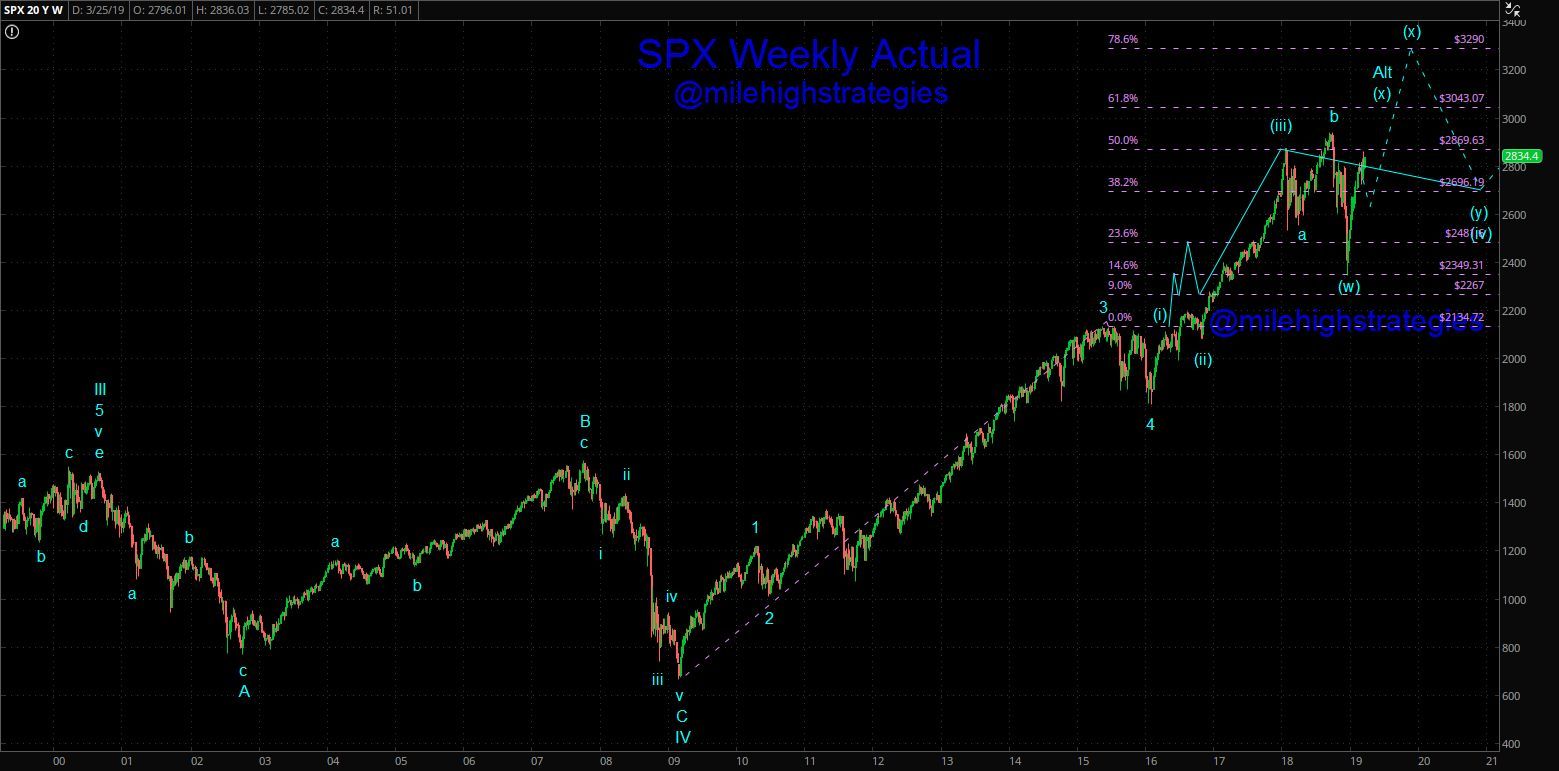 Link to larger chart:  Link 
PALLADIUM – believe it or not, this huge plunge in palladium is not the end of its bull market, but just a part of a wave-(ii) correction along its path to Wave-V…
Wave-(i):V was within 3.54 of my first target of 1565.34, and wave-c:(ii) is in work now, with a likely target in the ~1300 range…
Depending on the economy, present higher targets are now as high as ~2517.75… watching.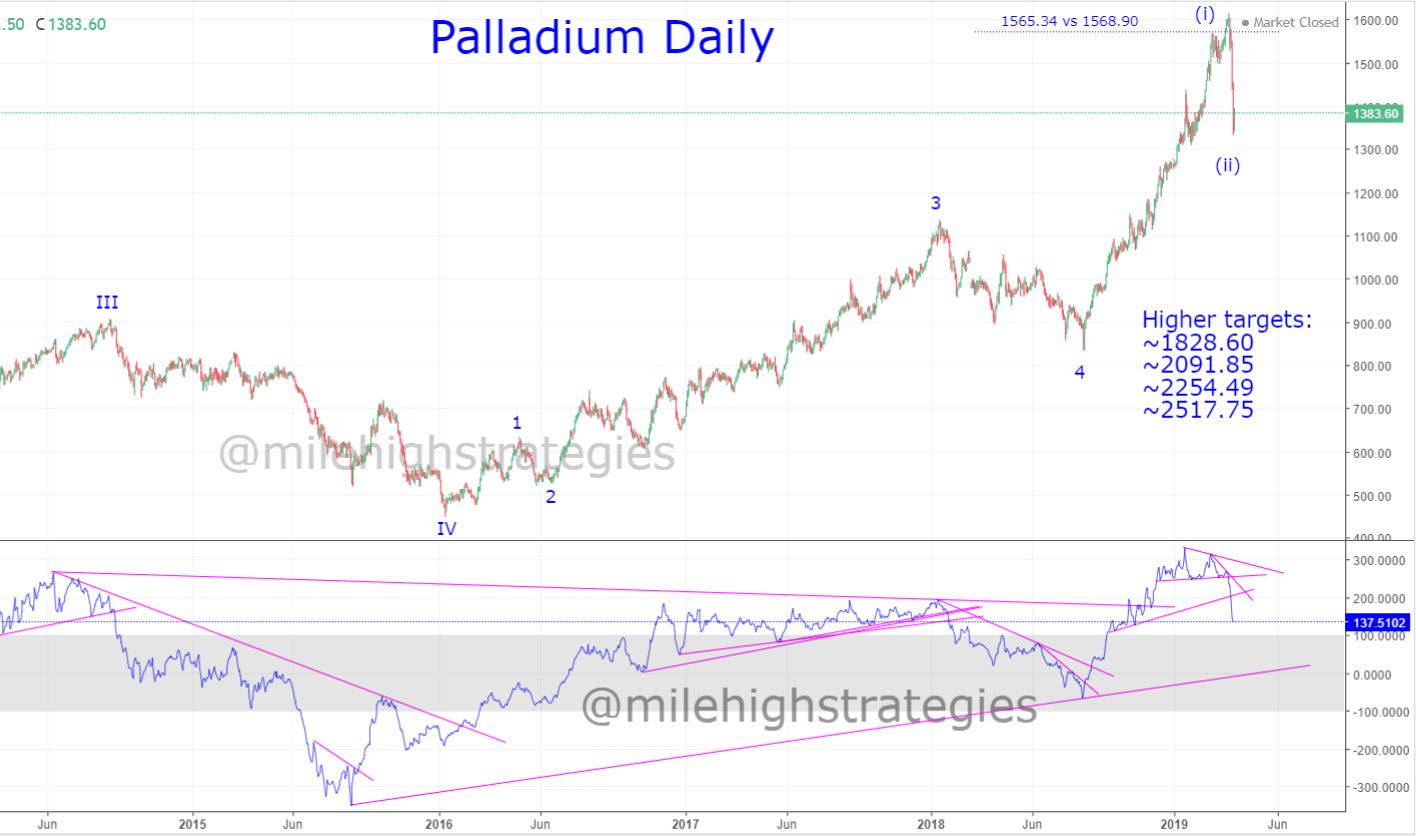 Link to larger chart:  Link 
SP00s (start of globex session) – While the globex session has just begun, I've maintained the easiest way to push through a TL is to gap it through…
This is the SP00s daily chart chart I showed last Friday where the momentum indicator line ended the day just beneath the top of the gray zone resistance level and the DTL – it's above both now…
A move above the ~2866 would pretty much confirm to new ATHs… watching.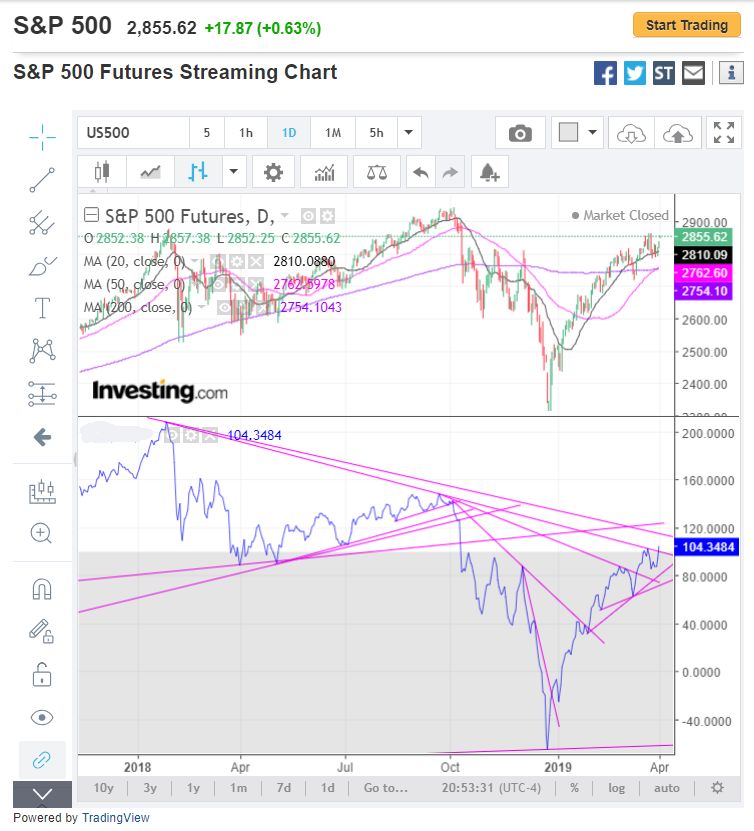 SP00s – The globex rally continues to extend the gains, though the SP00s are about to hit the a price DTL at ~2860, then the pivot resistance at 2866.  as I said earlier…
My SAR swing system remains long from 2818… watching.