Here's another view of the SPX daily with my forecast, since the deep drop in December changed it to a longer wave-(iv)…
This is a normally bullish seasonality into May, then a pullback or sideways, and then another push upward into July/August is also possible…
My two upward targets since the December lows have been ~3040 and ~3290… the Andrews Fork I added helps illustrate the targets with this time frames, though the market will do as it wills… and as always, momentum rules market movement… watching.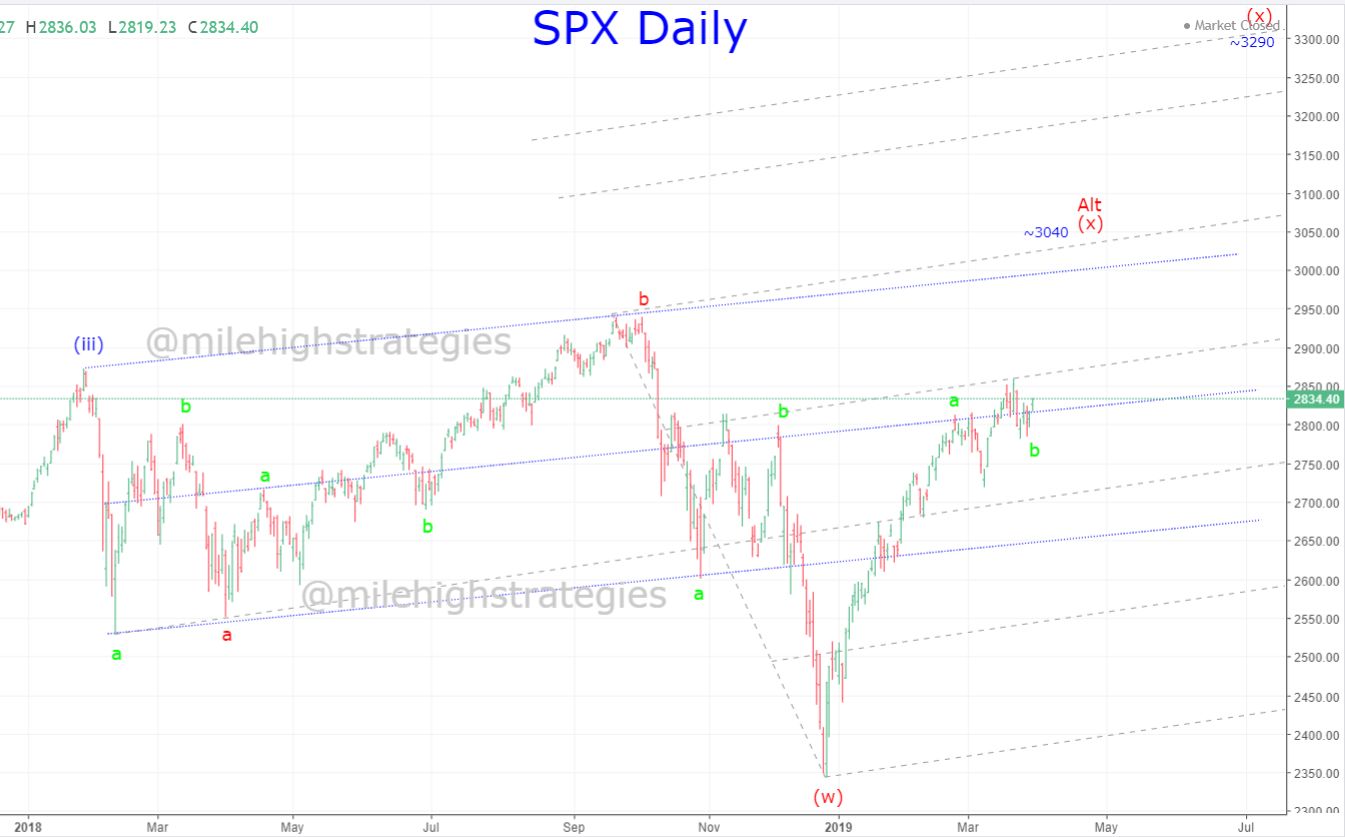 Link to larger chart:  Link 
EUROPEAN TROUBLES LOOMING – @armstrongeconomics reported this week that there may be a financial panic in Europe later this year, with May being when the problems will start becoming evident… Link to article:  Link
The US economy is NOT the problem, and that's why many, myself included, are curious about why the bonds inversion (short-term rates climbing higher than long-term rates) is taking place…
Martin Armstrong is calling this upcoming European crisis, a liquidity crises, and also cites European banks being heavily vested in real estate loans and emerging market loans.
It turns out, foreign banks are buying up our short term bonds as a hedge, due to negative interest rates with the ECB and being caught in high-risk investments in Turkey, that the Turkish government won't let them out of…
Another instrument European institutions have been turning to is the US dollar, which appears ready to finally breakout upward to the next level, to the 100.00-103.82 range…
Link to larger chart:  Link
The financial world is entirely interconnected… the butterfly effect must be considered… if the US dollar breaks out, then things priced in the World Reserve Currency, such as gold and oil, will be affected, though oil can be a bit more controlled by less supply, as it's continually consumed, whereas gold is simply held…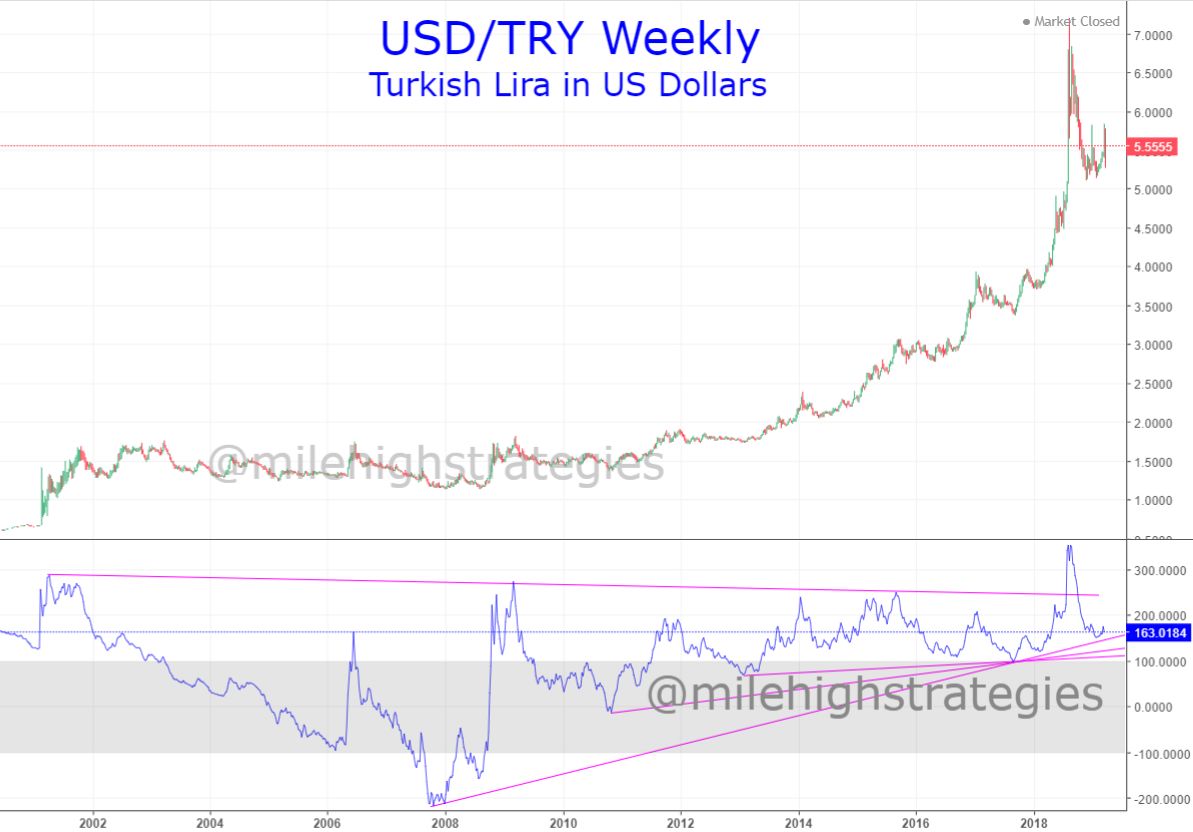 Link to larger chart:  Link
ALTERNATE BULLISH SCENARIO – In light of the alert I mentioned above from Martin Armstrong about some potential financial turbulence in the month of May in Europe due to liquidity issues, what if both the ~3040 and ~3290 fib targets are hits?
Here's an alternate scenario that allows for some "panic" in May from the ~3040 range, then like the fractal pattern that played out last year, the running b-wave completes down in the ~2870 range, and then up again into the summer or even year's end to the ~3290 range to complete wave-(x):(iv)… watching.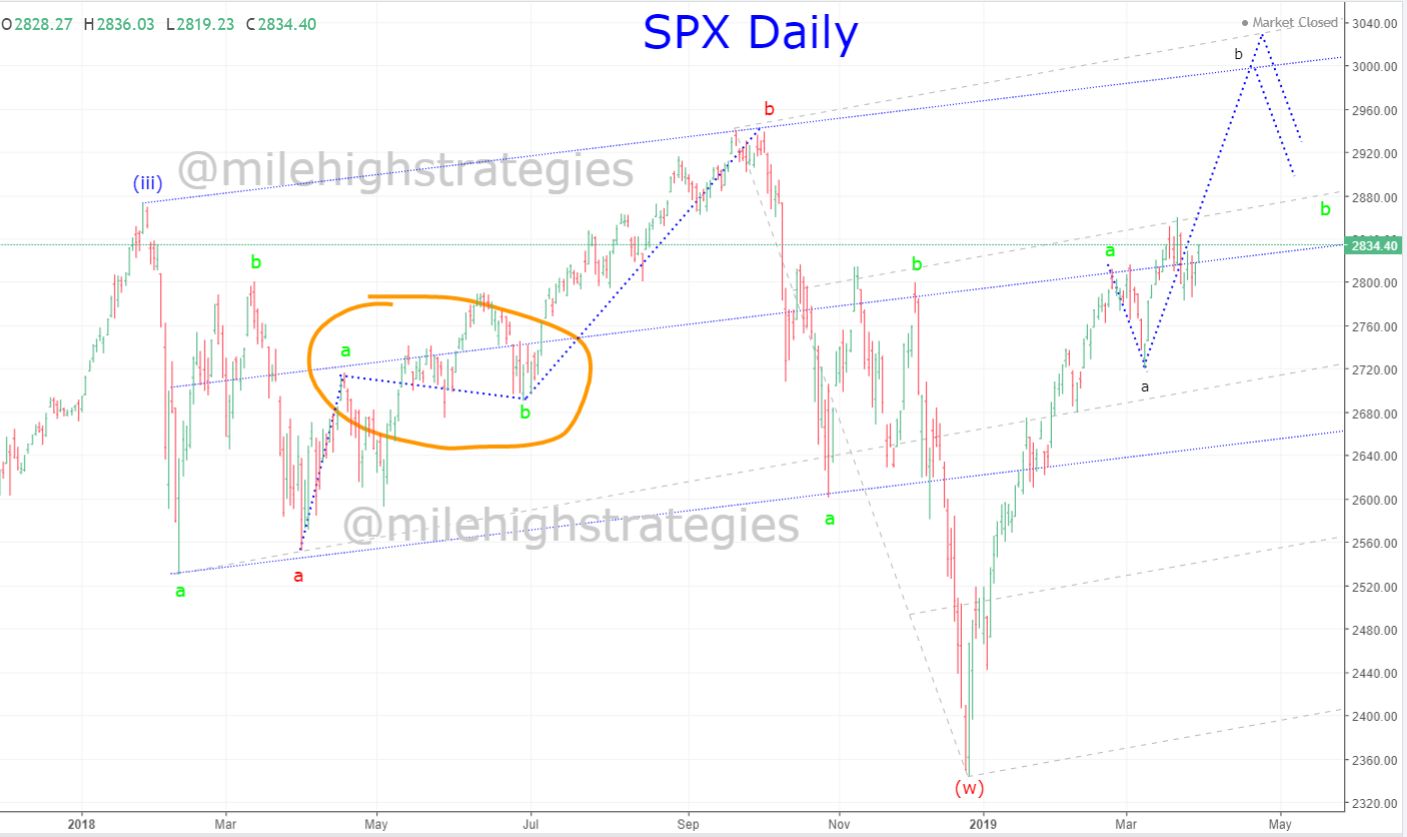 Link to larger chart:  Link
McClellan Oscillator – re-posting this observation from @sentimentrader I shared back in the first week of January 2019…
The unexpectedly huge drop (to me) in December was NOT the beginning of a bear market, but as I've been saying, a momentum reset, to allow the US equities markets to move upward to new higher levels…
The alternate fractal count I posted earlier this morning makes more sense in light of this stat, if the SPX pauses in May, then pushes back upward into year's end…
Breadth precedes price – ALWAYS – watching.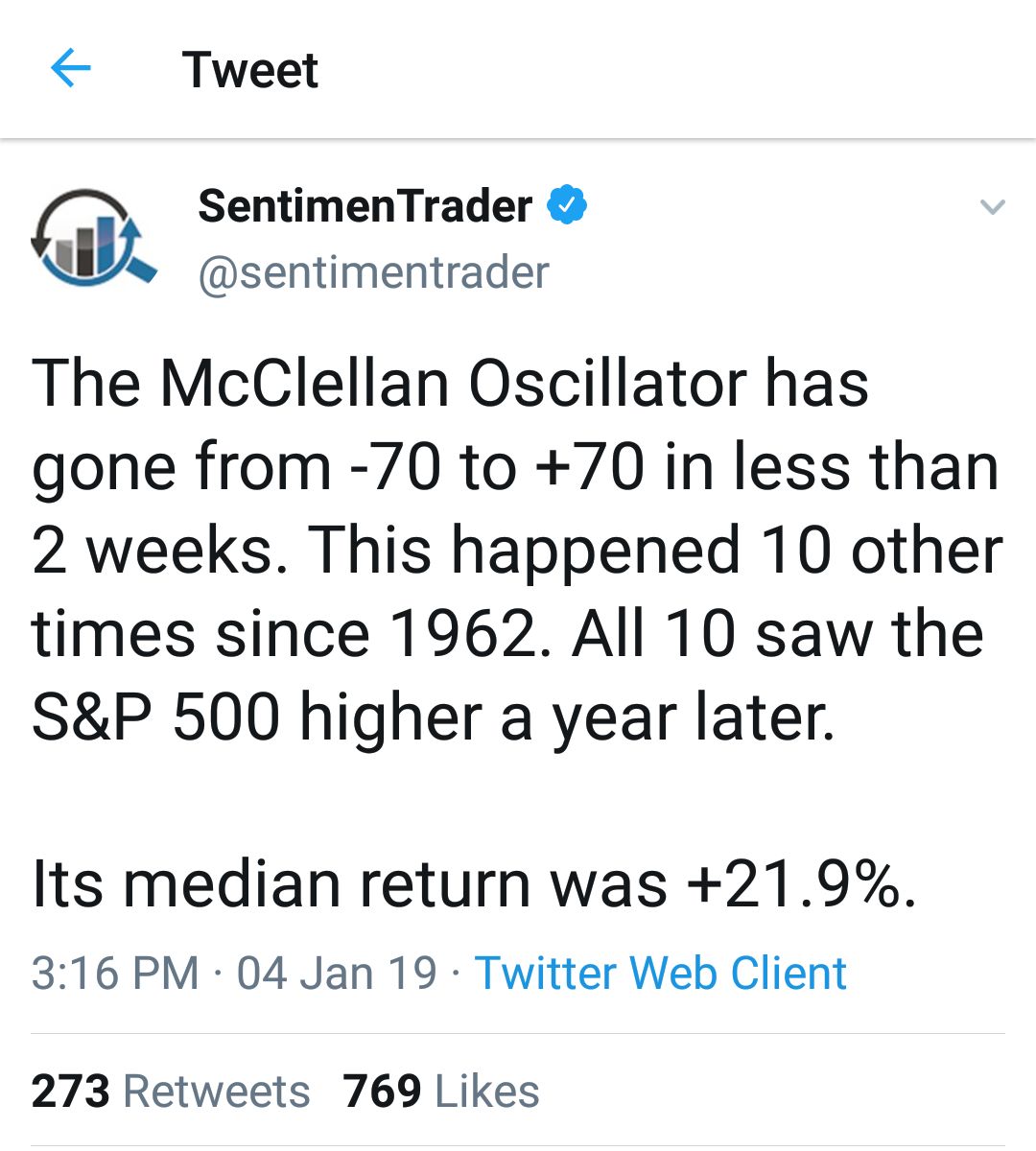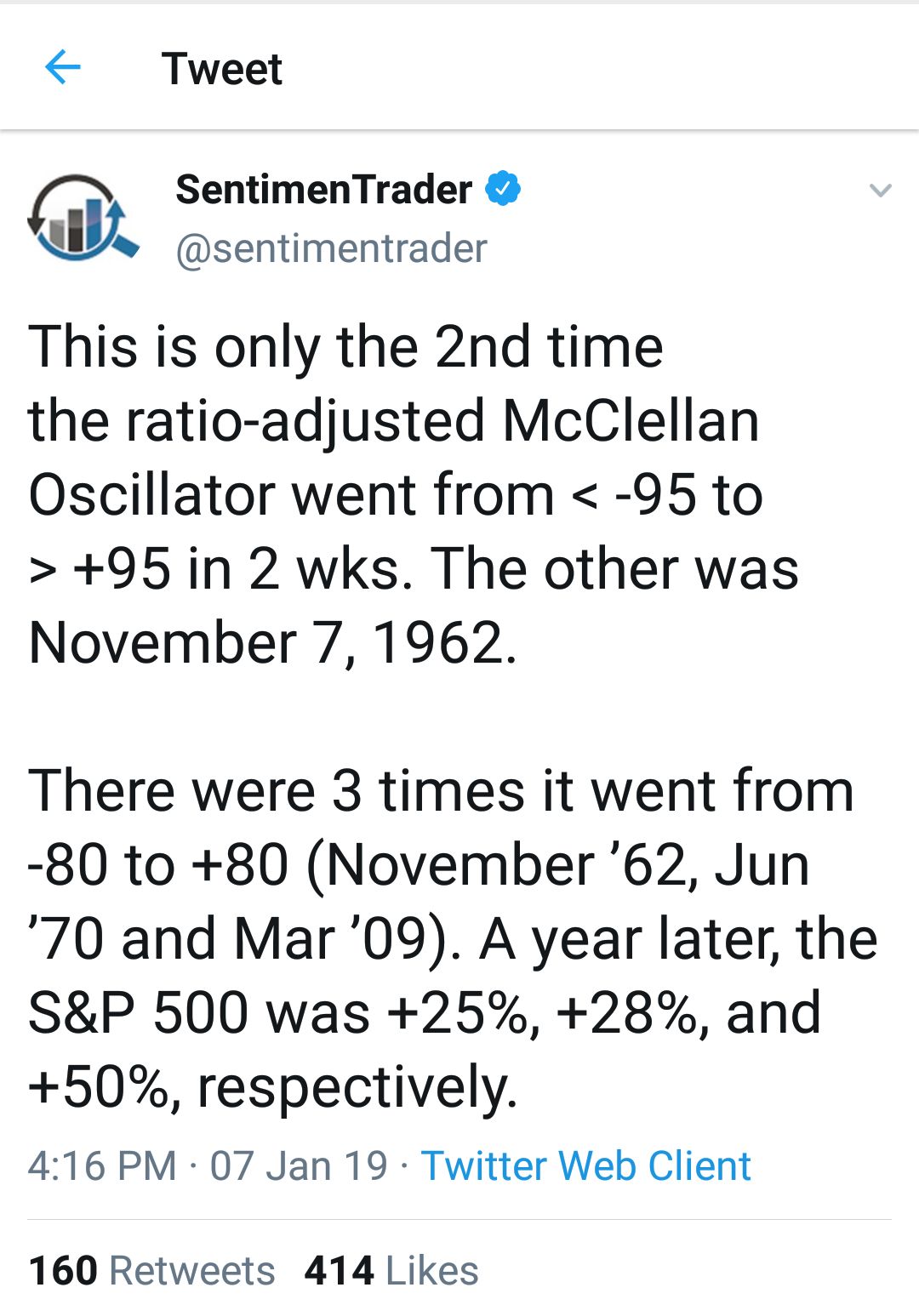 SPX – Now that the trading month and first quarter for 2019 is in the books – it was the best quarter in nearly ten years, and the best first quarter in over twenty years…
Here's the monthly SPX with my momentum indicator set-up and a modified Wilders ATR trailing stop…
When trading starts on Monday, the new monthly bar will begin and the new ATR trailing stop will also appear, though it will print a bit higher, so we'll look at that one again soon, but the point here is, this is a buy signal for institutional investors, AND the golden cross that will surely happen Monday will also be a buy signal for institutional investors, PLUS bullish seasonality into May…
The momentum indicator line that was starting to bend a bit will likely continue pushing upward as price continues upward to perhaps as high as the DTL (not shown), then a hook for the possible May panic, then back upward to new swing highs into year's end… watching.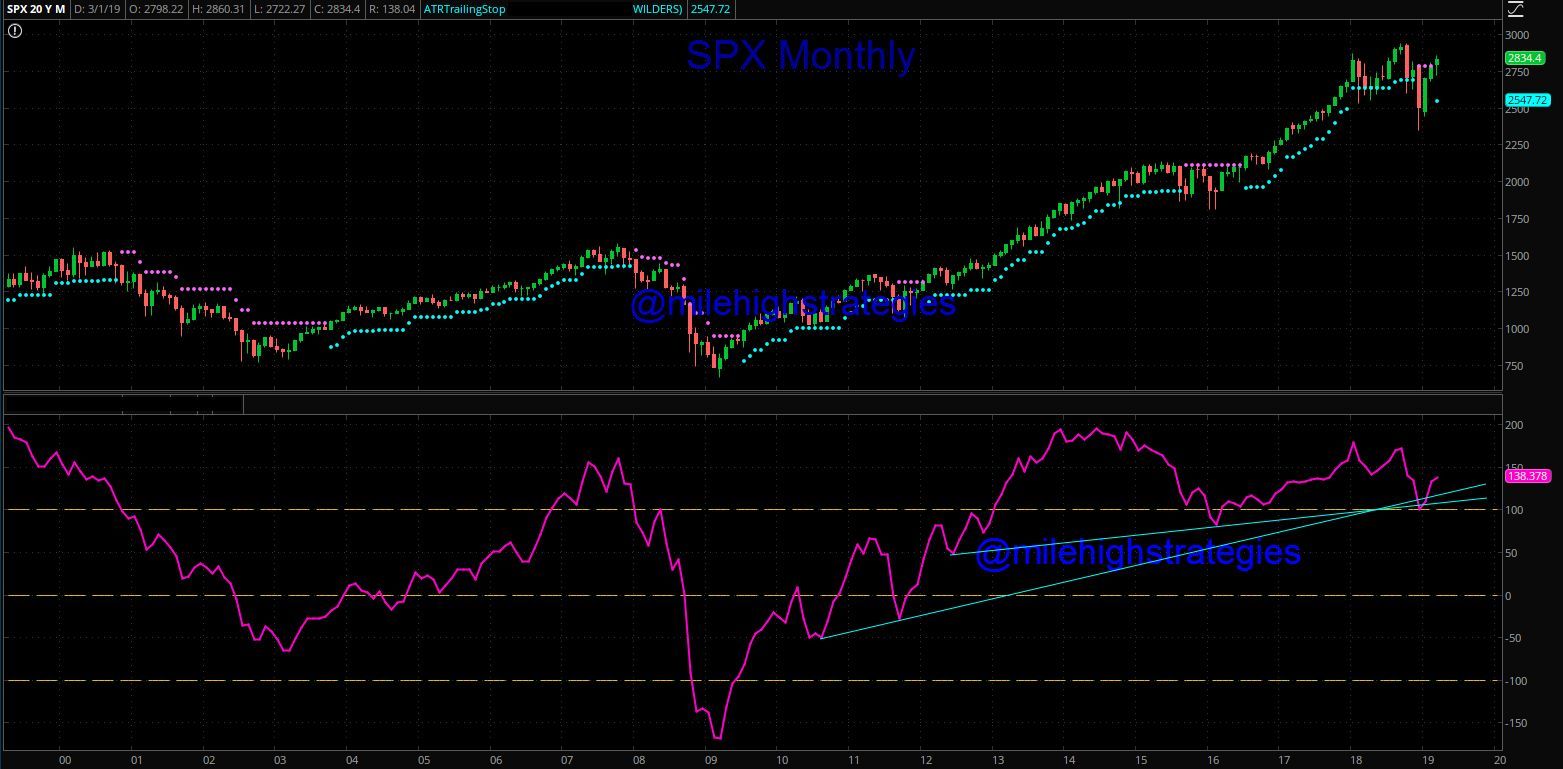 Link to larger chart:  Link