SPX – the SPX ended the week only 31-points short of the ~2808 forecast I made back on 1.18.19…
This is the SPX weekly chart with what I think will be the end of this swing, the drop of the next to the ~2640 range, and finally the rise back upward to new ATHs, to the ~3040 range…
Note also, if this plays out, there is a huge RH&S formation, that actually targets a bit higher (~3250), but we'll worry about that, when we get there…
For now, I look for this 8-week rally to end soon, then a pullback, and finally wave-c:(x):(iv) to move back upward to new ATHs… watching.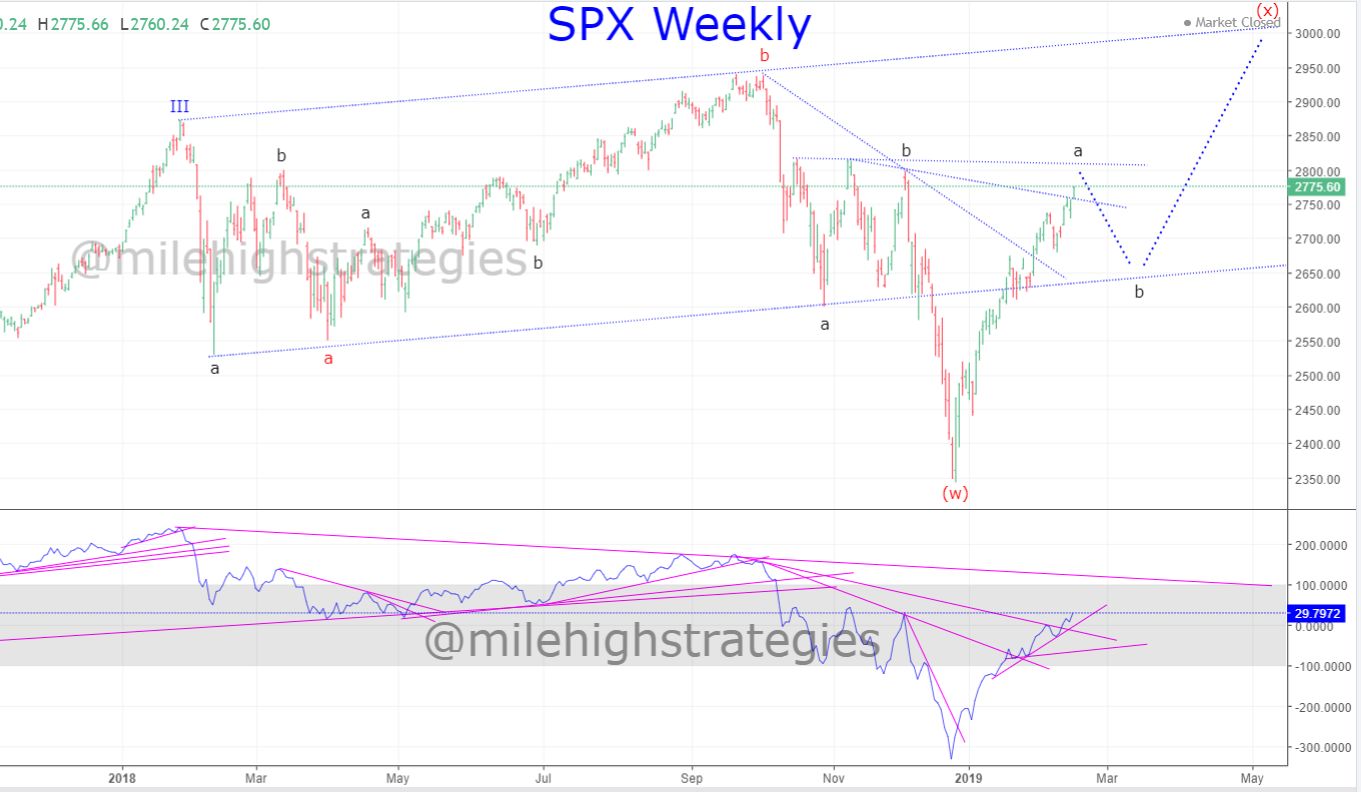 Link to larger chart:  Link
After I posted that SPX chart last night, the RH&S formation wouldn't leave me alone…
So I started tinkering, computing, looking at the chart with regular scale and log scale…
Then the light bulb went on – hey stoopid… the SPX cannot produce and expanding fourth wave with a low in the ~2100 range, because that's below the range of where wave-(i) ended – DUH! (that's a rookie mistake, and I was wrong… that scenario is off the table now)…
Let's suppose the RH&S plays out, that's actually a measured move up to another of my 4.9.16 projections, at ~3290 (a budget deal and a trade deal could do push this upward)…
Then let's say we end the year at new ATHs, but then consternation over the 2020 election cycle pushes us into a corrective limbo and mini-recession…
Then the elections pass, the world doesn't end, and the great bull market resumes…
The ~2696 range is the level on my 4.9.16 forecast for the completion point of wave-(iv), so that would be all kinds of ironic… and of course I'm just speculating here – that's what forecasters do – we try to think outside the box, yet still in the realm of possibility… watching.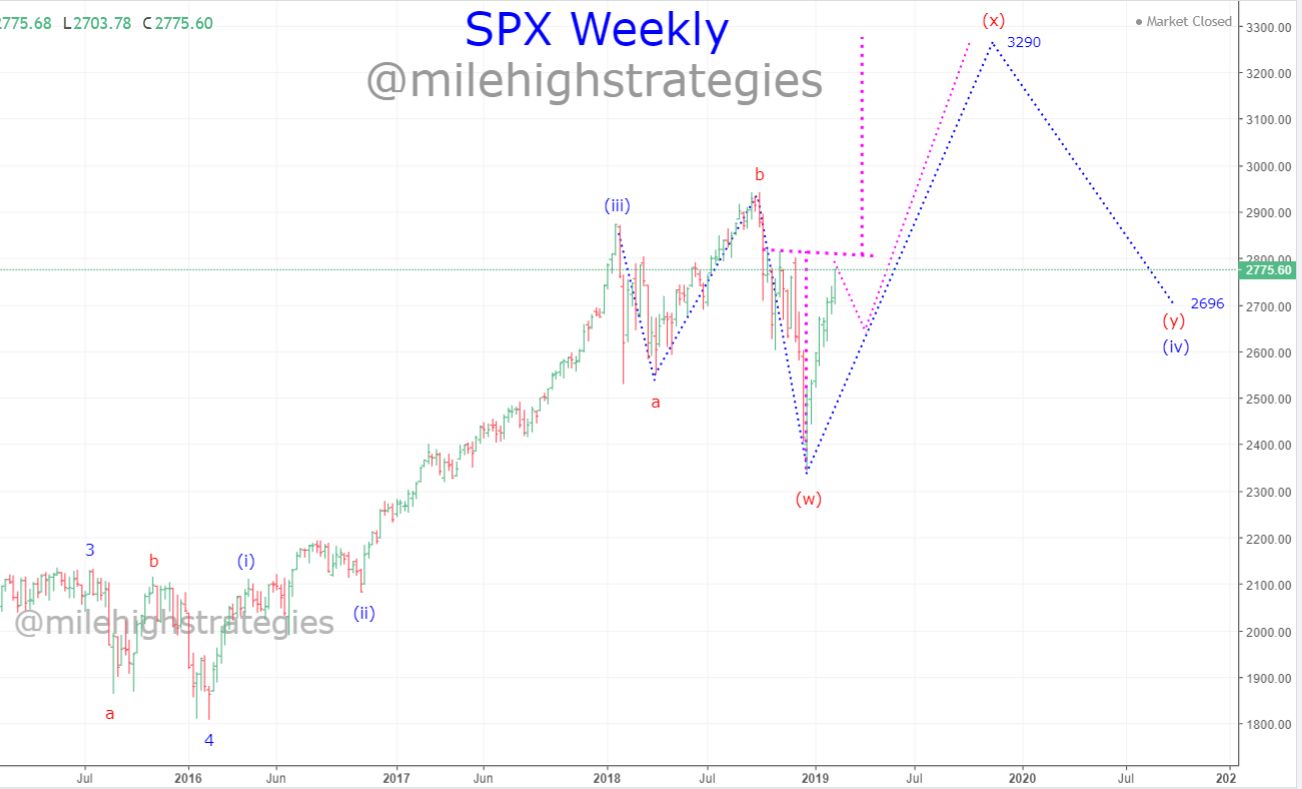 Link to larger chart:  Link 
Here's a remake of the SPX monthly projection chart I recently publish, but without the severe drop in the wave-(y):(iv) leg down…
If this fractal interpretation plays out, 2019 will be a helluva year, but 2020 will feel like a new bear market…
Could a Trump victory in 2020 be the catalyst that turns the US equity markets back upward? I dunno… watching.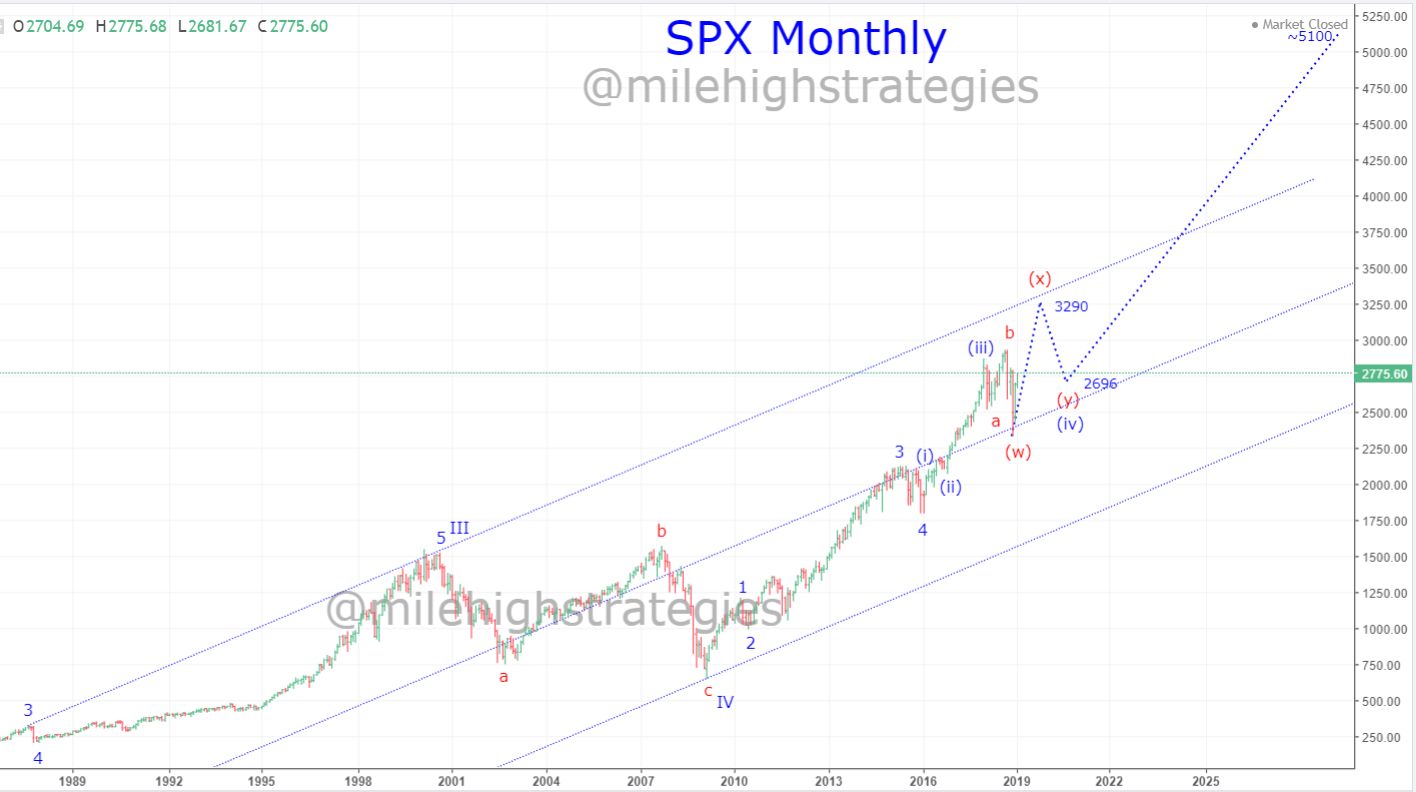 Link to larger chart:  Link
This is the SPX daily chart with the fractal wave structure I'm looking for into the wave-c:(x):(iv) top…
The timing is probably not correct, as seasonality typically carries rallies up into August/September, but you can still understand the general ideal…
The wave-a:(x):(iv) high should be soon, within 1-2 weeks, then a drop back of wave-b:(x):(iv) into May (?), creating the RH&S formation that measures to one of my targets from the 4.9.16 forecast – to about ~3290…
It makes sense that because the corrective channel was broken to the downside, it would also be broken to the upside… watching.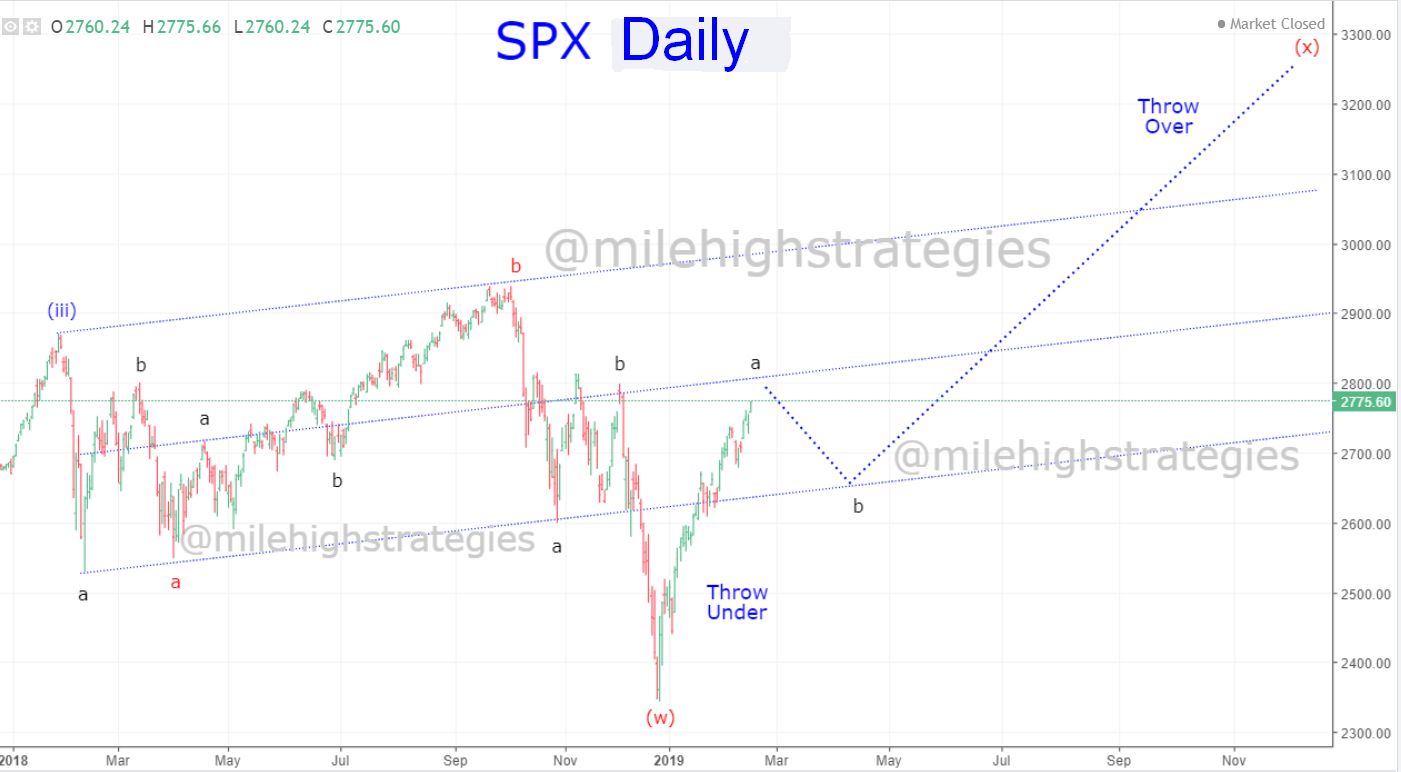 Link to larger chart:  Link
For those who are not convinced about whether this upward move in the US equity markets is real, or not, here is a look at the NYAD Cumulative Index (market breadth) at new ATHs…
I also included a repost from 1.8.19, where a colleague of mine ( @sentimenttrader on twitter ) observed a phenomenon in the McClellan Oscillator (breadth oscillator) that is very rare, and ALWAYS marked a move in prices of at least +25% a year afterwards…
When there is broad market participation, as there is right now, it suggests the move is solid, as breadth lessens at the end of a move… look out above… watching.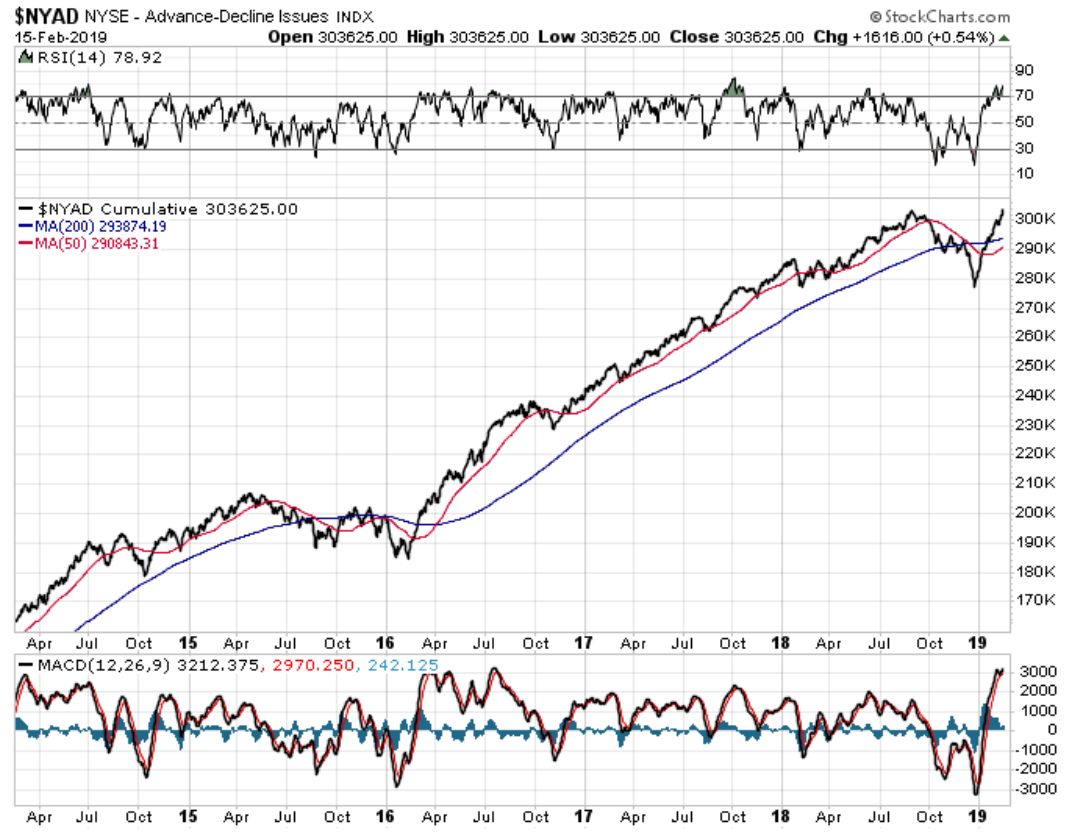 Link to larger chart:  Link