TRAVELERS COMPANIES – TRV is a component of the Dow Jones Industrial Average, and the last time I featured it was back in November, so here we go…
Wave-3 ended in an ending diagonal triangle, which I had thought was the end of wave-5, but upon further consideration, and my expectation for the bull market in US equities to extend beyond 2021, TRV would also need to continue upward, so here is my revised fractal interpretation…
Wave-4 can be counted as complete, but may also need one more leg downward to complete wave-c:4…
Once complete, I have upper targets that include: ~194.31, ~221.34 and ~265.10 (typo on chart)… watching.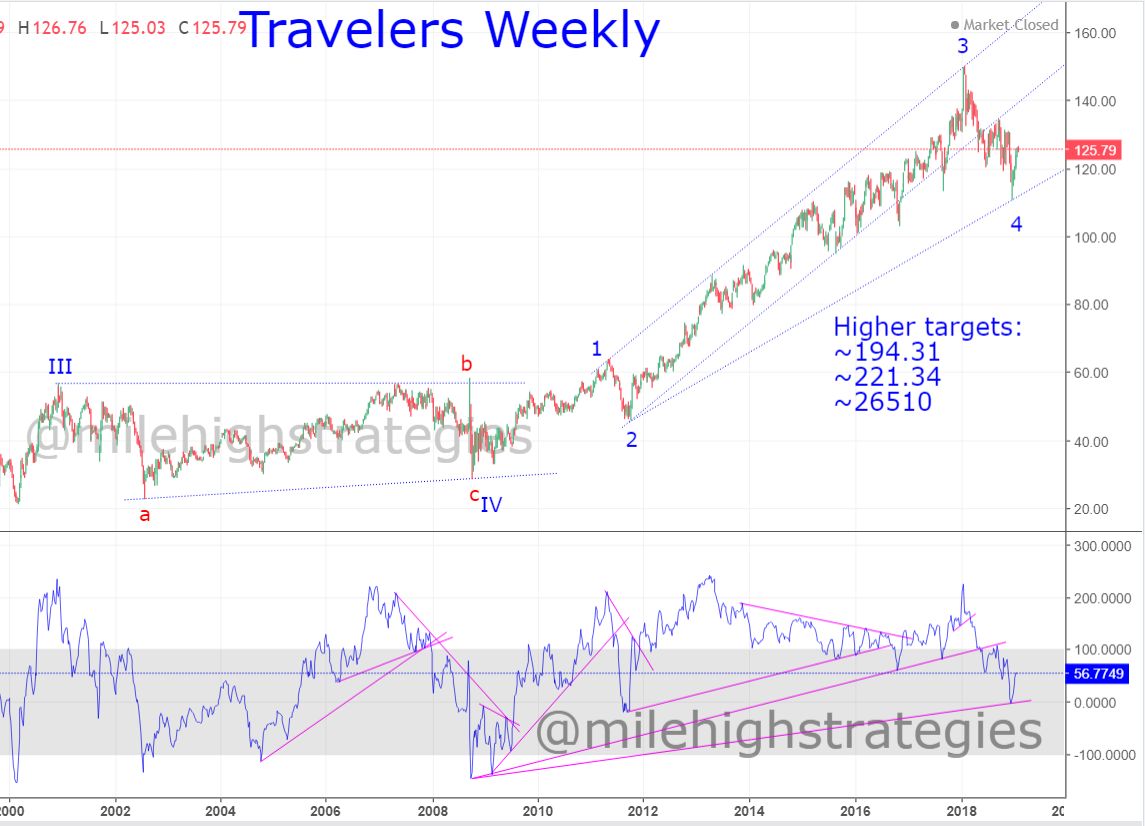 Link to larger chart:  Link
PROCTOR AND GAMBLE – for those who doubt the possibility of the US equities markets moving back upwards to new ATHs – Proctor and Gamble already has…
When I last featured PG back in October 2018, I thought Wave-e:V of an ending diagonal triangle had completed, and PG had rolled over into its bear market…
I am encouraged to see PG pushing back to new ATHs, as this goes a long way to reinforce my LT take on the US equities markets, that the bull market will extend beyond 2021…
At this time, I see wave-b:V complete and wave-c:V in work, with a few higher targets that include: ~114.72, ~127.58 and ~148.41… watching.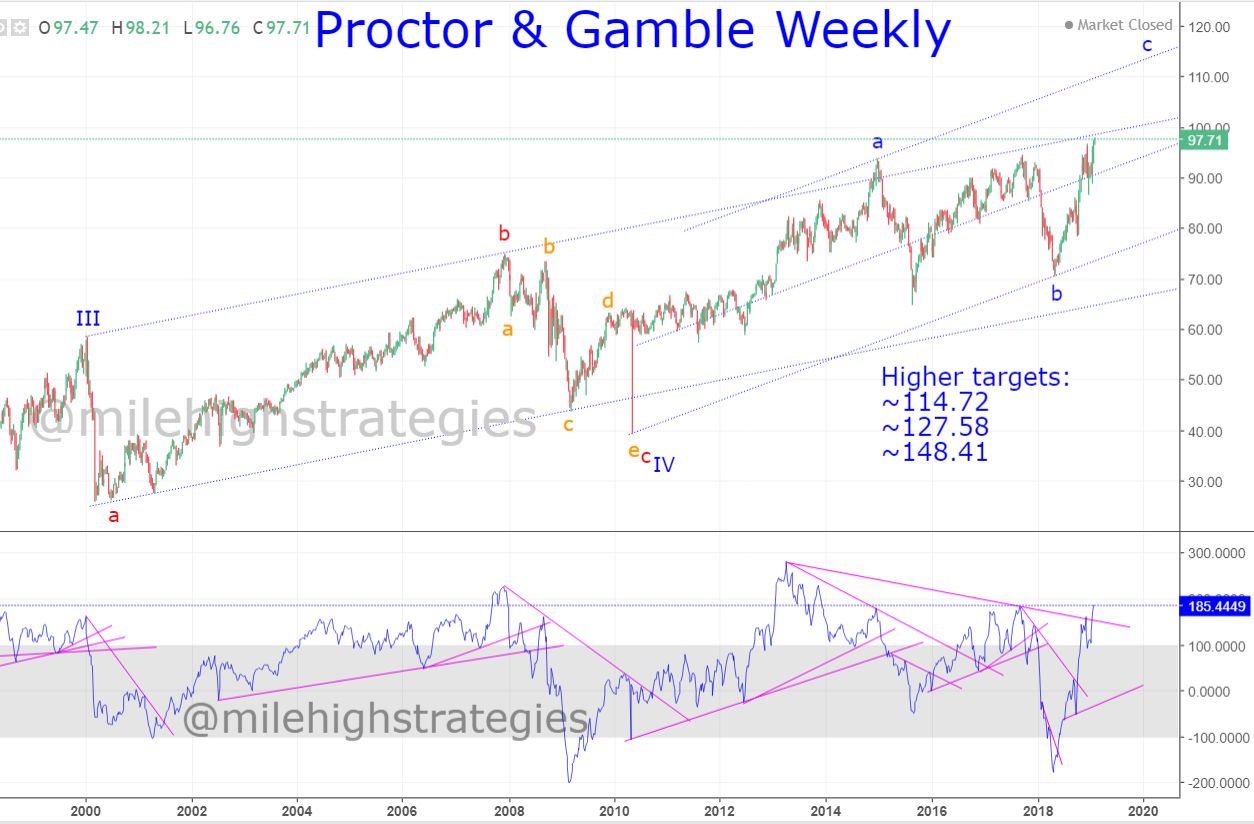 Link to larger chart:  Link
Real Estate/Interest Rates
In response to the PG chart above, I got this question on my Insta feed:  Real estate as well? (As in real estate also rising again to new highs?)  What are your thoughts on rates boss?
I'm not so sure about RE… I'm pretty sure RE and utilities have peaked (except perhaps in isolated pockets on RE) and are down as interest rates rise into 2032…
Below is the US 30Y weekly chart I published on 1.25.19…
The LT turn took place in July 2016, and thus far, we've seen a wave-i and a running wave-ii is now nearly complete with wave-v:c:ii in play, and could bottom in the 2.88-2.91 range…
I think the moment of realization for most is when 4.0 is taken out to the upside, then the next major pivot of resistance after that is ~4.75, though this could take another 24-36 months to acheive…
Be mindful also that sentiment will also play a role… taxes, political climate, trade, global economic growth, PENSIONS (the biggest reason rates NEED to rise), etc, will also affect how rates climb and rate-sensitive assets are affected…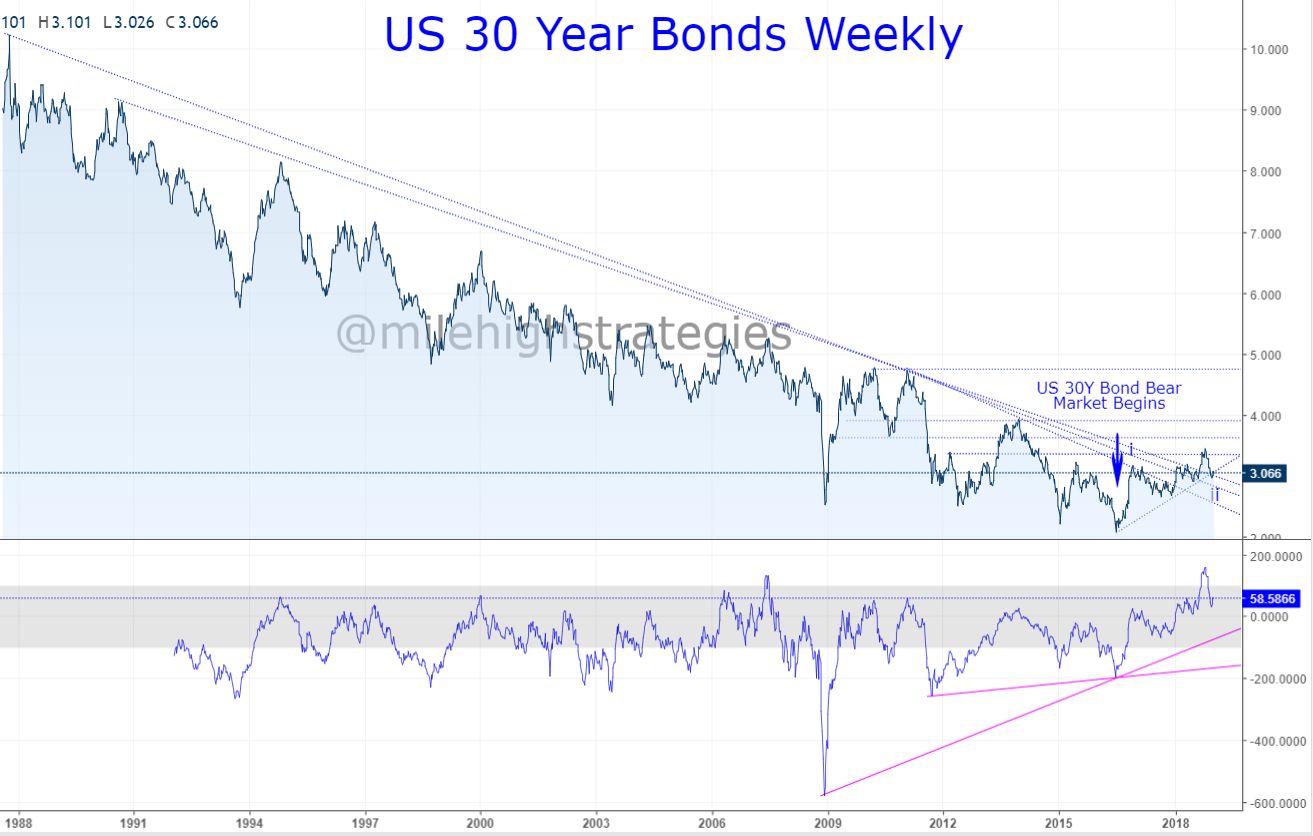 Link to larger chart:  Link