The chart below is the weekly SPX with my bull/bear market filter – a proprietary filter I developed years ago – which is showing the momentum indicator line still very high in the bullish trend bubble zone.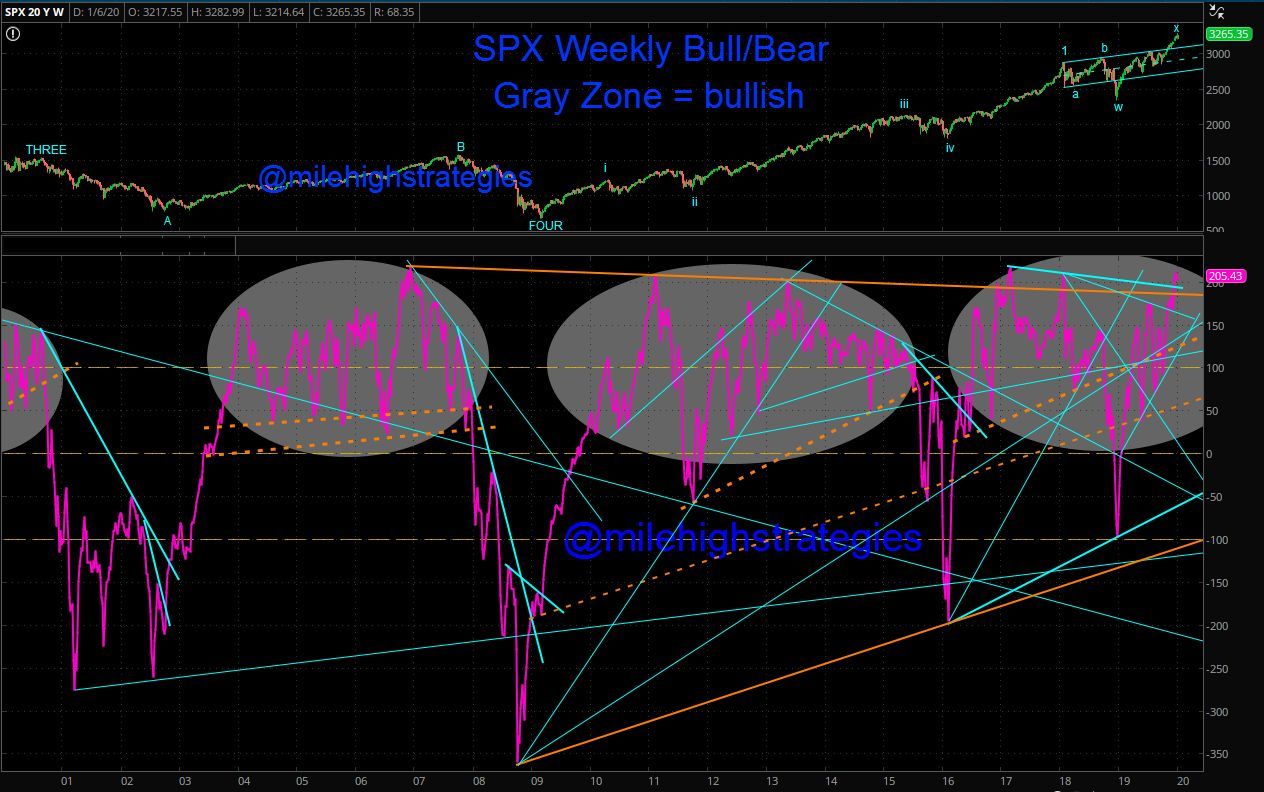 Link to larger chart:  Link
It's too early just yet to say whether it will actually fall out of the gray bullish bubble zone in the upcoming last leg of the corrective fractal, wave-y:2, as the first leg of the decline in the current corrective fractal back in early 2018, wave-a;2, did not.
If the EU and @christinelagarde of the ECB deal with the upcoming liquidity crisis, caused by the forced deflationary practice of negative interest rates, quickly and decisively, and the decline lasts for only 3-6 months, then the momentum indicator line will likely remain within the bubble zone and begin creating negative divergence as prices recover and move back to new ATHs in 2021 – as in the previous bullish bubble zone cycle from 2009-2015.
However, if politics and pride prevails in the EU and ECB, and banks, especially large banks, such as Deutsche Bank, one of the twenty largest banks in the world, are allowed to fail, then the decline could last all year and fall farther than projected, and the momentum indicator line will also likely fall out of the bullish bubble zone, as it did two cycles ago from the 2007 highs, when the momentum indicator line just kept making lower-lows, until it finally dropped out of the zone.
I have reason to believe that @realdonaldtrump has been briefed on what's about to hit the fan, as he's rightly ceased from beating up the US Central Banks and Fed Chairman, Jerome H Powell over not dropping interest rates here in the US, so I urge President Trump to step up quickly and do what it takes to get the ECB to respond fully to this coming liquidity crisis, lest it becomes a CONTAGION and drags the ENTIRE WORLD ECONOMY INTO RECESSION.