To think, it was only twelve months ago that the SPX saw an incredible decline of some 600-points, from its peak in the ~2950 range in September 2018 to its lows of ~2350 in late December 2018, and then the SPX pushed back upward to a December 2019 high of ~3250 and closed the year at ~3230.
The December 2018 decline was, as I call it, a momentum reset for the US equities markets, and as such, created a foundation for the next bull market cycle that began in 2009, to continue over the next decade, as I wrote in a recent article: Link 
FIRST FORECAST ON 1.4.19
It was this realization that caused me to forecast on 1.4.19, that the SPX would push upward to new ATHs within months, rather than years, if ever, as most in the financial forecasting arena were calling for. And this forecast came to fruition when the SPX rose to a new ATH on a closing basis, on 4.26.19.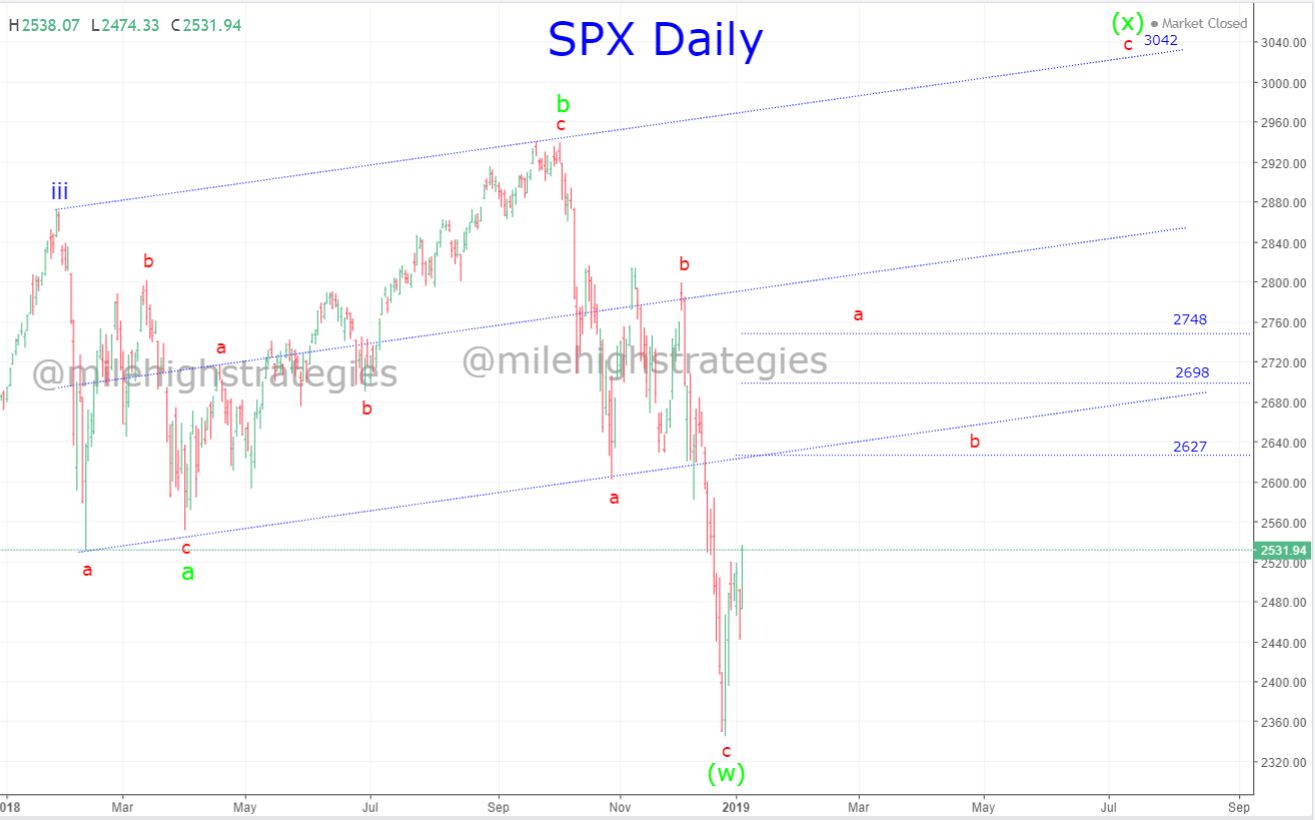 Link to larger chart:  Link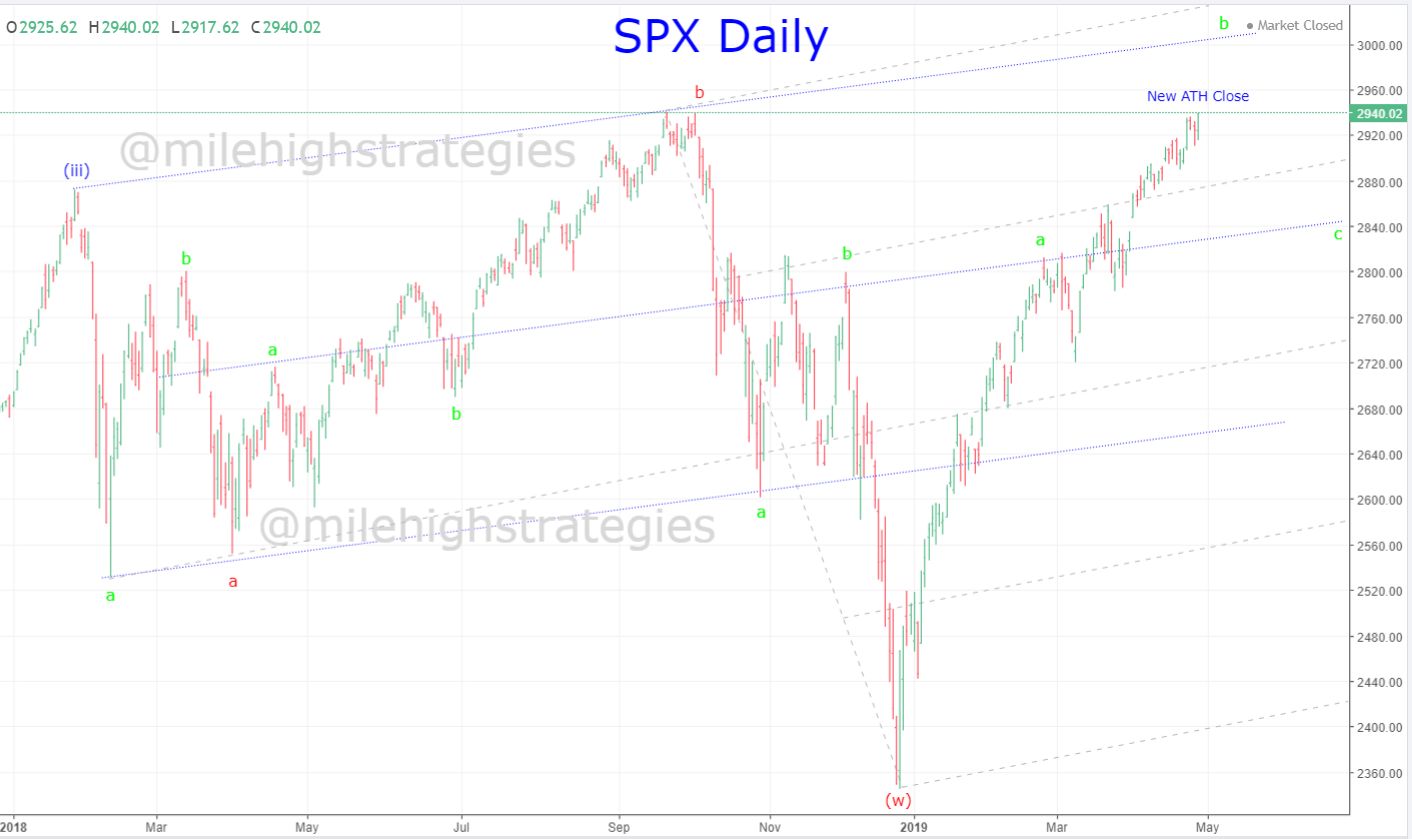 Link to larger chart:  Link 
REVISED FORECAST ON 2.15.19
Before this forecast had even been fulfilled, I realized on 2.15.19 that my target was inevitable, yet not the highs for the US equities markets for 2019, so I revised my target upward, as the SPX would continue pushing upward into year's end, with a final target in the ~3290 range.
While the ~3290 target has not quite been reached, the SPX did peak at ~3248, and I expect in January 2020, when President Trump signs the Phase-1 trade deal with China, that the SPX will be able to push upward to that price target.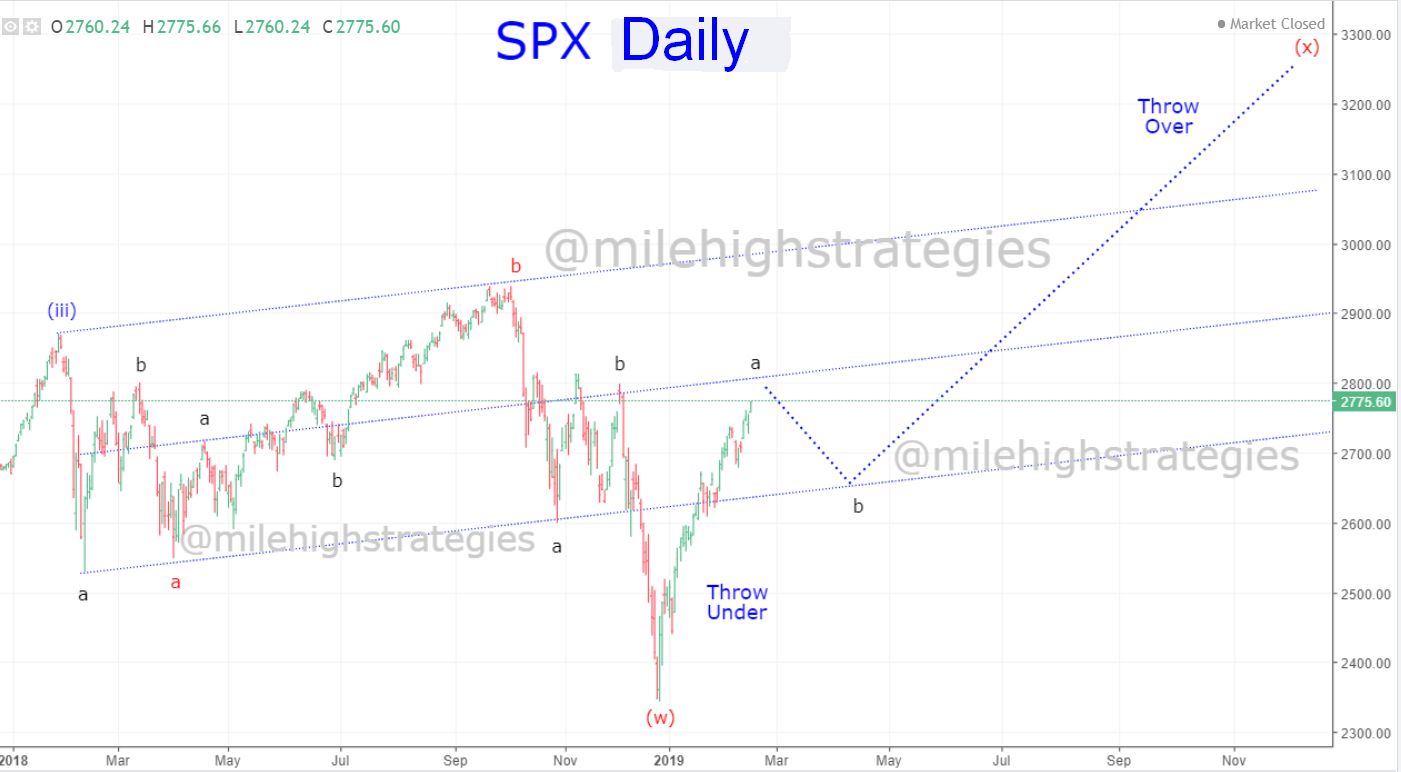 Link to larger chart:  Link
Link to larger chart:  Link 
FORECAST FOR 2020
That brings us to what happens after the ~3290 price target is reached?  I'm glad you asked, and I posted about that matter in the link above, regarding bull market and bear market cycles, though below is a re-post of the SPX weekly chart I posted with that article.
While the trade agreement with China will be very bullish for both economies, the world economy will be affected by the liquidity issues created by the ECB's forced deflationary practices of imposing negative interest rates throughout the EU.
The US equities markets will see a sharp decline that could last from 3-6 months, or if the ECB doesn't step up and help their banks, such as Deutsche Bank, one of the largest banks in the world, to work through this crisis, the decline could last from 6-12 months, with a target of ~2700 for the SPX.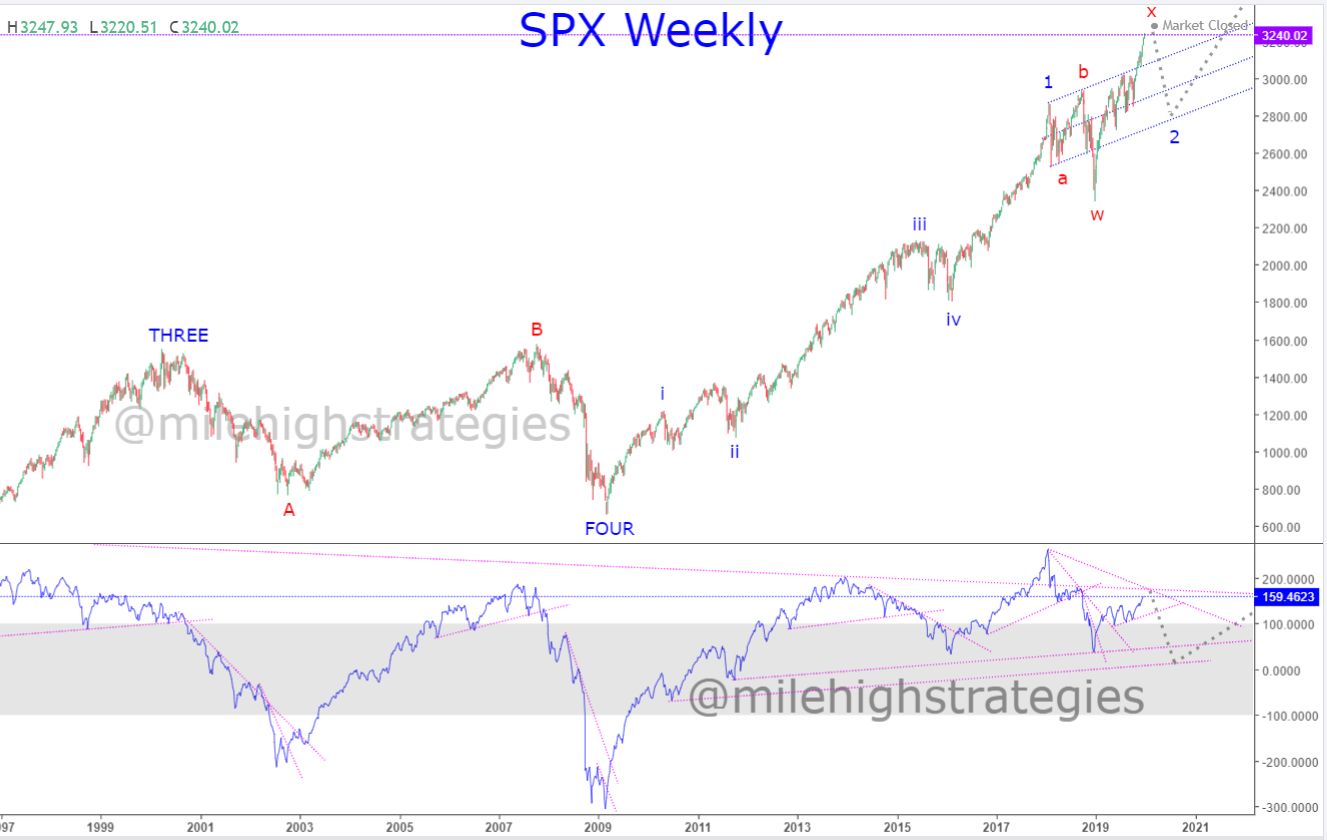 Link to larger chart:  Link 
FORECAST FOR THE NEXT DECADE 2020-2030
Fortunately, it appears that President Trump and other world leaders will talk the EU and ECB into dealing with this crisis and we will get through this bump in the road, make another important bottom, and push upward again to new ATHs either later in 2020 or in 2021.
Link to larger chart:  Link 
While the fallout from this event will hurt a bit in the short-term, as equities give back most of the gains made in 2019, there will also be positives, including: a likely longer-term trade deal with China that will fuel future economic growth, and wave-y:2 complete, and the next leg upward of the bull market cycle getting underway, with a wave-3 first major target of ~8800, basis the SPX, and an eventual push upward to ~15500.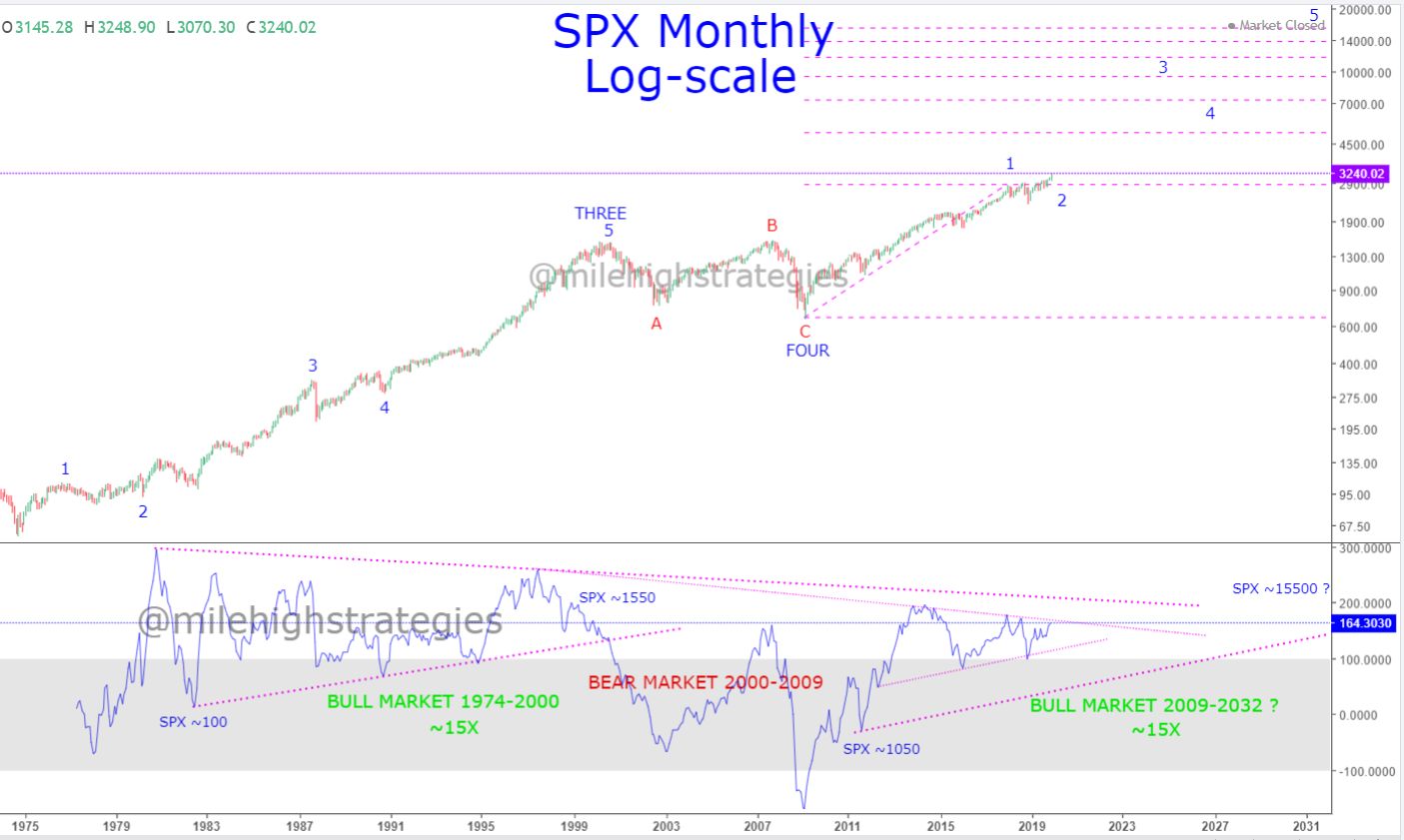 Link to larger chart:  Link 
Growth almost always includes some growing pains, and next year will be a year of growing pains, as the global community attempts to deal with the self-imposed liquidity crisis that was created by forcing interest rates to remain below natural inflationary levels for so long in the EU. However, on the other side of the crisis, as in 1997 and 1998, we will see a continuation of the bull market cycle into the 2032 time frame.
HOW WILL YOU DEAL WITH THIS?
This begs the question: how are you going to deal with a major bearish cycle within a bull market cycle, where most of the gains made in 2019 will be erased in 2020?
A buy-and-hold strategy is a very slow and frustrating approach to investing… it does work over time, unless your retirement plans hit in one of those 8-13 year bear-market-cycles I mentioned in the article and chart I linked to above.
And then there's also those nasty corrections within a bull market cycle. like in 1987 and next year, where the gains made in the bull market cycle are significantly erased in a bull market correction… how frustrating!
Buy-and-hold will work over time, if you have the discipline and character not to sell in the declines, though it takes MUCH longer to build that nest egg for your future.
SWING TRADING IS A BETTER WAY
I developed a momentum swing trading system that beats the markets in bull or bear market cycles, and has helped my clients profit hundreds of thousands of dollars over the past six months alone.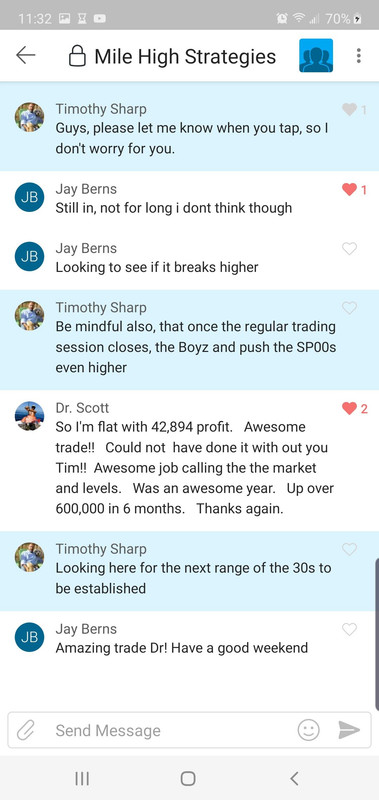 For the past six months, I've helped Doctor Scott turn his $350,000 account into over $950,000. Do you think he wants to give most of those profits back next year? No, he doesn't, and that's why we'll be pushing for another $1,000,000 next year, as the US equities markets decline.
If interested, you can see more of the details here: Link  and if you're a qualified investor/trader, I can do the same for you!
If this piques your interest, DM me, and let's see if there's a fit!