Welcome to this presentation!
I'm Tim Sharp, a father of twelve beautiful kiddos, husband to an incredibly wonderful wifey and I'm presently still in the environmental services industry, where I sell and manage about $1M/year in environmental projects  – asbestos abatement, lead-based paint abatement and mold remediation… oh, and I also created the most robust, yet sensitive swing trading system for trading on the SP500 available today.
This presentation is for you if:
You are very teachable…
You understand the concept of risk and risk management…
Your investment portfolio is under-performing – the average rate of return on the SP500, since its inception in 1923 is about 12.25%, the average mutual fund rate of return is about 8-10%…
You have student debt or professional debt you would like to see retired more quickly…
You want to retire from the medical profession earlier and begin your "Second Act" (Stephen Pollan)…
You have enough discretionary capital to participate, and it's not "scared" money…
You have no problem with paying a small fraction of your success to achieve success…
Link to audio presentation from 11.10.19, it's about 30-min long:  Audio 
Growing Up
Personally, I came from the wrong side of the tracks… my step father was a functioning alcoholic and my mother worked in the casinos (Reno, NV), so my siblings and I were basically latch-key kids and I became hooked on the blackjack tables at age sixteen – the Air Force became my escape from a sure death spiral.
After serving in the USAF four years (1981-1985), I went to work for the defense industry at Northrop Grumman in the Chicagoland area, and found out that corporate America was not very likely to be my long-term career path either, as I lost my job in the Reagan defense downsizing in 1987, and moved on to the construction industry.
So there I was, wanting more from life, but only equipped with a GED and my military training as a Metrologist… I knew I would have to apply myself and find a skill that could offer a high ROI and yet allow me the time freedom to pursue it while working for someone else and raising a family… enter learning technical analysis.
A New Skill Set
In 1994, I responded to a direct mail campaign for a booklet that taught a few simple strategies for trading options in the commodities market, and so this began my journey on the path of learning technical analysis.
The booklet was very simple, it taught that there are price breakouts all the time in the commodities world, and that I should pay attention to the news for agricultural threats, such as freezes, fires and floods, or even hurricanes that would affect oil/gas prices, then buy out-the-money call options on the commodities that would be affected… it seemed simple enough, but was also kind of a crap shoot, and there really weren't these kinds of opportunities on a very consistent basis.
I moved on to learning about technical analysis and began studying the US financial markets, and mainly the SP500 Index.
Beginner's Luck
As my knowledge grew, so too did my confidence and desire to test my skills in the markets and while I had a few wins in the commodities markets (Natural Gas), they were also quite seasonal, while the equities markets were always moving somewhere – up or down – so it seemed to make sense to move in that direction.
In March-April 2000, I saw that the SP500 was topping in what could be an important top, so also saw an opportunity to see what my new skills could do in real time, in the real world.
I had opened and funded an options trading account with $2,000.00 at Lind-Waldock, a "discount broker" (later sold to REFCO, which went bankrupt in 2005) where each side of the trade was only $30.00 per contract – back in the days when you had to call your broker to make your order, then call back to see if your order was filled – today, trades are instantaneous and my broker (TD Ameritrade) doesn't even charge a trade transaction fee.
In that 30-day period, I turned $2,000.00 into $122,000.00, and found that I had indeed learned a bit, though was not yet good enough to know how to swing trade the entire trip down, so went back to my work and studies, but was hooked on this new skill set that could produce lucrative gains and could be worked in the background while I worked in my career – at this time I was a Sales Engineer for Mitutoyo America, earning 6-figures.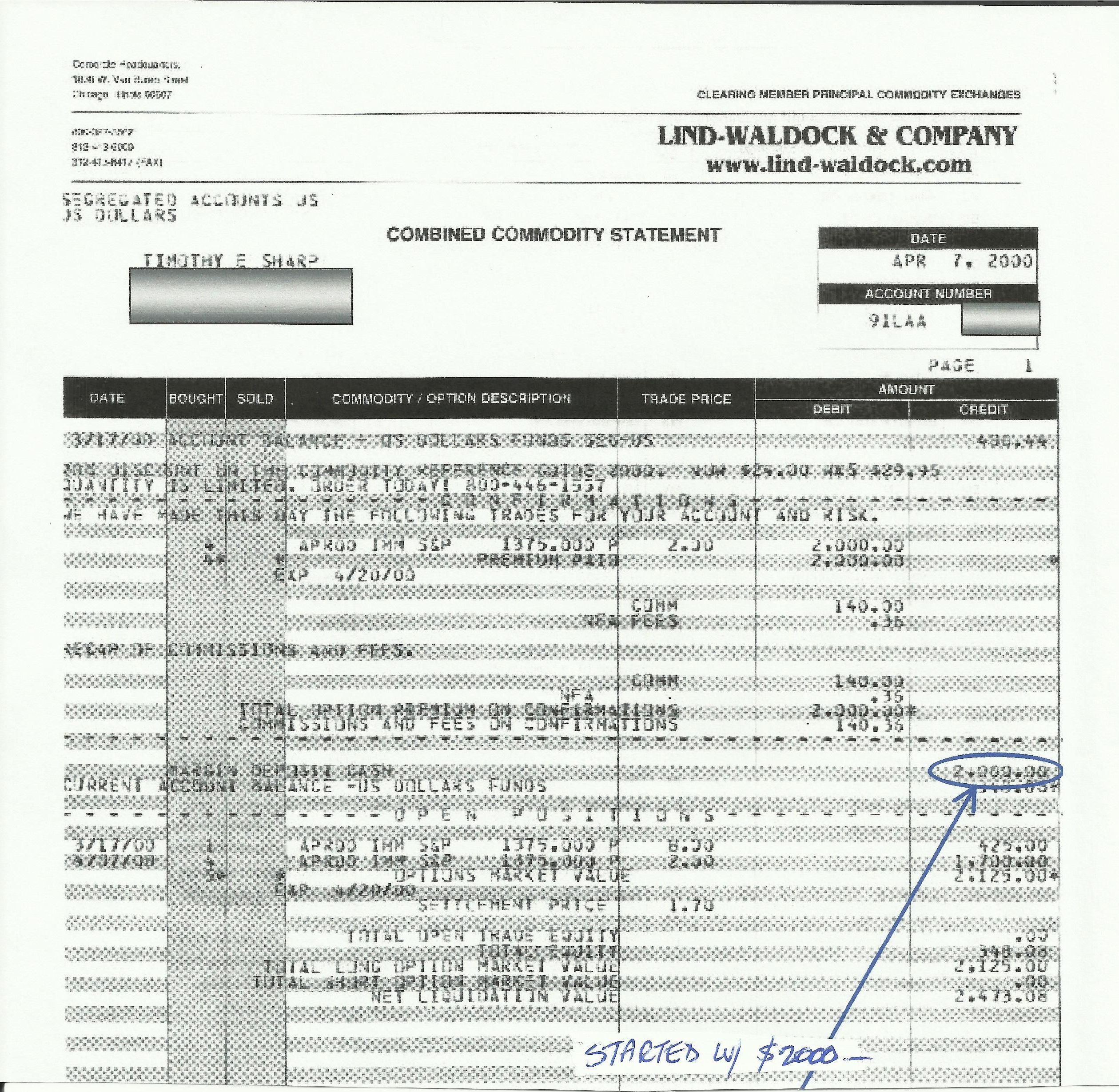 Link to larger image:  Link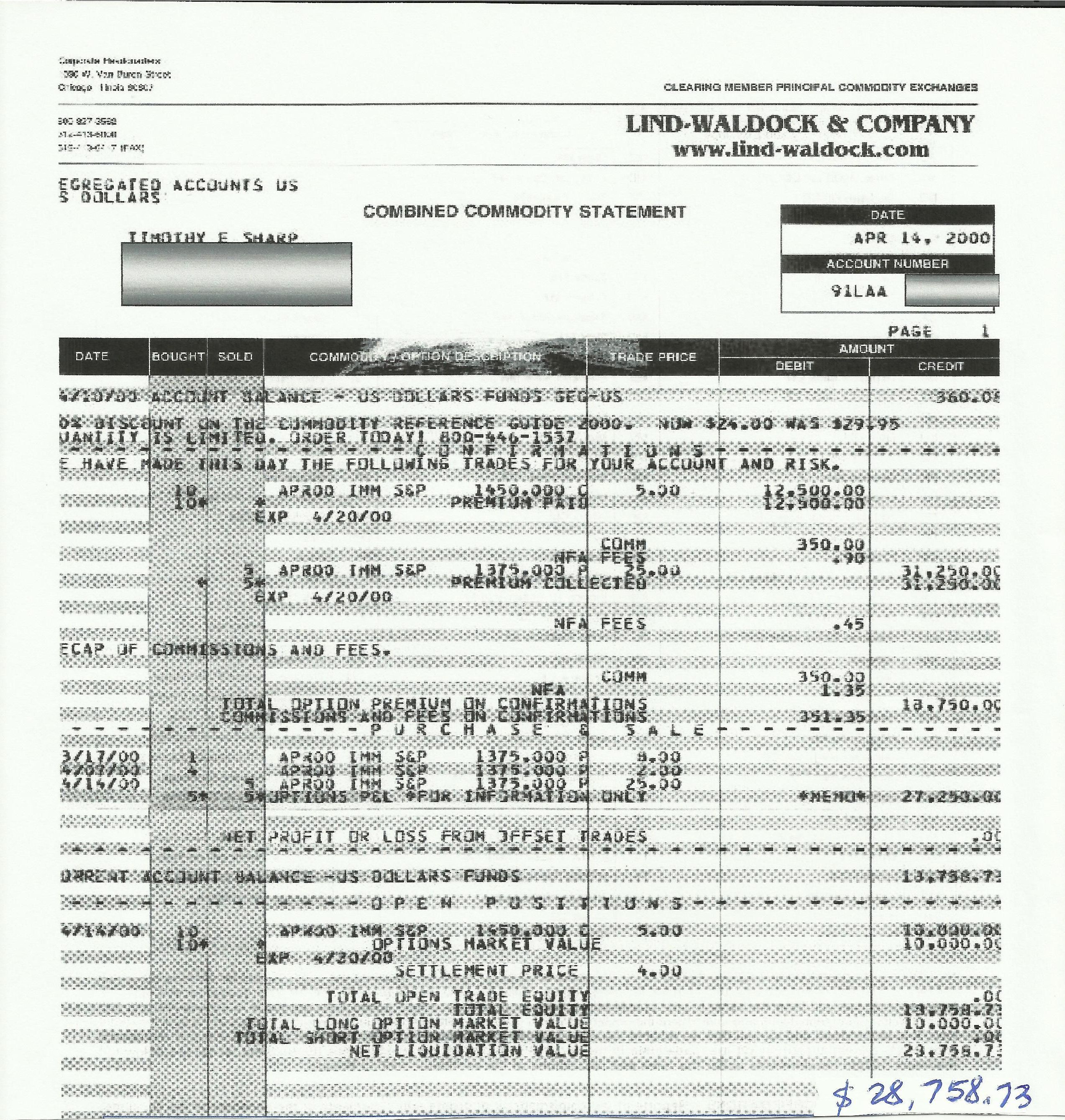 Link to larger image:  Link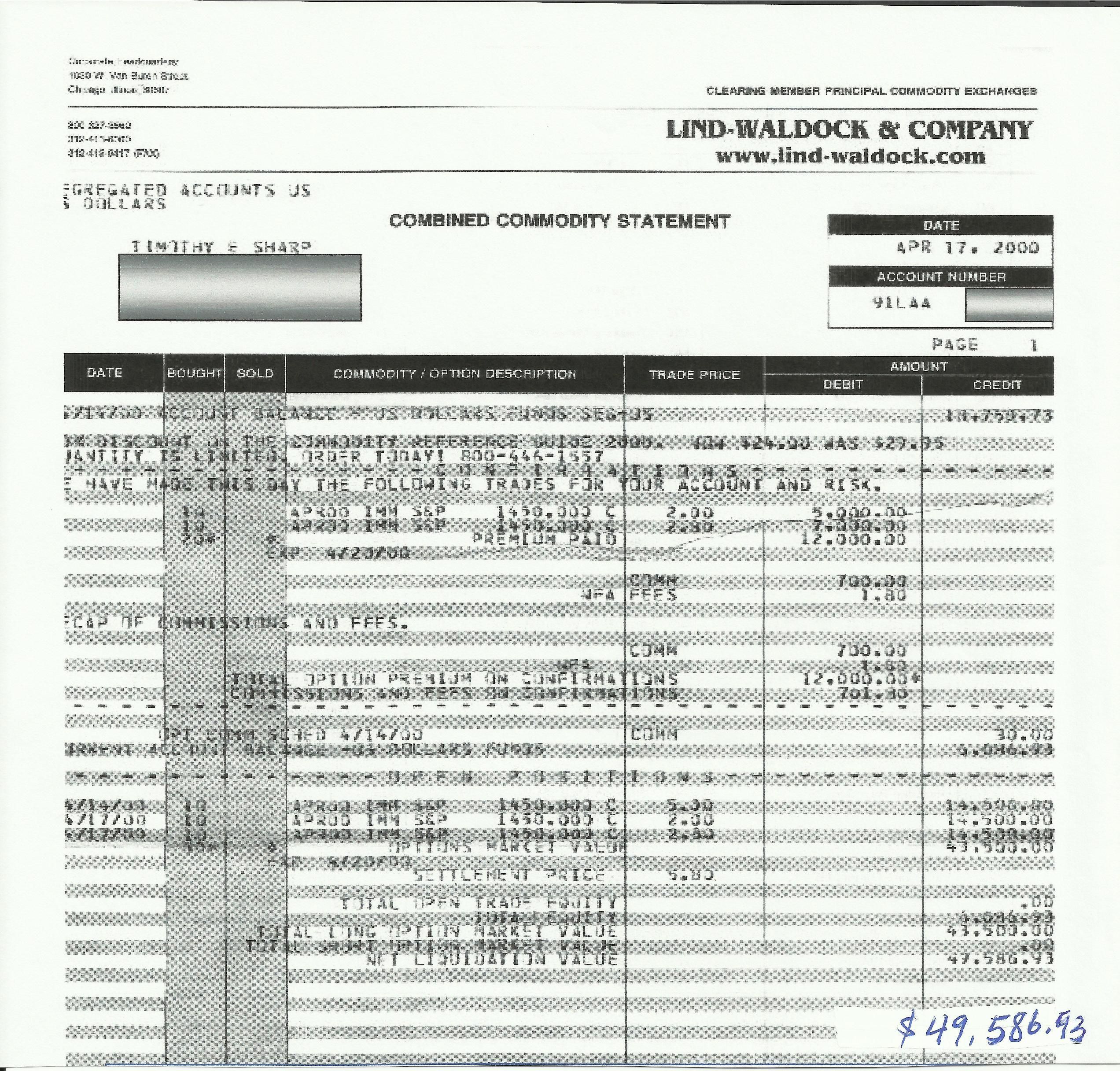 Link to larger image:  Link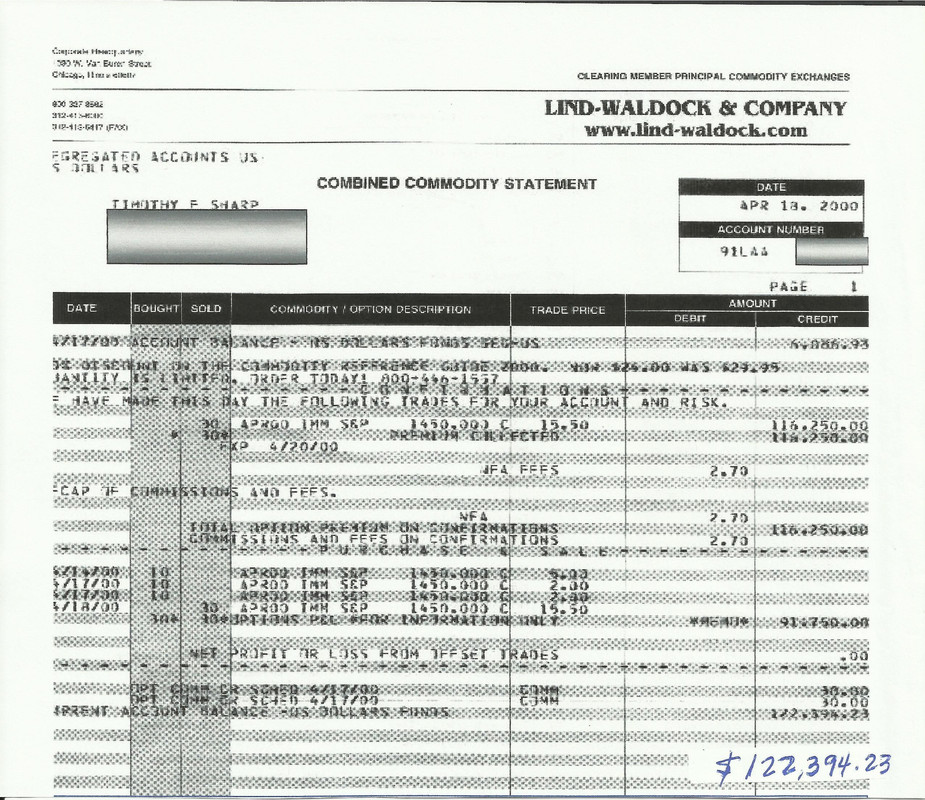 Link to larger image:  Link
Life Happens
A failed drywall contracting business and two divorces later, I found myself looking at my future and decided to continue working on the one skill set that could support my kiddos and also allow me to begin a new career, and decided to work on creating a trading system that would be consistent, applying both technical analysis – to know the general market direction and targets – and also some kind of trend indicator that would help keep me on the right side of the trade and in the trade until the trend was complete.
Technical Analysis Skills
As I came back to mastering technical analysis, my skills became better and my forecasting became among the best in the industry, though without an Ivy League diploma and the right connections, I would always only be regarded as an outsider to the Boyz in the industry.
On 4.9.16, I forecast that the SPX would push upward from ~2,000 to about ~3,600 into 2021: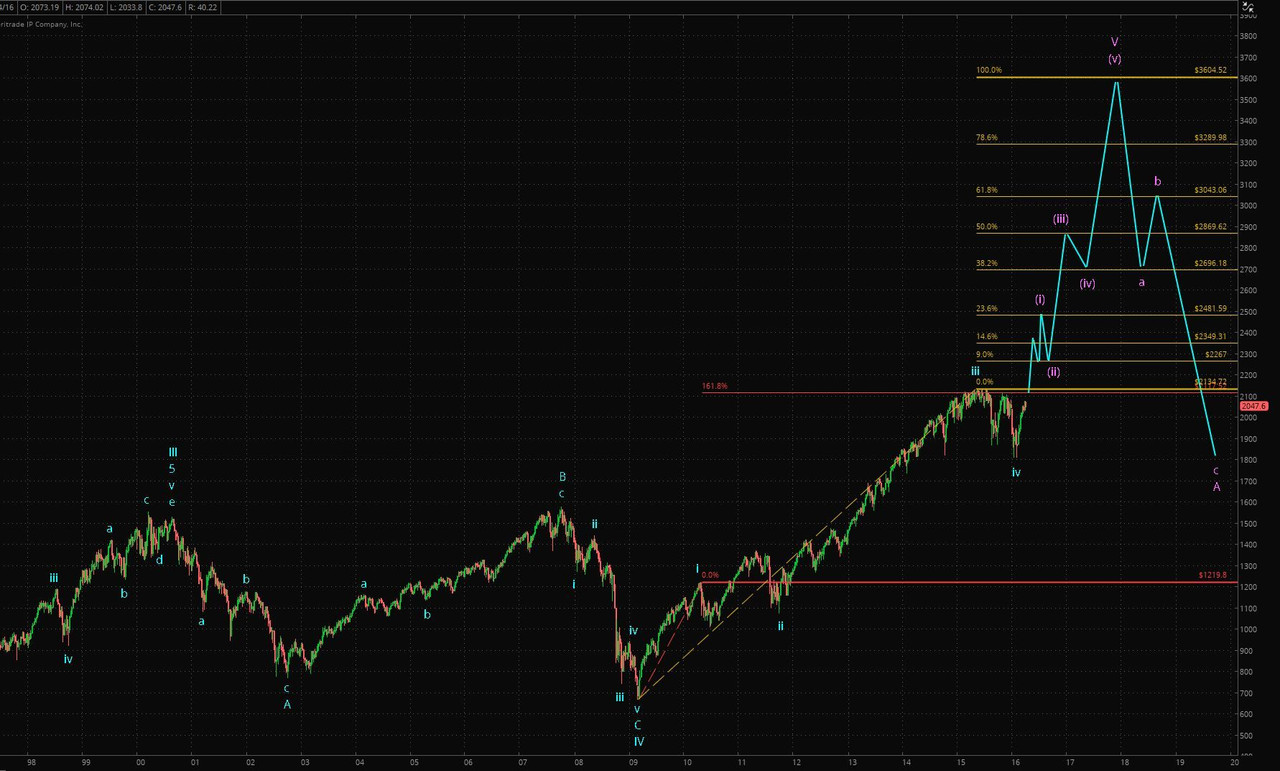 Link to larger image:  Link 
Here's the SPX on 3.11.18 (chart date –  the actual high was in January 2018), hitting the first major target to within 3.5-points, 20-months in advance: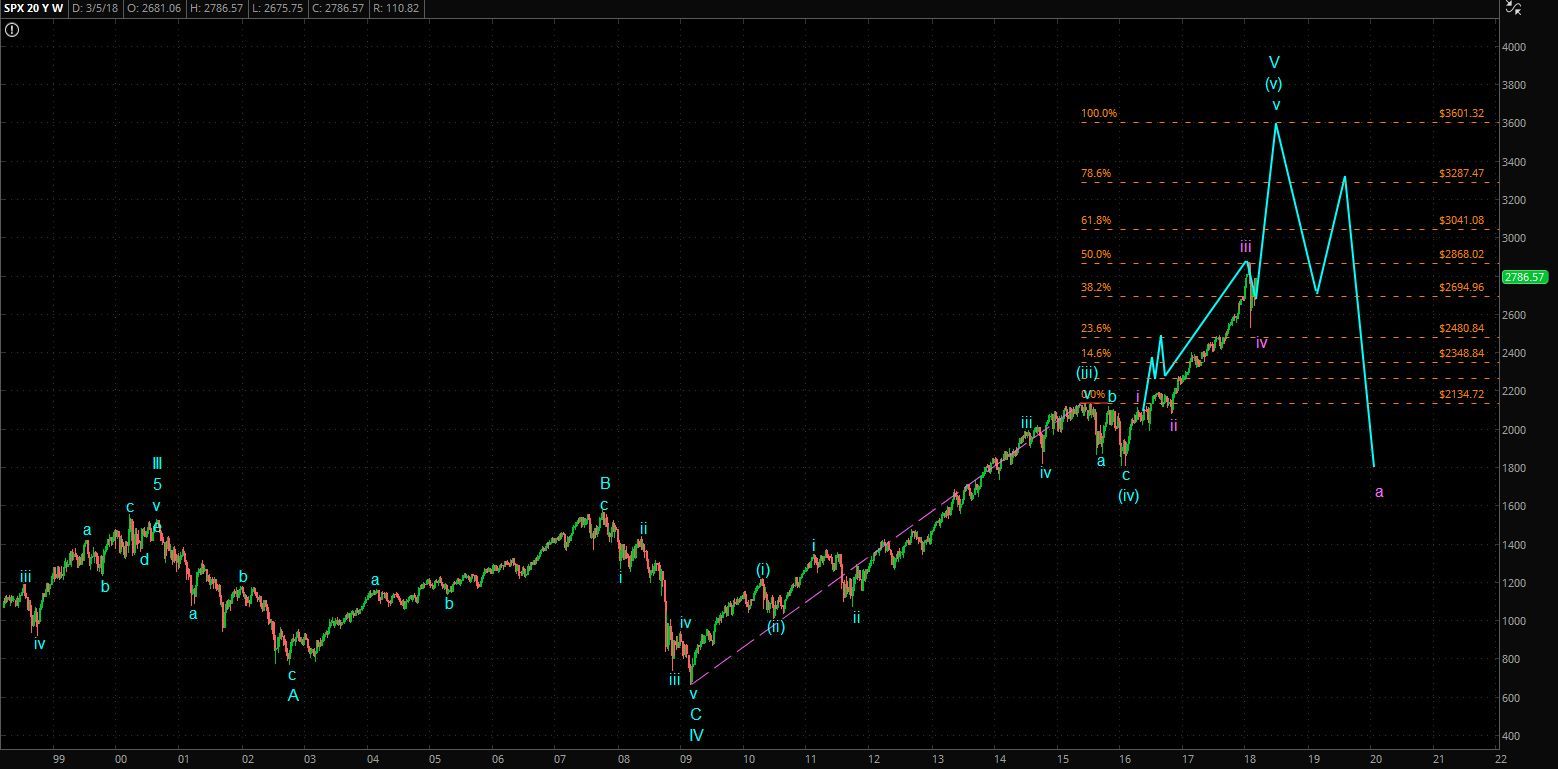 Link to larger chart:  Link 
What happened at this point is a bit technical but suffice it to say that the US equities markets elected to drop to a lower target, in order to extend the bull market for another decade, yet still hit a secondary target to within 3.5-points, some 32-months in advance.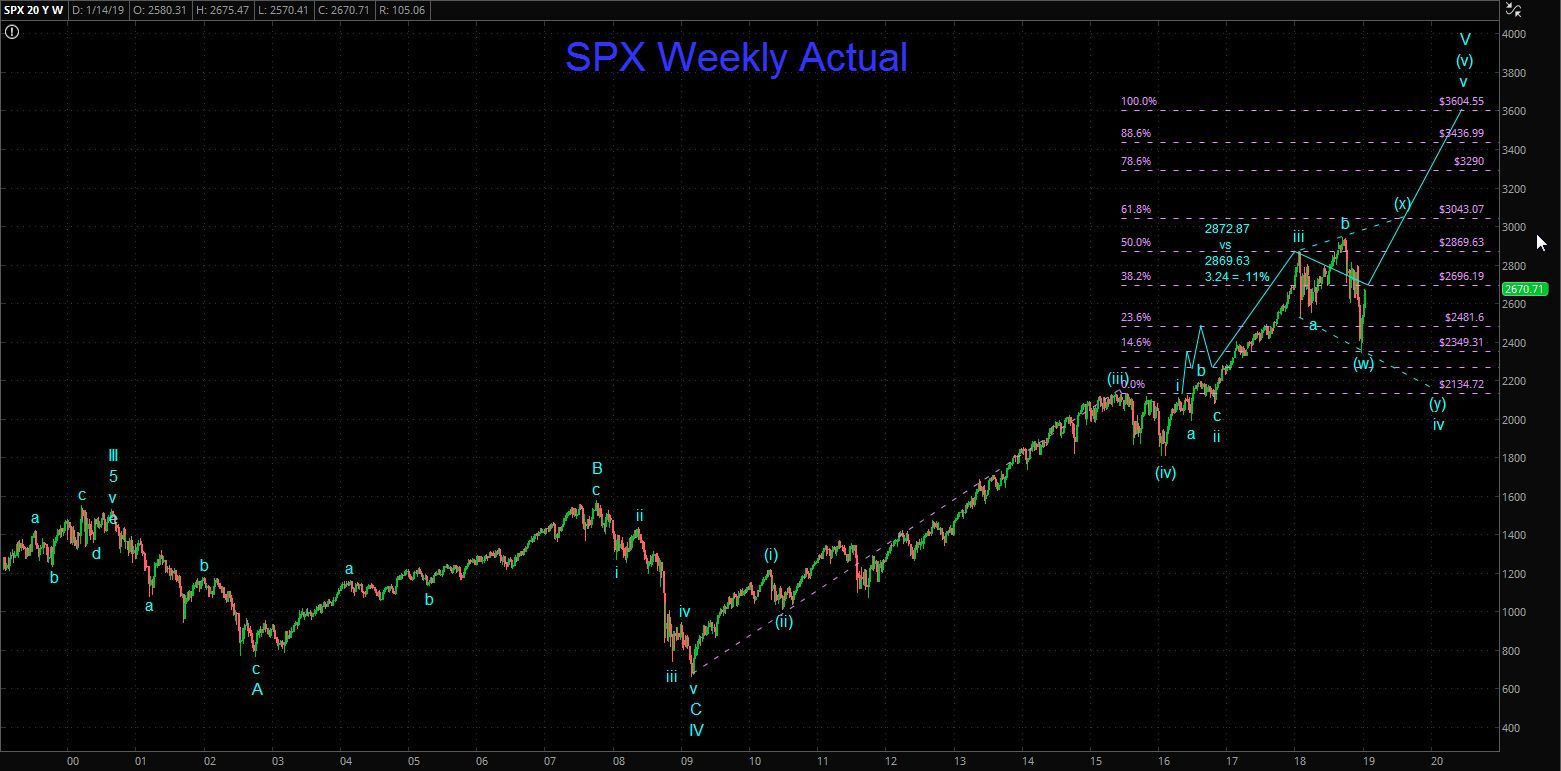 Link to larger image:  Link  
On 1.4.19, it dawned on me, when the SPX was down some 600-points from the September 2018 highs, that this unexpected drop was a more complex corrective structure than earlier anticipated, and while the US equities markets had suffered a fairly steep loss, they were also going to recover it all and push upward to new All Time Highs (ATHs) within a few months, so I made this forecast on 1.4.19: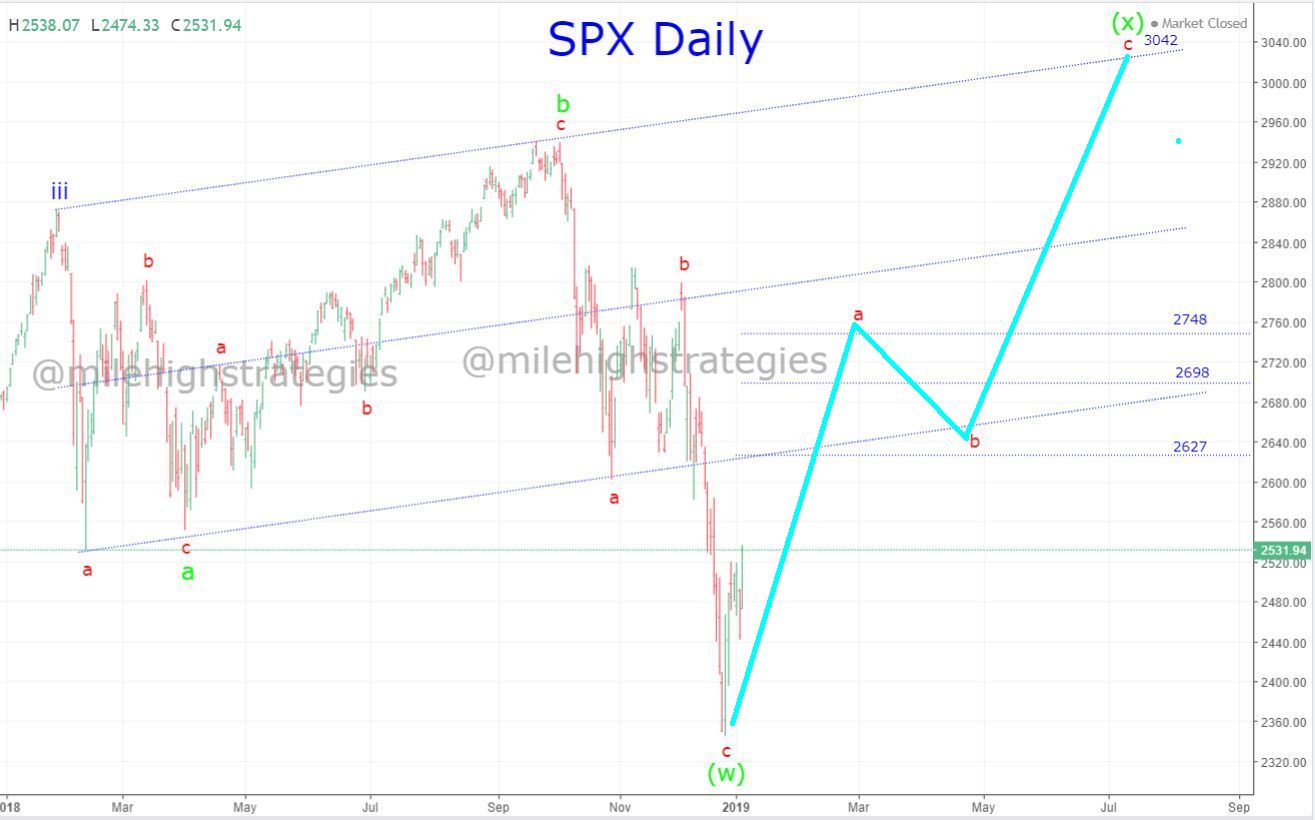 Link to larger image:  Link 
And on 4.26.19, my forecast came to fruition: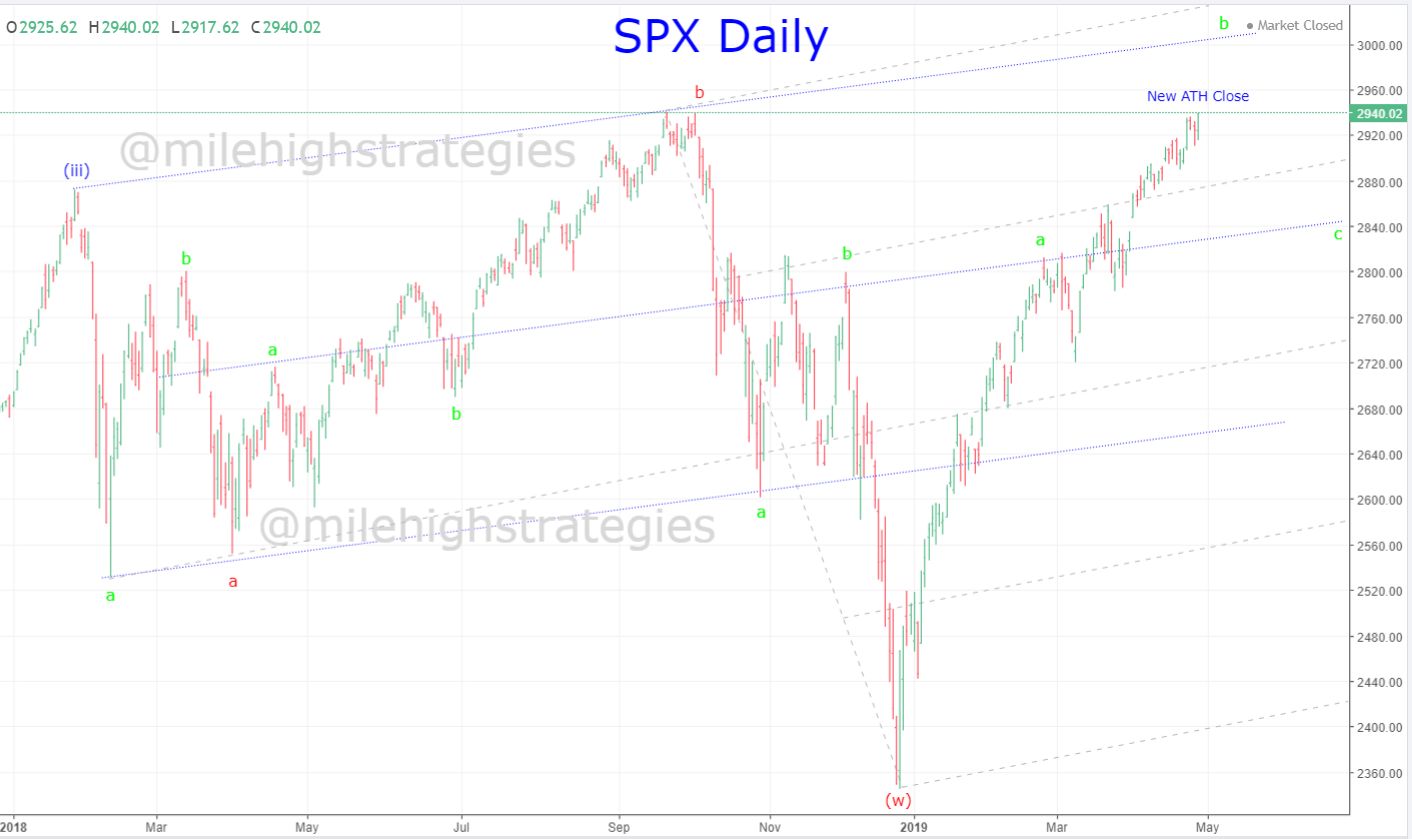 Link to larger image:  Link 
Even before this forecast for new ATHs came to fruition, my work was telling me that the US equities markets would continue upward for the entire year, thus I revised my estimate on 2.15.19 for the SPX to push upward to the ~3290 range into year's end: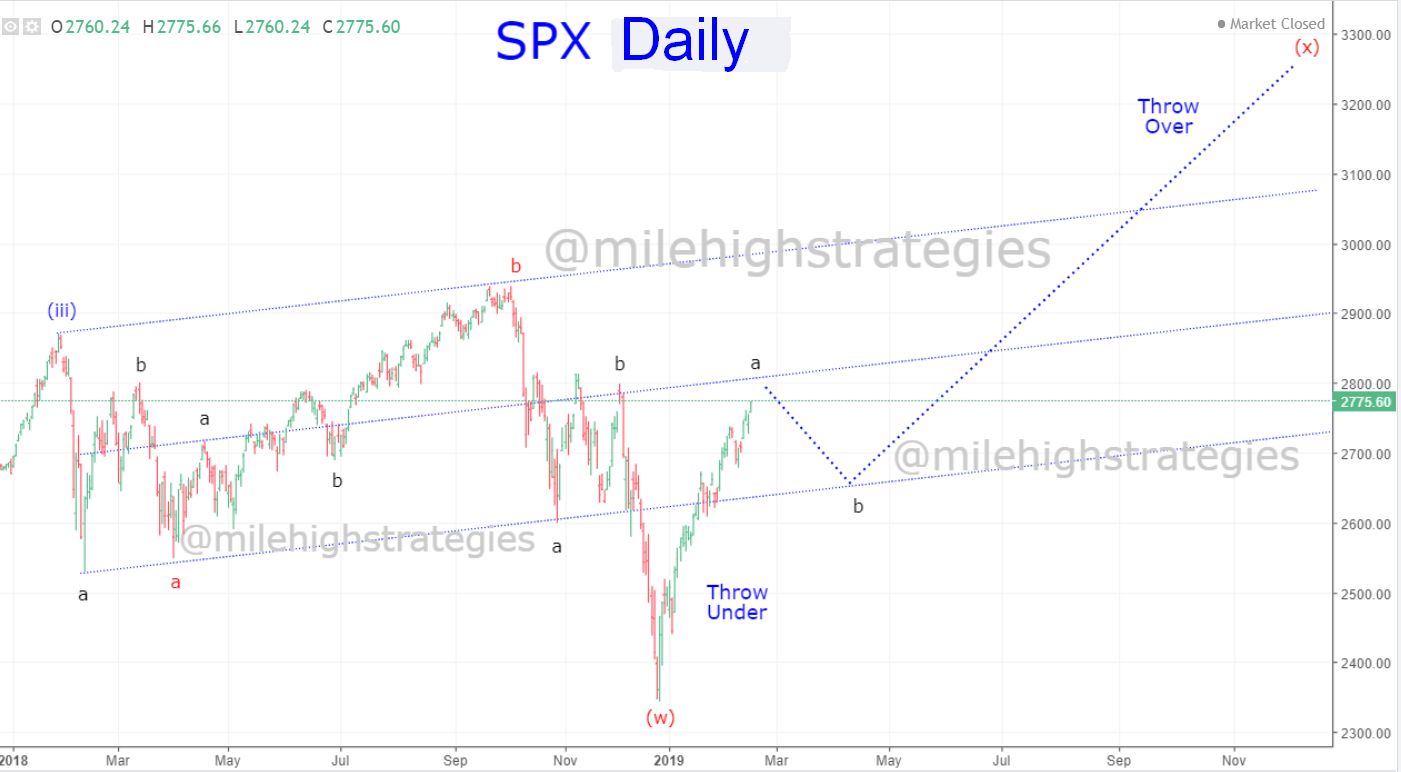 Link to larger image:  Link 
And here is the SPX as of Wednesday, 12.27.19 (updated weekly)
:Link to larger image:  Link
What then does 2020 hold for the US equities markets?  If my work since 2016 is any guide, 2020 will be a tough year for the US and global equities markets, as the fallout of Mario Draghi's negative interest rate policy in the EU will create a liquidity crises starting in January 2020.
The new ECB President, Christine Lagarde, will no doubt be forced to go back on current EU policy to not bail out banks (Deutsche Bank – DB – ranked 5th largest by assets in Europe, is on on the brink of insolvency – see below), but if nothing is done, the struggling EU banks could drag the entire global economy into a depression, rather than a recession, as US banks and other banks around the world will be affected.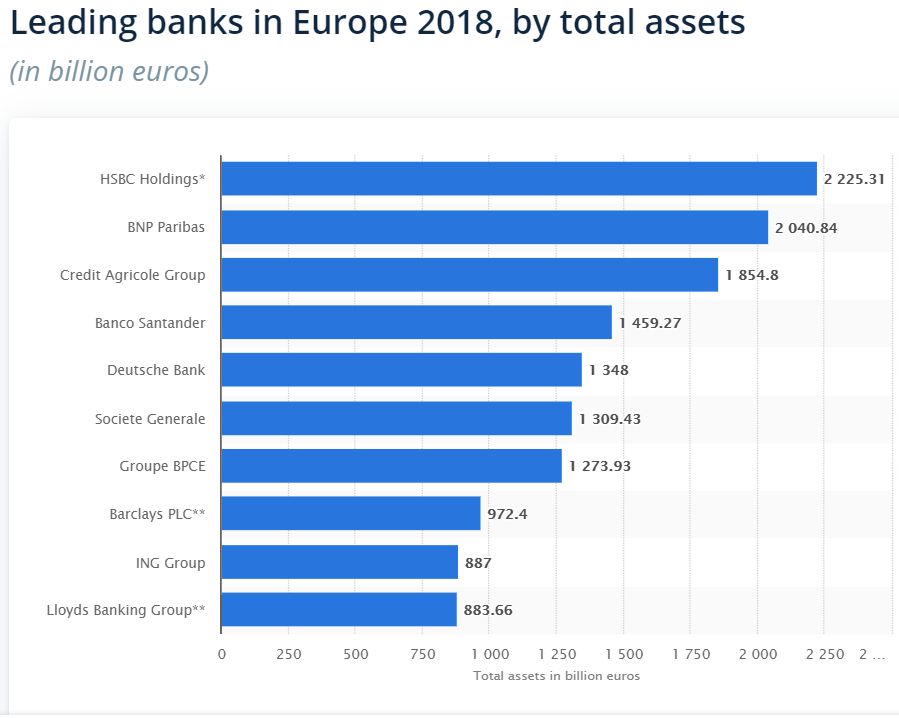 Link to larger image:  Link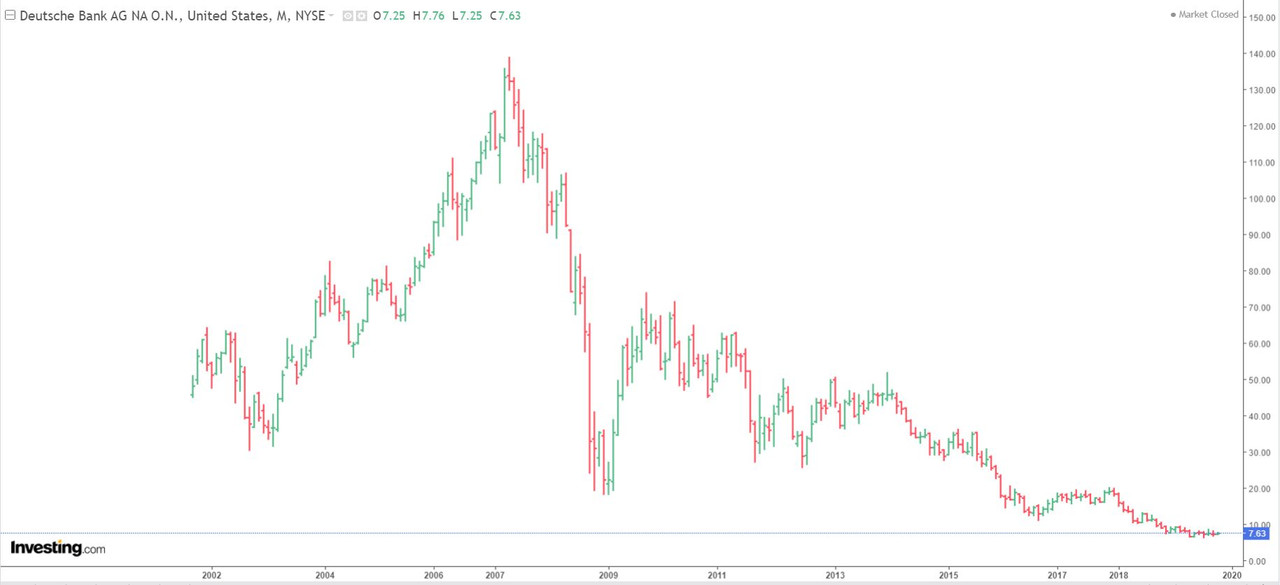 Link to larger image of Deutsche Bank Monthly chart:  Link
This upcoming bump in the road also aligns with my forecast for the SPX, that climbed from ~2350 to ~3300 (anticipated), to drop back down to ~2750, so nearly all those gains realized this year will be pretty much given back – unless you have someone like me, who can help you profit in markets that go up or down.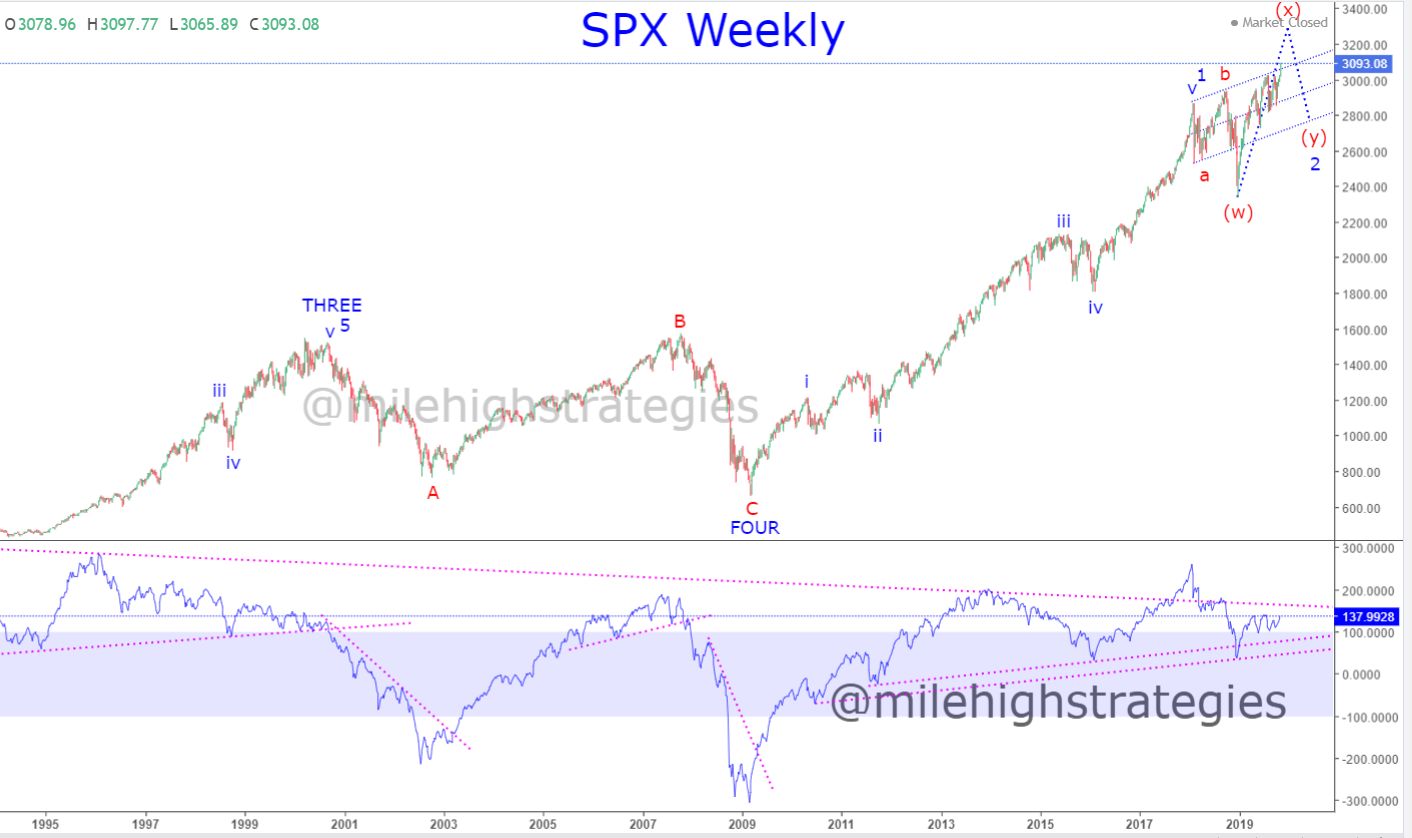 Link to larger image:  Link
Good Forecasting does NOT Equal Profitable Trading (but it helps)
There are many armchair forecasters out there, and they make their claim to fame every now and then with a good call, but that does not make them consistently correct, nor profitable in the trading world.
This was why I needed to create a swing system that could anticipate short-term and intermediate-term trends and remain in them, yet not get eaten-up in the daily market noise.
In May 2018, I began sharing – in real-time – the signals from a Momentum Trend Trading system I created for the SP500 futures, using the 240-minute futures chart.
If one were taking my signals for the year of 2018, while the SP500 futures lost 369-points for the year (2874.25-2505.25), for a loss of 13%, or $18,450 per SP500 contract, my signals gained 2,872-points for the year (more than where the SP500 closed for the year), for a gross profit of $143,600, on 29/30 winning signals, on a point-for-point basis (no leverage applied).  Turning a $50,000 account into $143,600 is nearly a 200% gain for the year – without leverage!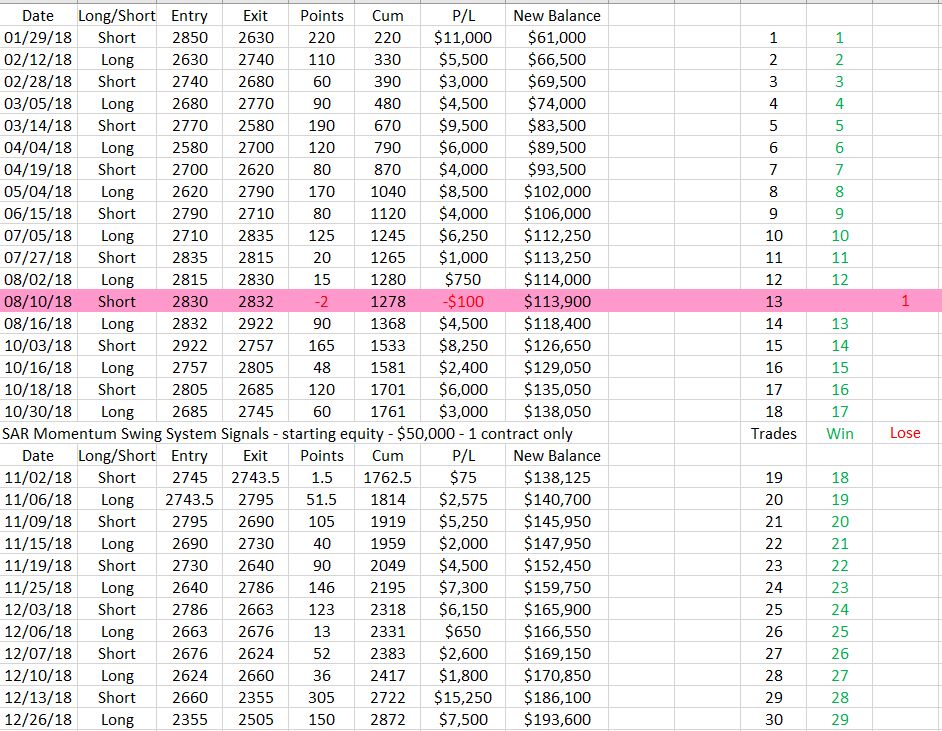 If one was using my aggressive model, that employs leverage, the gain for the year would have been 107,114.5-points for a gross profit of $5,355,725. (The aggressive model always uses up to 20% of trading capital for each new position.)
In a year when the US equities markets were down some 13%, my swing system delivered some very profitable signals keeping one's net worth continuing to grow!
Out-performance in Both Bear Markets and Bull Markets
The contrast between my signals and market performance in a down year in the US markets is easy to make, but do my signals continue to outperform when the US markets are in an up year?
If one were taking my signals for the year of 2019, while the SP500 futures have gained 585.25-points YTD, for a gain of 23% YTD, or $29,262.50 per SP500 contract,  my signals (as of the last closed signal) have gained 2,584-points, for a gross profit of $129,200, on 80/99 winning signals, on a point-for-point basis (no leverage applied), which is out-performing the market by over 340% as of the last closed signal (the present open signal is not included in this stat).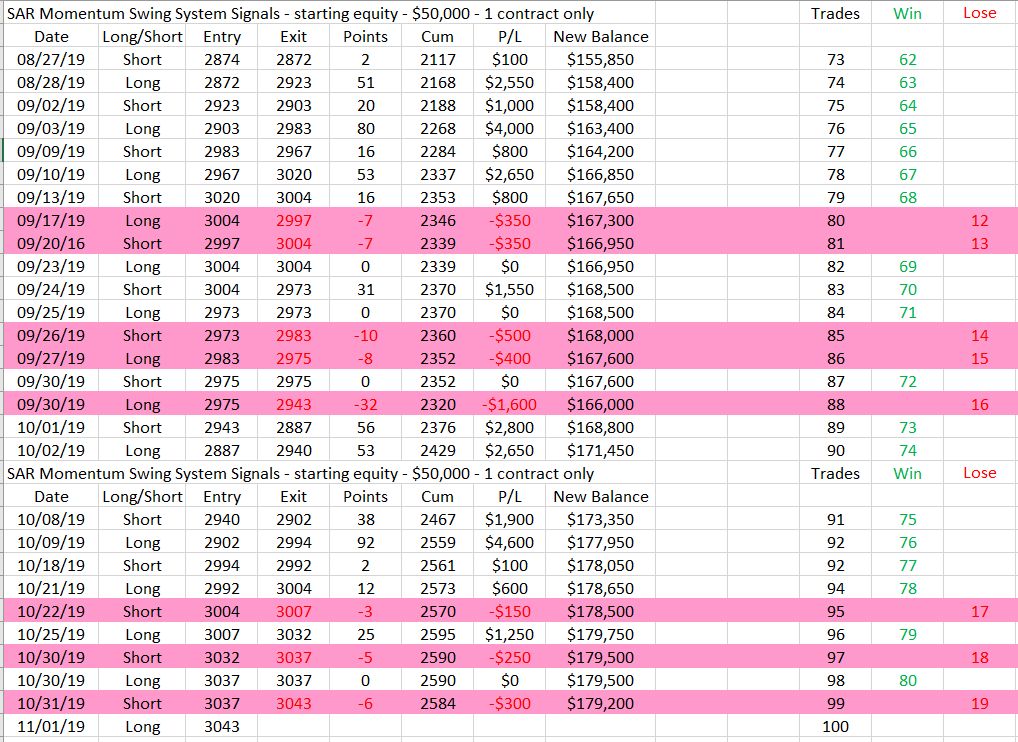 If one was using my aggressive model, that employs leverage, the gain for the year thus far, as of the last closed signal, is 96,642-points for a gross profit of $4,832,100. (The aggressive model always uses up to 20% of trading capital for each new position.)  Including the gains on the signal in play now, the gains are over $5,300,000 as of Friday's close.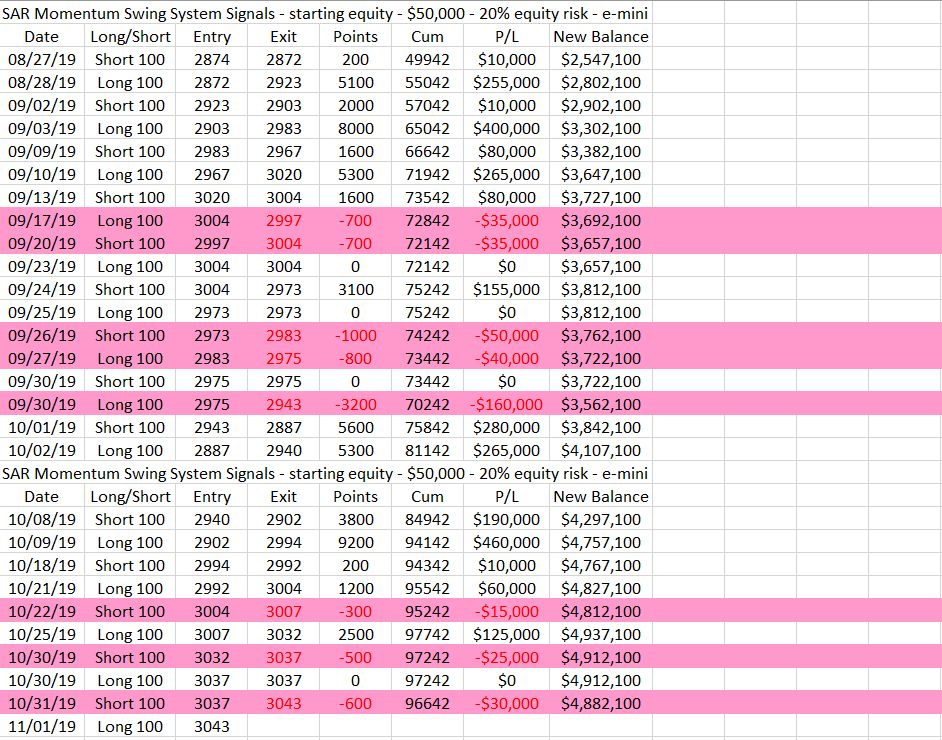 Not Just Hypothetical Gains
Dr. Scott Owen, of Alabama, is one of my best clients, primarily because he is very teachable and simply follows the signals, no questions asked.  Thus far, in the past 4-months (updated 12.13.19), he has profited more than an extra ~$500,000 in trading with my signals… taking is combined accounts from ~$350K to ~$850K: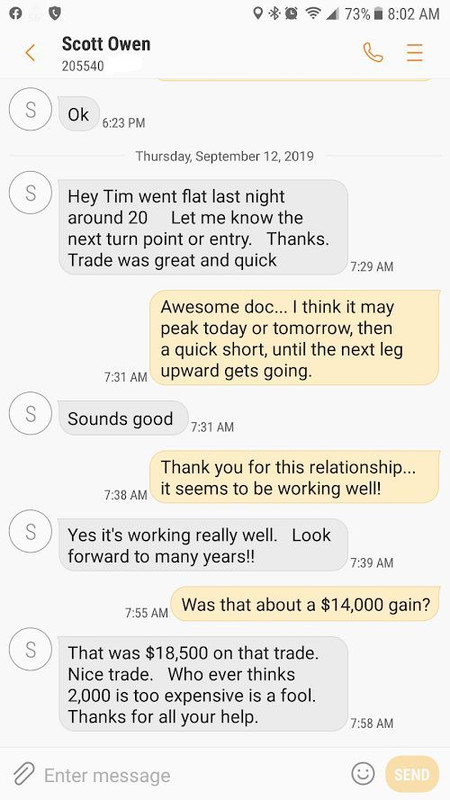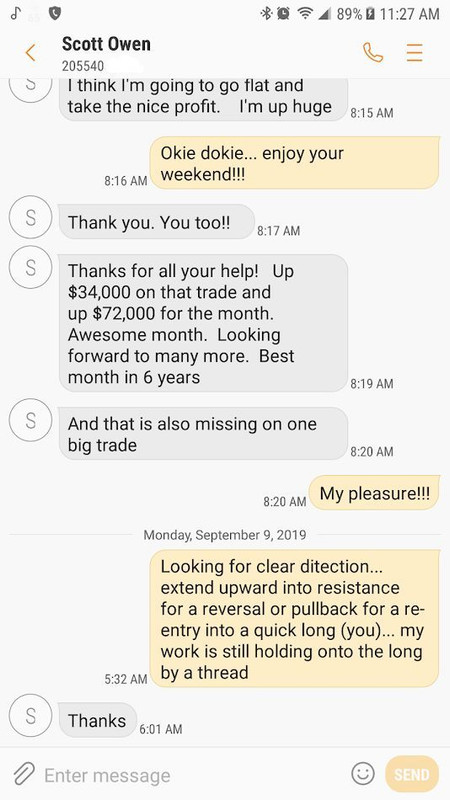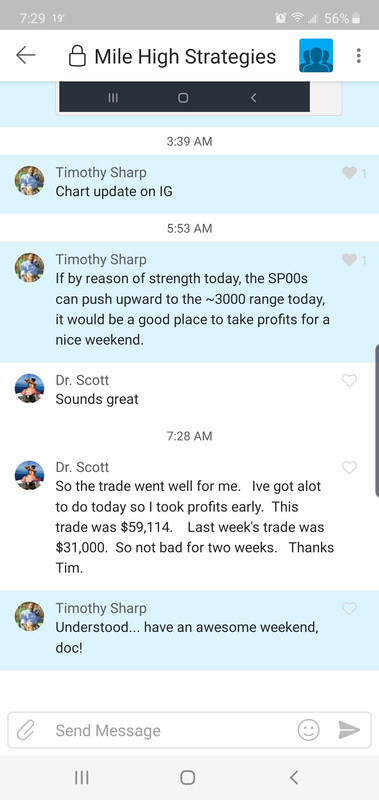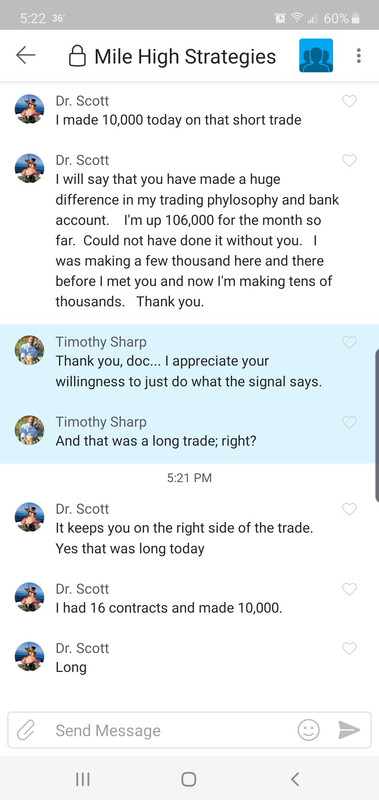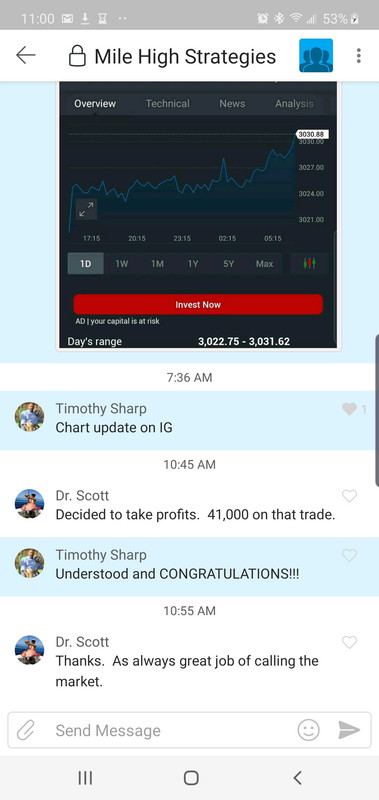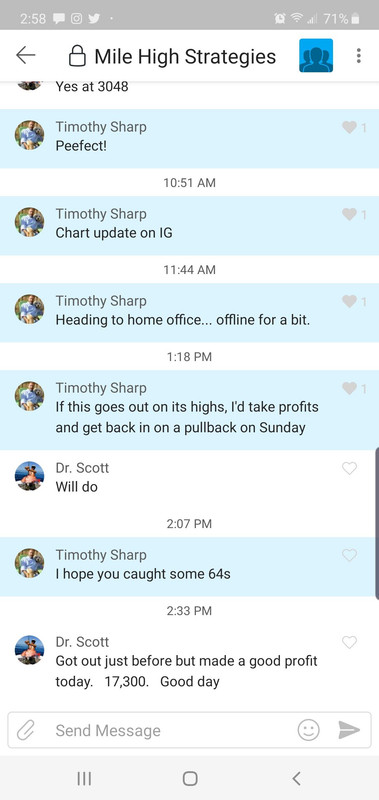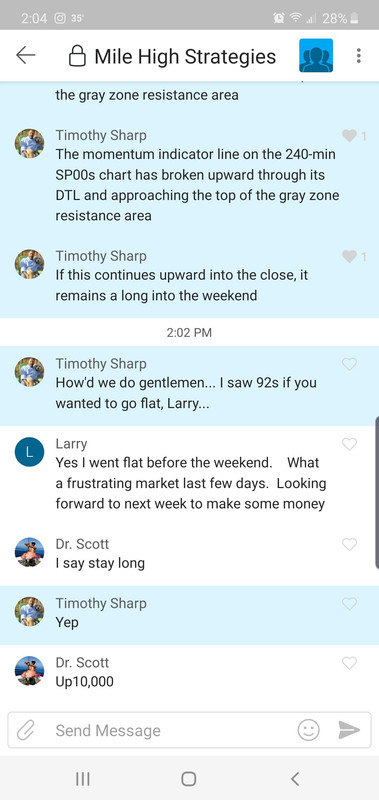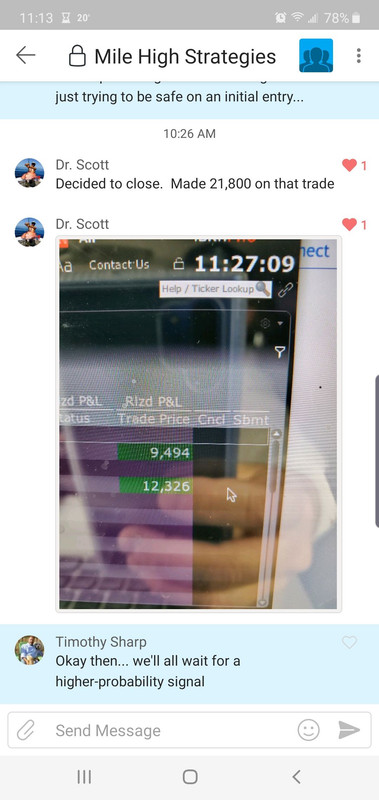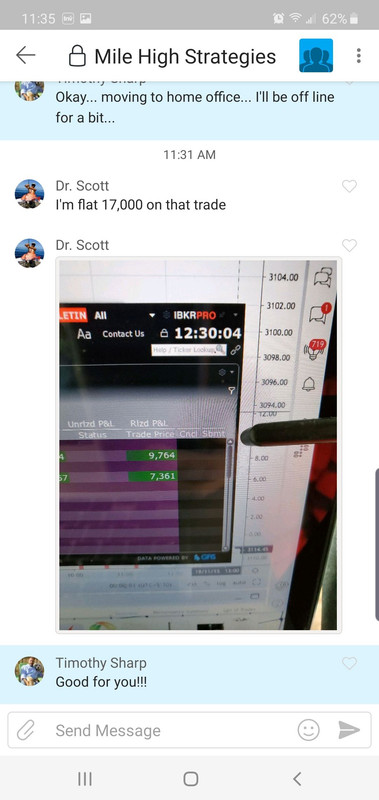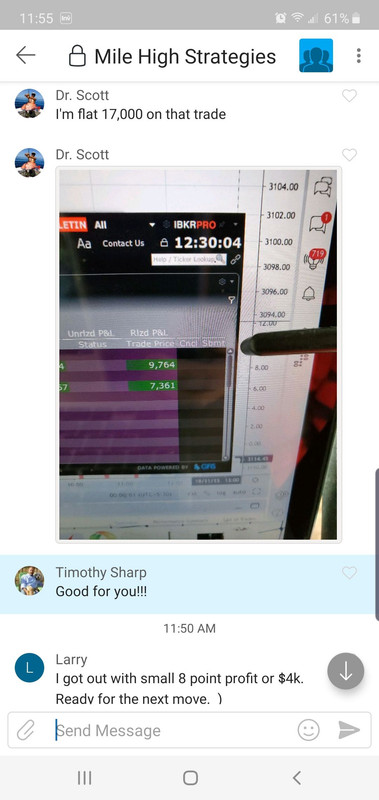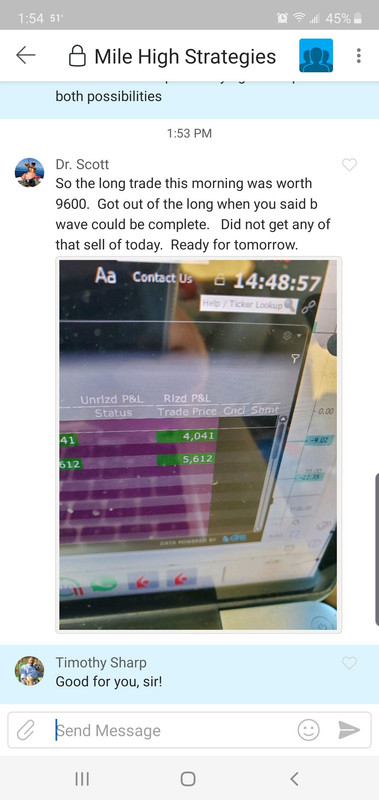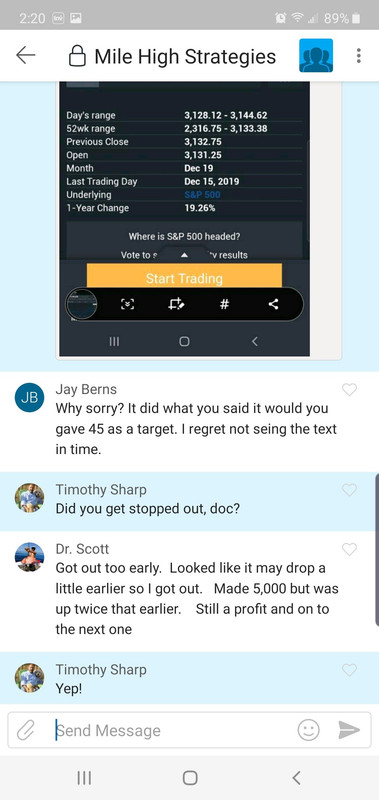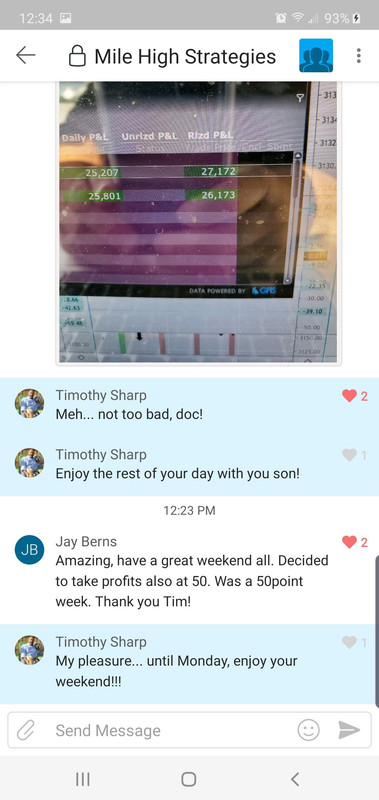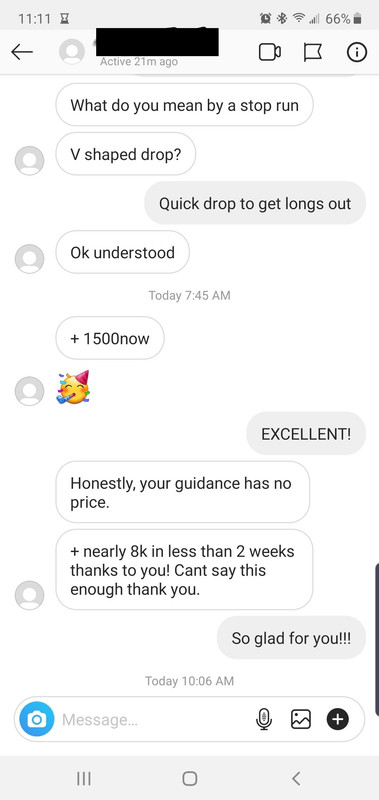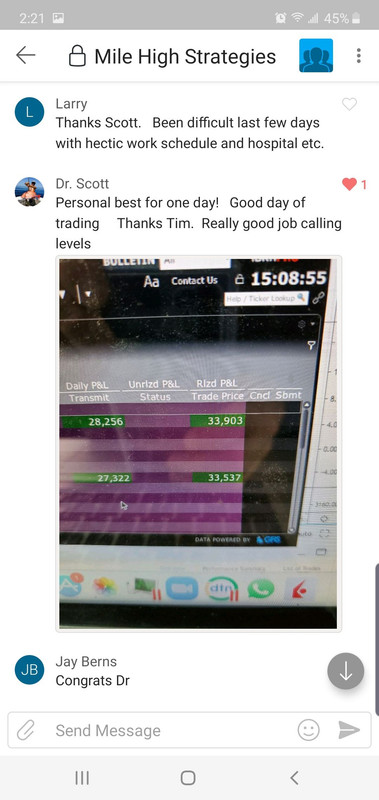 Over $67,000 in a single day!!!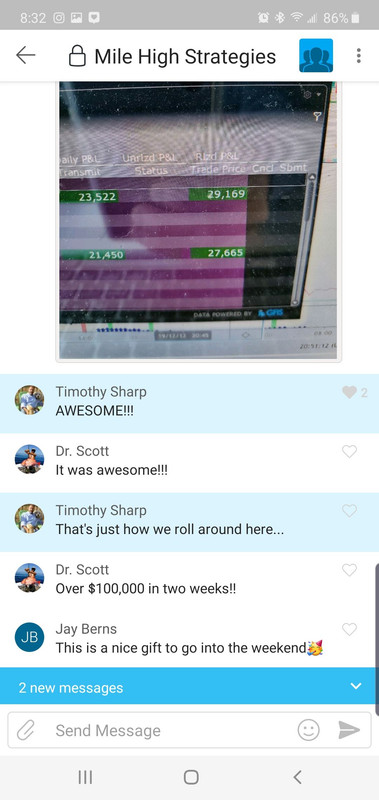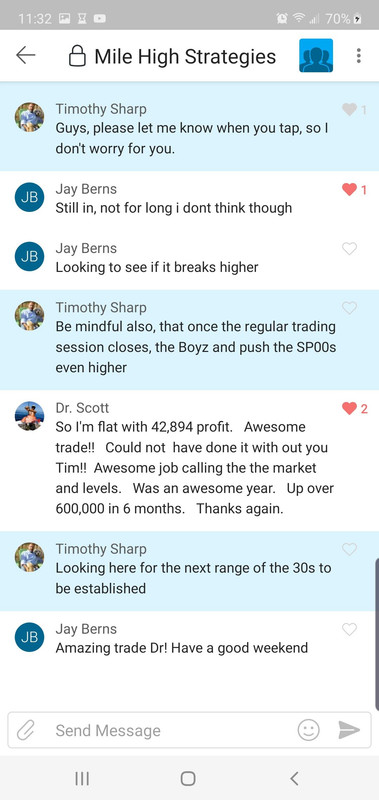 Over $160K in three weeks, and over $600K in under 6-months!!!
How Can You Benefit From My Work?
I offer three ways to work with clients to help them benefit from my unique skill set and Momentum Trend Trading system:
A 12-month mentorship program…
Text-only signals (this is what Dr. Owens has done so well with)…
I will trade your account for you (to be offered later in 2020)…
If one of these options piques your interest, please get back to me at tim.sharp.2009@gmail.com … and let's explore whether there's a mutual fit!