SP00s (pre-opening remarks) – so far, nothing earth shattering was felt as a result of last night's State of the Union speech…
The trend is still upward, so I am looking for a test or break of the 200-DMA, which is now at the ~2743 range…
My SAR swing system remains long from 2639… watching.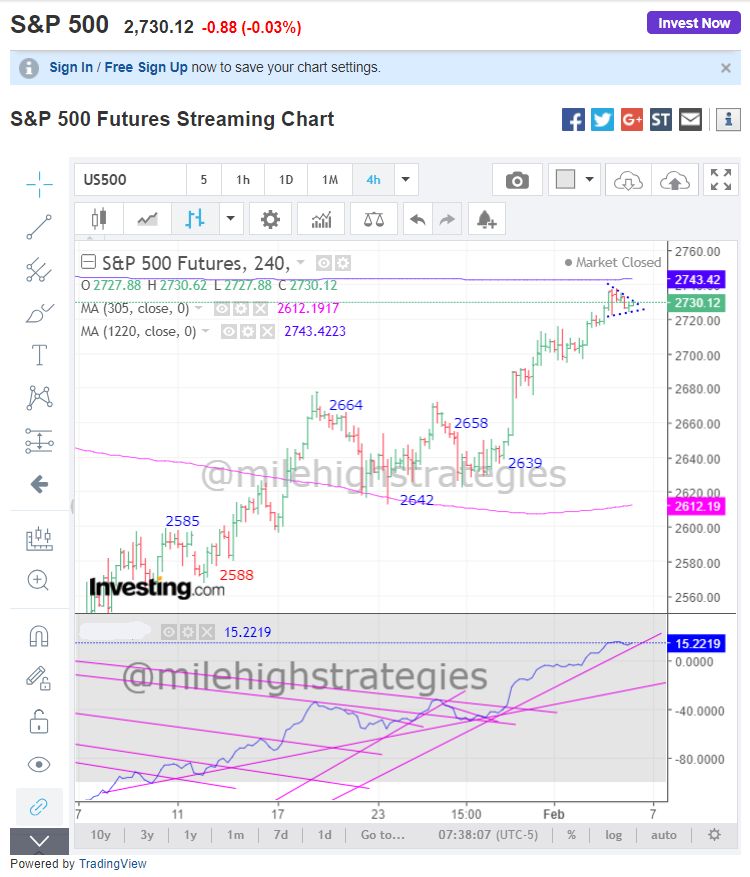 WALMART – while we're waiting for more definitive market direction for the SP00s, I thought to take a look at the rest of the Dow 30 components…
This is what the adjusted fractal count looks like, if the US equity markets are extending their respective bull markets beyond 2022… @walmart
To be sure, wave-b:c:V may not be complete just yet, but it appears WMT will be heading back upward to the ~120 range in wave-c:V sometime this year… watching.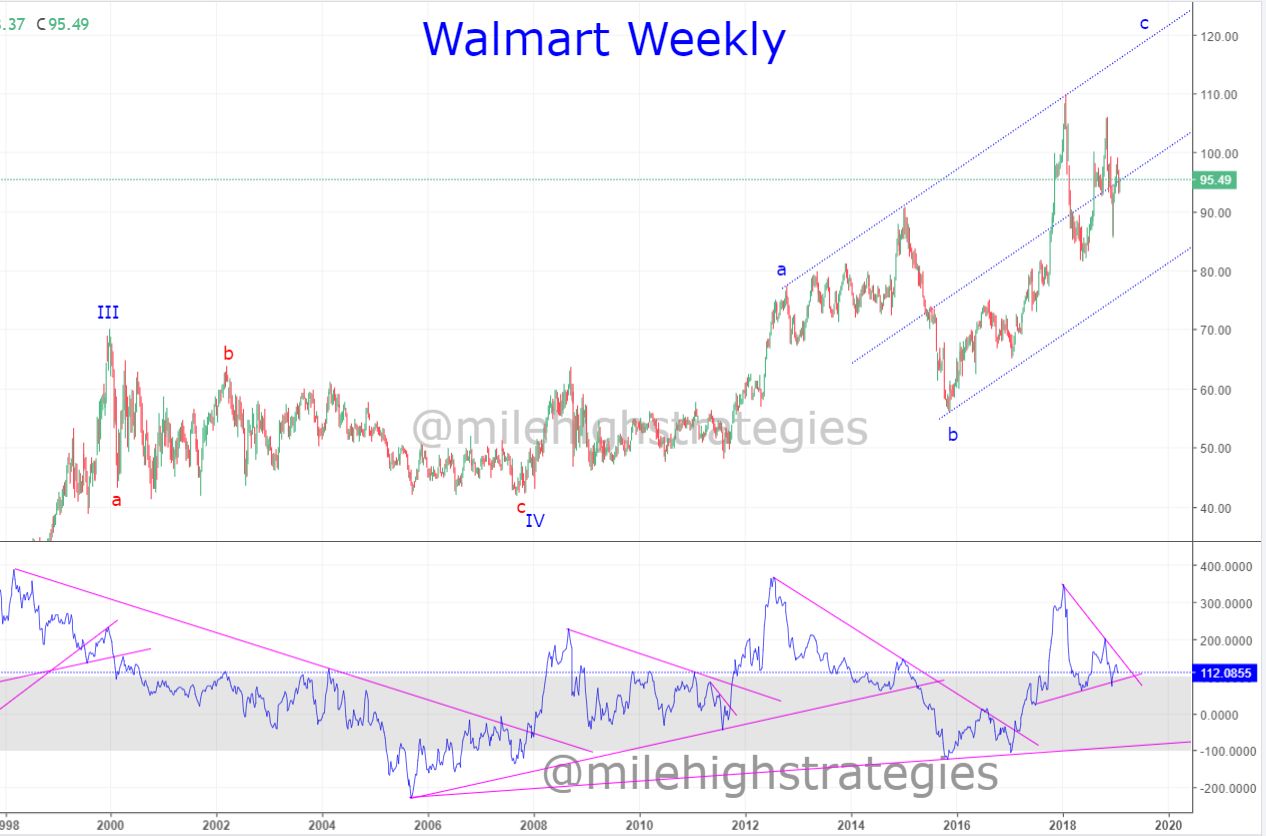 Link to larger chart:  Link 
SP00s (mid-morning observation) – If left to just the 60-min chart alone, the SP00s would have reversed to short…
They still may, if the signal generates on both the 60-min and 240-min charts at the same time…
For now, I'm thinking the SP00s still want to push higher to at least the 200-DMA, though with rotation taking place, it may not happen until after a pullback first… watching.
WALGREENS – Another Dow Jones Industrial Average component, which was just recently added about six months ago to replace GE, which was removed…
It was only last month that WBA announced an alliance with MSFT digital and virtual delivery models for healthcare – very exciting… @walgreens @microsoft
As always with fractal interpretations, there's always room for debate and other valid interpretations, but this is what am seeing at this time…
Wave-4 appears to be complete with wave-(ii):V in work or also complete, but most likely still in work… @investingcom
Upward targets include: ~97.47, ~114.18 and ~141.06… watching.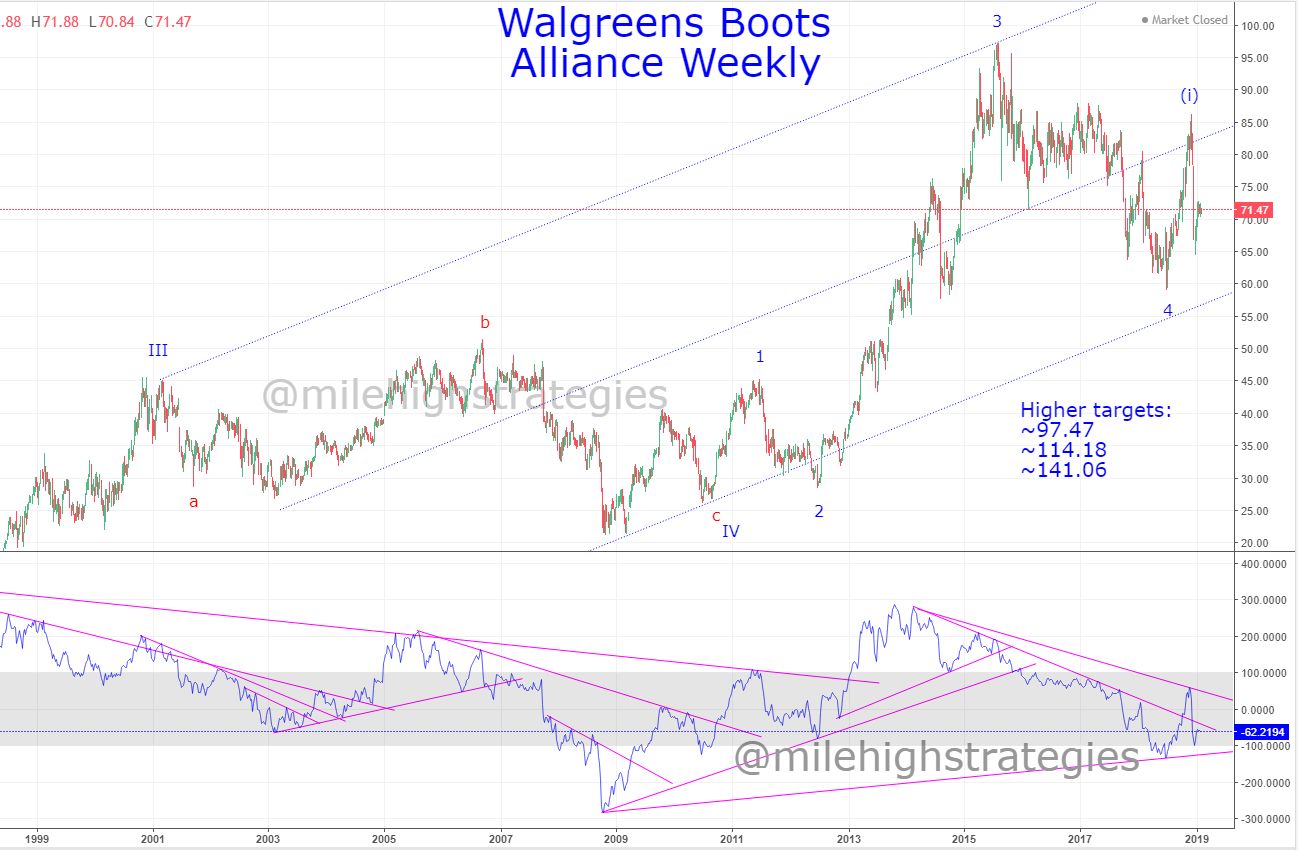 Link to larger chart:  Link
SP00s (after the close of the regular trading session) – The SP00s closed the day little changed, though at a discount to the underlying cash market for the third straight day…
There seems to be little to no will to push prices higher at this time, so perhaps the rest will simply be a sideways correction…
The 240-min chart is close to generating a reversal signal, and that may happen during the globex session…
My SAR swing system remains long (by a thread) from 2639… watching.