Since I started covering BTC, I've been warning that it was an asset that became a bubble, and as all assets that go parabolic in price, they crash and remain in a prolonged bear market for some 10-20 years – and I was looking for the first leg down to be between $4K-$6K, which is now adjusted to about $3K.
Bloomberg Business @bloombergbusiness  posted an infographic this week depicting just how big the BTC bubble was relative to other bubbles in history:
The Mississippi Bubble – 1718-1720
The Tulip Mania Bubble – 1636-1637
The South Sea Bubble – 1711-1720
The Dot Com Bubble – 1990-2000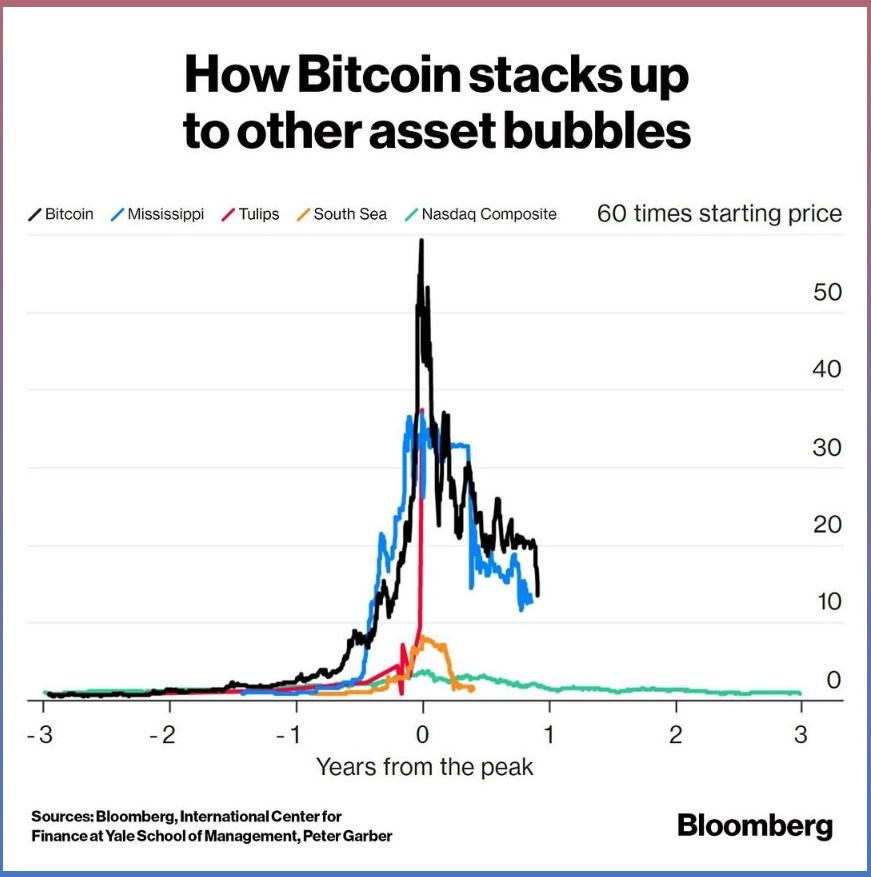 They went on to say: "Many of the concerns that have sparked the retreat – including increased regulatory scrutiny, community infighting and exchange problems – have only intensified in recent days."
To me, the main problem is that when assets go parabolic in price – they crash, then remain in a prolonged bear market for some 10-20 years before they recover – IF THEY RECOVER…
Here are some in recent history that come to mind:
US stock markets – 1929
Nikkei 225 Index – 1980
Gold – 1980
US Dollar – 1985
US Interest Rates – 1985
NASDAQ Composite – 1990
SOX Index – 1990
Bitcoin – 2017
While US stocks eventually recovered from the 1929 collapse in the 50s, as did also Gold, the NASDAQ Composite and SOX indices within 10-20 years, yet the Nikkei 225, US Dollar and US Interest Rates have yet to recover their previous ATHs.
The chart below is BTC daily with a projection for the first leg of its bear market to the ~3000 range, and it may drop even a bit lower for wave-c, though eventually, it will likely drop to under 1000 over the coming 10-20 years.
Please understand that I made some educated guesses on where a wave-c low might form, but until it's in place, there is no real basis for projecting a channel, since it's formed off the wave-a and wave-c pivots.
At this time, since the ~4000 range has been breached, but there is a pivot support just below, I'm guessing the wave-c low could be there, at 3493 (the low thus far is 3634), and if lower, then that would be at 2981…
Once wave-c is complete, then a rally in three waves for wave-d, to either the middle or upper channel DTLs. Then one more drop to complete wave-e:c:A… watching.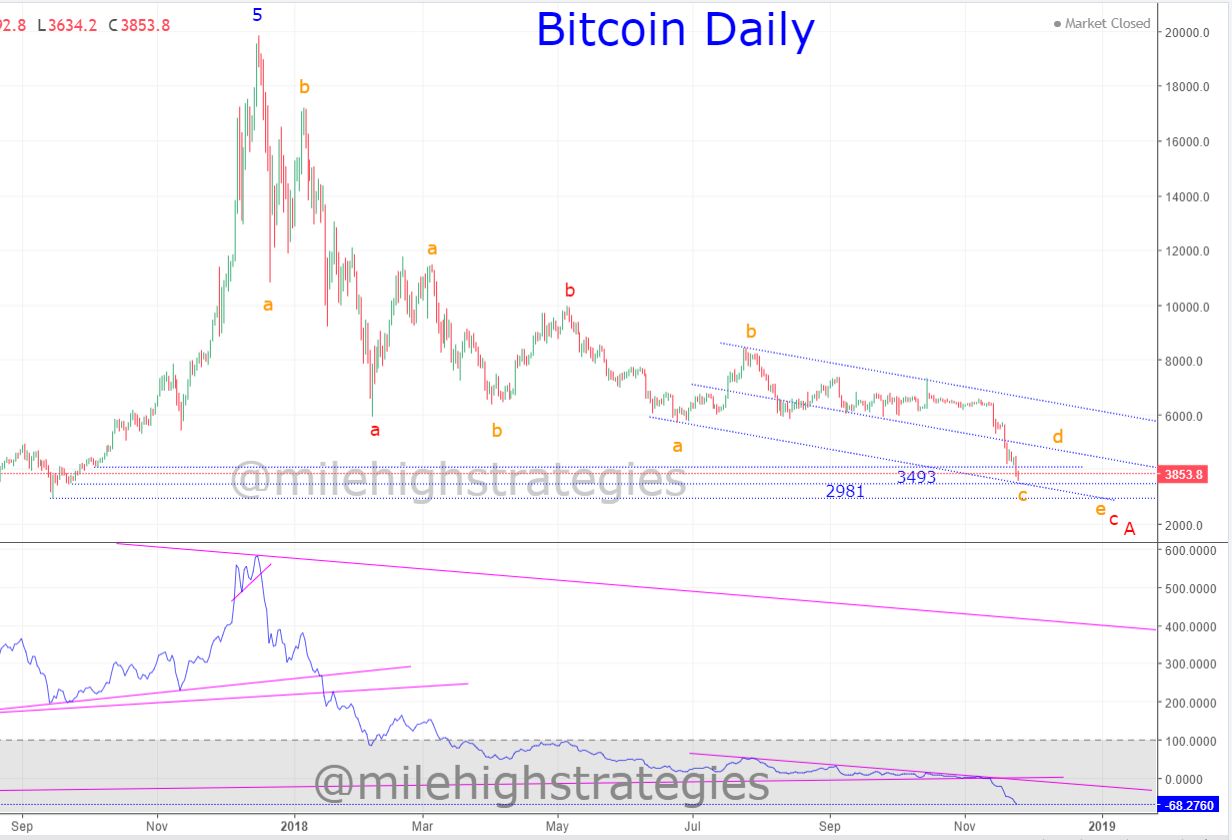 Link to larger chart:  Link
P.S.
Before you dismiss my technical analysis as impossible or exaggerating, ask yourself: how far can a stock fall before it's done falling?
Sears & Roebuck, which became Sears Holdings in 2003, peaked at a high of 119.74 in 2007… three weeks ago, it hit a low of 0.12, for a loss of 99.99 % from its peak!  I'm not sure that it will be around 12-months from now.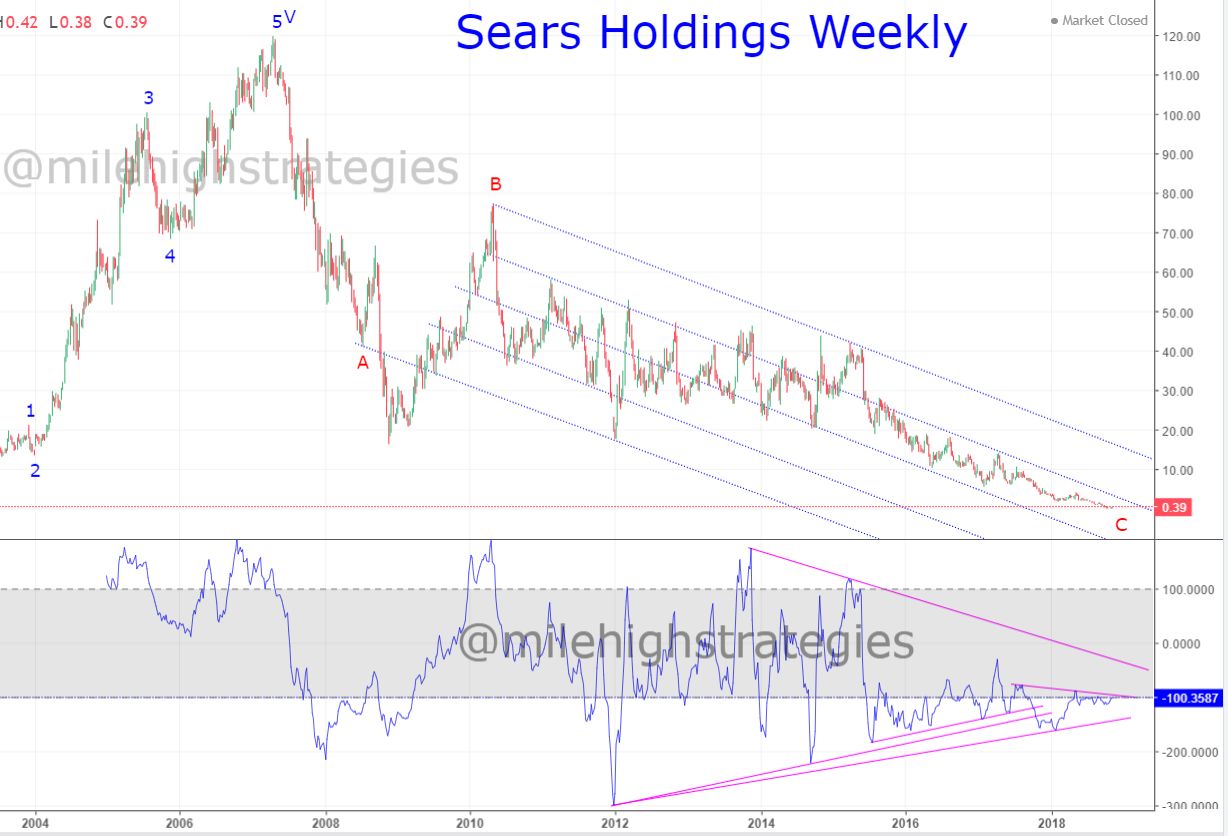 Link to larger chart:  Link 
I started following GE in August, and since that time, it has fallen nearly 50%.  GE was once the most valuable publicly traded company in the world; today it's very survival is in doubt as they spin-off divisions in the very act of trying to survive.
My work on GE suggests a Wave-C low in the 0-3 range, which represents a 95%-100% fall from the ATHs.  At the very least, GE will not be an IT buy until the momentum indicator line closes above -100 AND is breaking upward through its DTL.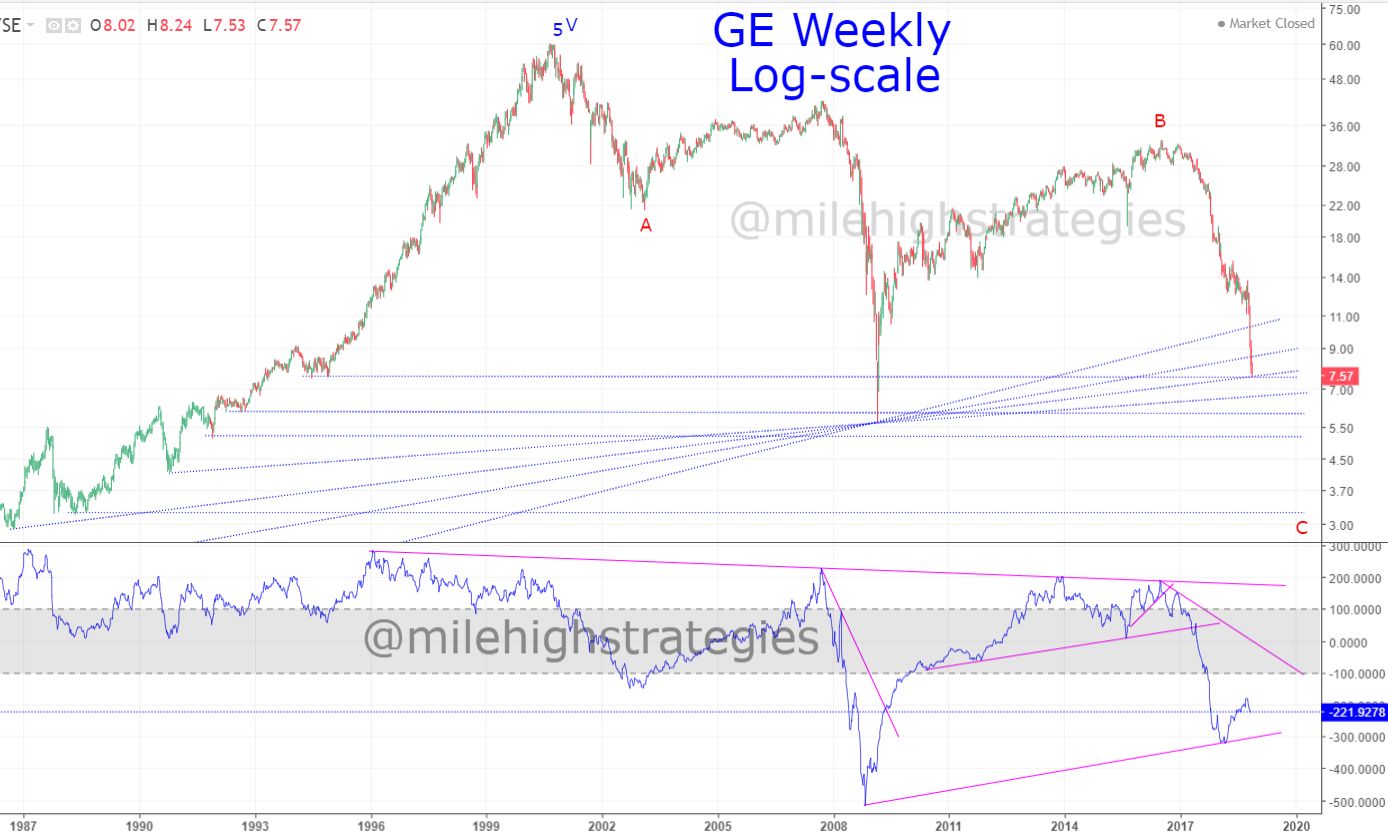 Link to larger chart:  Link
Or how about just another, different crypto currency – Ethereum – that as of last weekend (11.23.18) had already fallen 92.8% from its peak price?
The issues above raised in the Bloomberg article are nothing in comparison to what Martin Armstrong points out about governments themselves, who have the power to ban, tax, or compete against crypto currencies – it's not going to be smooth sailing for a long time to come!  Article link.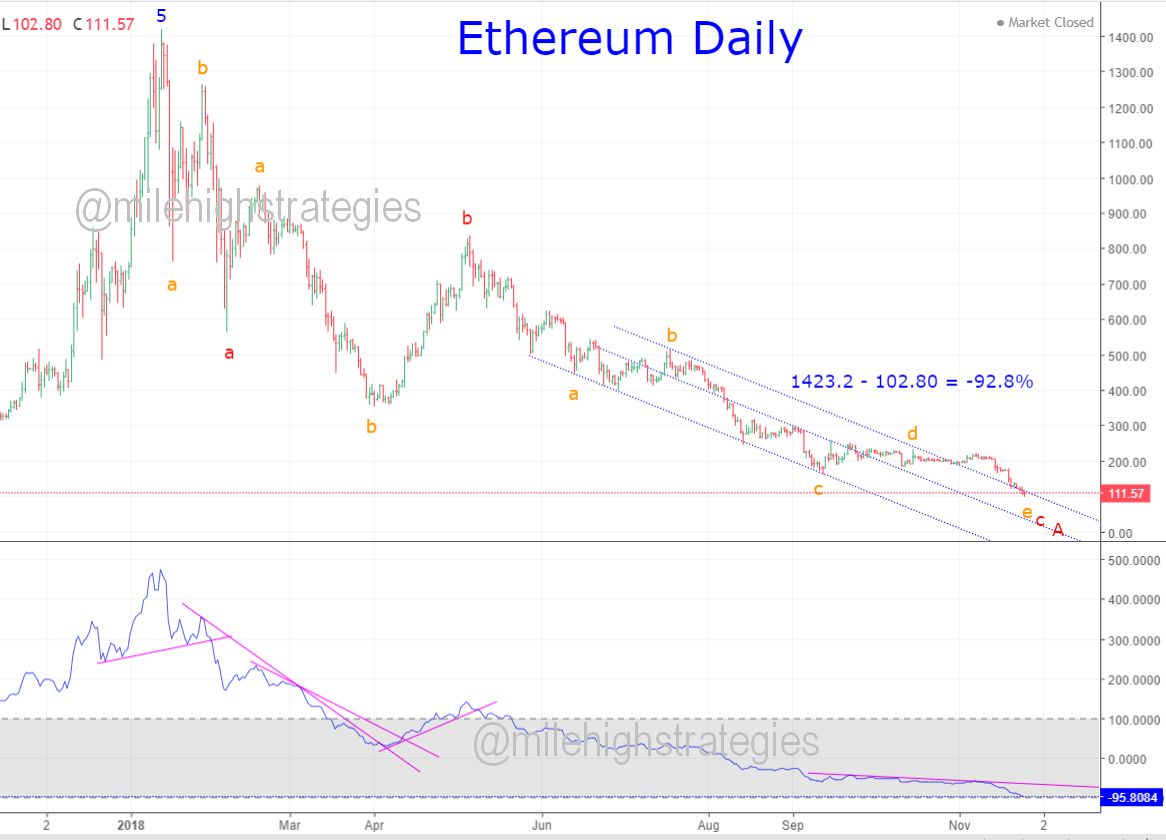 Link to larger chart:  Link